Full coverage of all people by the national health insurance program plays leading role in nation's successfully containing spread of COVID-19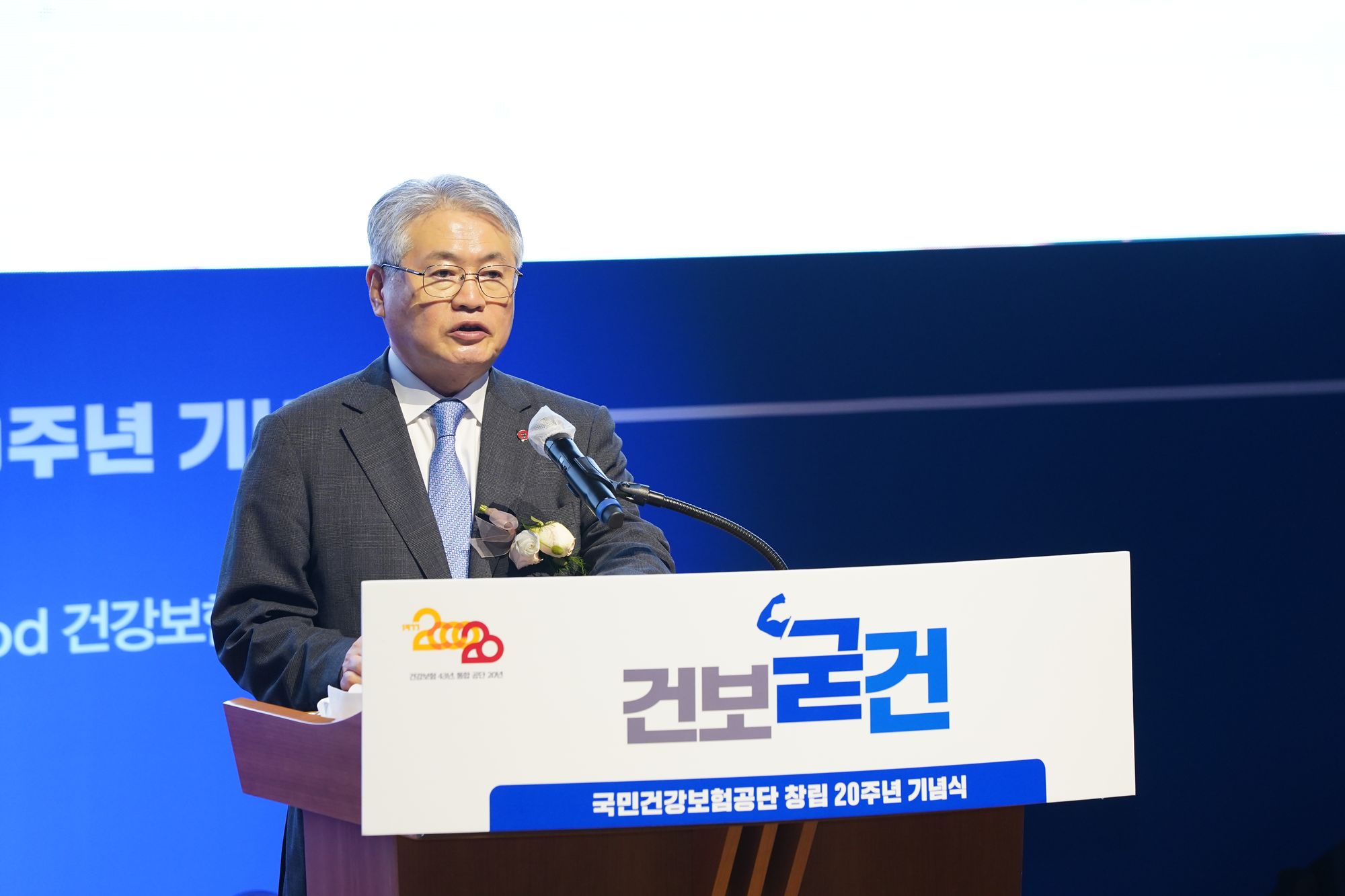 President Kim Yong-ik of the National Health Insurance Service (NHIS) delivers his commemorative speech in celebration of its 20th anniversary.
Korea has been recognized for having managed to trace, test and treat patents of COVID-19, whose cumulative numbers have topped more than 12,000, without any lockdown.

Korea is the sole country in the world to put the virus outbreak under control without border restrictions. Bill Gates, the co-founder of Microsoft praised Korea for its superb efforts to trace, test and treat COVID-19 cases in a U.S. TV talk show. Gates touted Korea for making the outcome of COVID-19 tests available within 24 hours.

Korea's global example of containment is owed to the nation's enhanced response capability against the pandemic based on lessons learned from the outbreak of MERS (Middle East Respiratory Syndrome) in 2015, including the full coverage of all people by the national health insurance program, which is essential in tracking all COVID-19 patients.

President Kim Yong-ik of the National Health Insurance Service (NHIS) said in an interview with a vernacular economic daily, "All, including the national health insurance, people, state and companies, have joined forces as one body in overcoming the COVID-19."

The state has gotten nimble without hesitation to demonstrate an agile leadership, people have proactively participated in quarantine efforts like social distancing, and Korea seen no hoarding or looting, unlike some other countries, he said.

President Kim said Korea has become a "nation of not worrying about hospital costs" as the government and NHIS each have shouldered 20 percent and 80 percent. The significance of the Korean manufacturing industry has been lauded for its capacity to meet face mask demand at the earliest possible date, he added.

Despite danger of the resurgent pandemic, Korea has exemplified how to stop the spread of COVID-19. Global media outlets have made headlines of Korea's successful handling of the pandemic – the government's fast decision-making, aggressive response on top of advanced medical delivery regime, the medical community's dedication and mature public awareness.

In a column, Hong Moo-pyo, head of NHIS's Seoul-Gangwon Region Headquarters, said the national health insurance program, covering all people, has strengths such as lower insurance premiums compared to other nations and better access to medical care.

Thanks to higher access to medical care in which anyone can go to a hospital for care, Korea has enabled early diagnosis and treatment in the pandemic. Medical care data, owned by the national health insurance program, have swiftly sorted out cases confirmed to test for positive, contributing to lower deaths.

Government and health authorities' managing to cope with the pandemic is owed to the national health insurance program in which anyone is allowed to undergo COVID-19 testing and receive treatment without worry about hospital costs.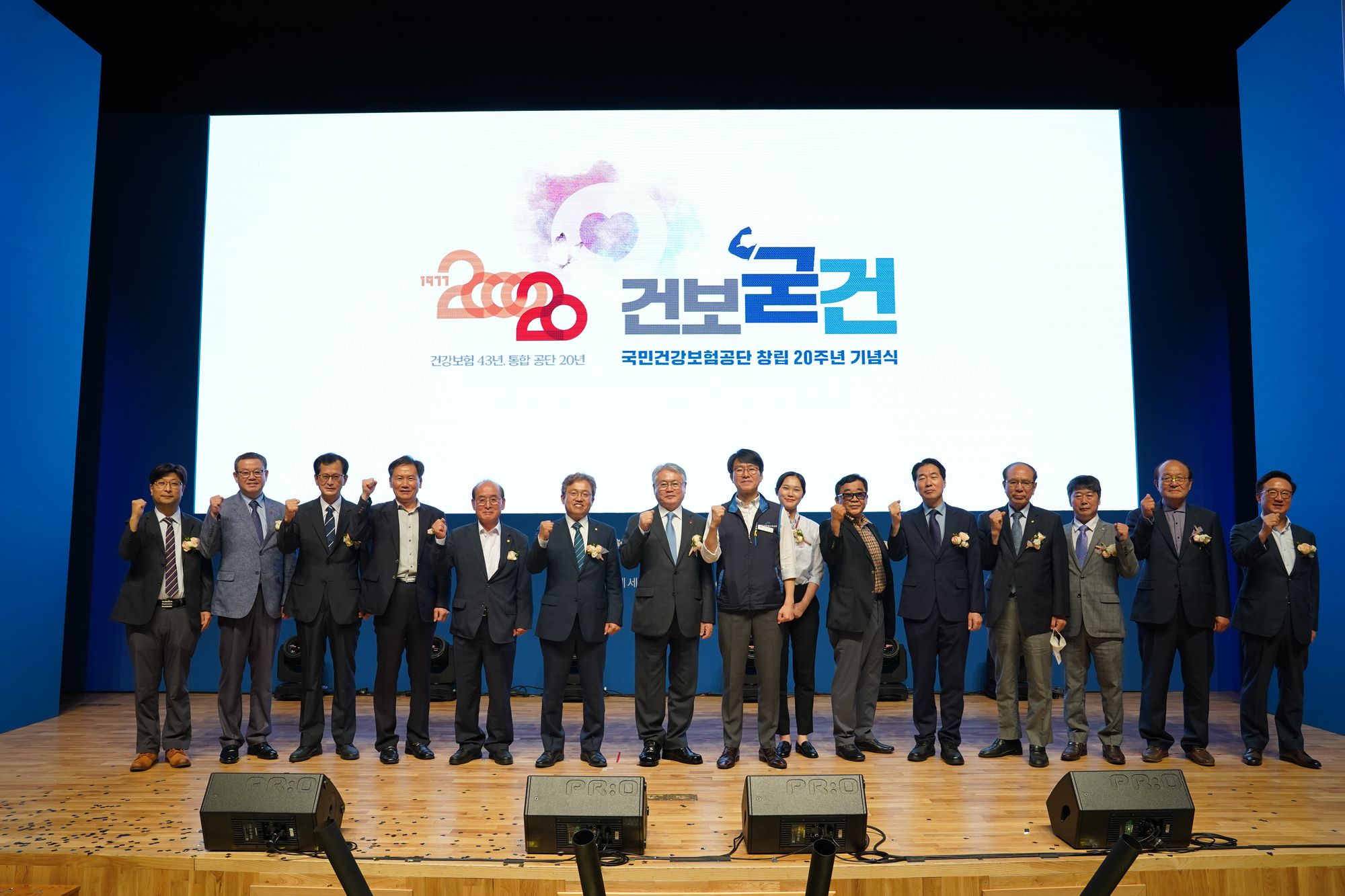 Dignitaries, including NHIS President Kim Yong-ik, pose at a ceremony to celebrate the 20th anniversary of NHIS's founding. (Photos: NHIS)

NHIS Strikes MOU on K-Health Insurance Content Production with World Bank

NHIS, globally recognized for excellence of K-health insurance and operation experience, singed an MOU on the production of the on-line study content on the Korean health insurance regime with the World Ban on June 17.
The deal is designed to produce a on-line study content to provide efficient support developing countries could achieve full coverage of health insurance to brace for the post-COVID-19 era.

The content, being jointly produced by NHIS and the World Bank, is expected to be used as an material for training programs on the full coverage of health insurance, being organized by the World Bank.

With the signing of the deal with the Word Bank, NHIS's achieving health insurance program's full coverage of all Koreans, globally exemplifying of containing COVID-19 and K-health insurance's roles related to the pandemic are predicted to be spread to developing countries and other parts of the world.