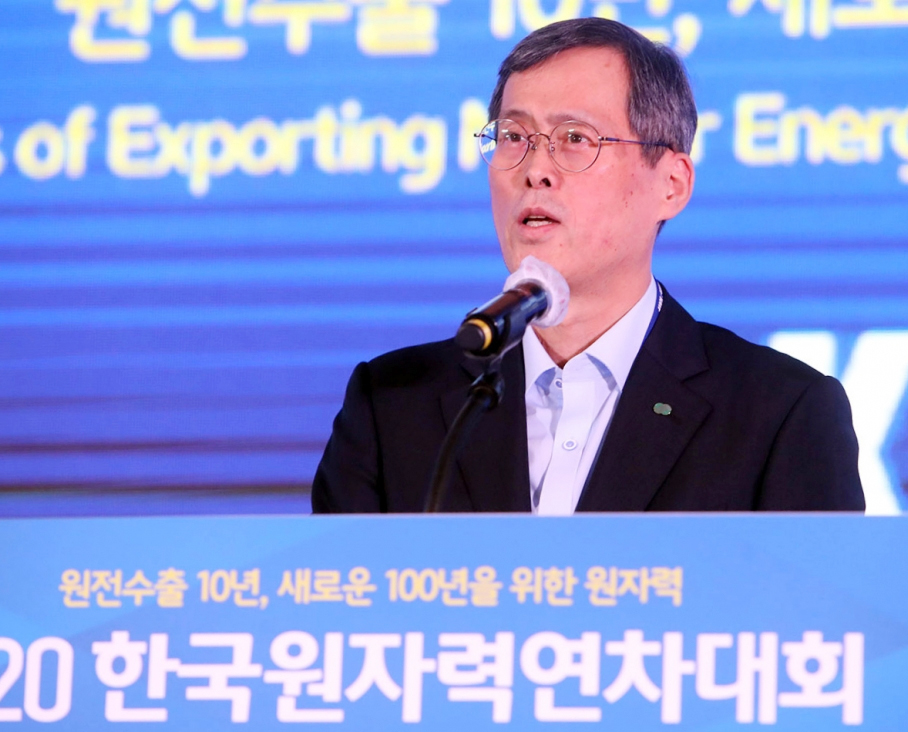 Chairman Chung Jae-hoon of the Korea Atomic Industrial Forum (KAIF) gives a speech at the Korea Atomic Power Annual Conference 2020 (KAP 2020) took place at the BEXCO in Busan on July 16. (Photos: KAIF)
About 500 Korean and international nuclear power experts assembled in Busan from July 16 to July 17 to celebrate the 10th anniversary of Korea's exporting homegrown nuclear power technology, and to look at pending issues and ways of exploring innovation in the industry.

The Korea Atomic Power Annual Conference 2020 (KAP 2020) took place at the BEXCO in Busan under the theme "10 Years of Exporting Nuclear Power, Nuclear Power of Next 200 Years."

Participants of KAP 2020 shared innovation tasks to maintain the ecosystem of the nuclear system, discussed ways of managing spent nuclear fuel and ways of exploring technology innovation to tap the small nuclear power reactor market.

Speakers of the first session touched on ways of innovation for the future of the Korean nuclear industry, while the second session examined spent nuclear fuel management issues. Speakers of the third session discussed ways of developing small nuclear power reactor technologies and nuclear technology innovation.

In an opening speech, KAIF Chairman Chung Jae-hoon said, "The nuclear power industry works together like today to overcome hardships." Chairman Chung was optimistic about the possibility of exporting nuclear power technology anew.

Concerning a former Czech nuclear power safety commission chief's citing the Central European country's next-generation nuclear power plant using Korea's homegrown APR1400, Chairman Chung stressed the global spread of Korea's homegrown nuclear technologies, saying that Korea's capability of building, operating and maintaining nuclear power plants is superb globally.

An increasing number of countries will want to build small nuclear power reactors and diverse types of reactors, he said. "I hope everyone assembling here will join forces to make Korea a new champion," Chairman Chung said.

In his commemorative speech, Vice Minister Chung Byung-sun of the Ministry of Science and ICT said, "The Korean nuclear industry's securing technology self-sufficiency in a short period of time and exporting a research reactor to Jordan, exporting a nuclear power plant to the United Arab Emirates and cooperation on the development of Korean-designed SMART small modular reactor with Saudi Arabia are achievements it has made and great pride."

Last year, the government announced steps to secure leading future nuclear power technology capabilities, strategies to create the future radiation industry, and it has established and implemented policies to develop nuclear power technologies in a continuous fashion.

In his welcoming speech, Kim Sun-jo, head of the Planning and Coordination Office with the Busan Metropolitan Government, "I welcome you to come to Busan, which made the Kori Nuclear Power Unit 1, the nation's first nuclear facility." "Last Year, Busan and Ulsan had jointly attracted a nuclear power decommission research institute, and we are offering full support to nuclear power SMEs in the southeastern sphere," he added.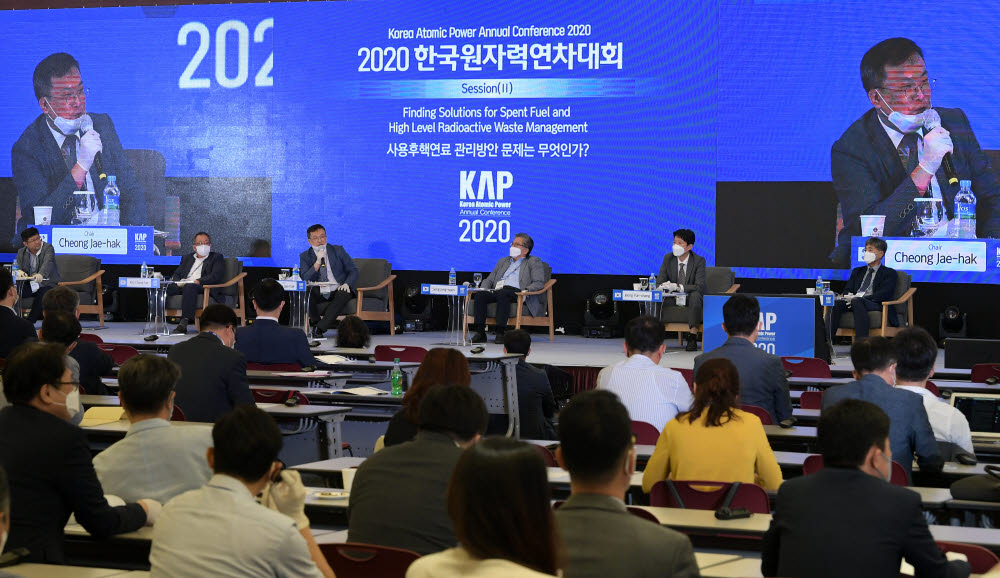 Experts discuss pending issues on a session on spent nuclear fuel at KAP 2020.

Keynote speakers of KAP 2020 included Czech Ambassador to Korea Gustav Slamecka, President Kim Moo-hwan of POSTECH, and Chairman Min Byung-joo of Korean Nuclear Society. Czech Amb. Slamecka explained the current situation of a nuclear power program the Czech Republic is planning and cited Korea's strengths like the achievements the nation has made, excellent technology power and excellent manpower.
He stressed partnership between Korea and the Czech Republic in the nuclear power project the latter is pursuing.

KAP 2020 coincided with the 2020 Busan International Nuclear Power Industry Exhibition, which took place at the 2nd exhibition hall of BEXCO during the KAP 2020.
A combined 126 exhibitors from Korea and foreign countries opened 356 booths. Among the exhibitors were Korea Hydro & Nuclear Power (KHNP), KEPCO KPS, Korea Atomic Energy Research Institute, KEPCO E&C, KEPCO Nuclear Fuel Co., Doosan Heavy Industries & Construction, Korea Radioactive Waste Agency (KORAD), Westinghouse, Orano, Framatome, Enertopia, and Siempelkamp.