Videos of stories about famed Confucian scholar Yi Hwang are presented on top of commemorative performances such traditional chamber music and percussion music concerts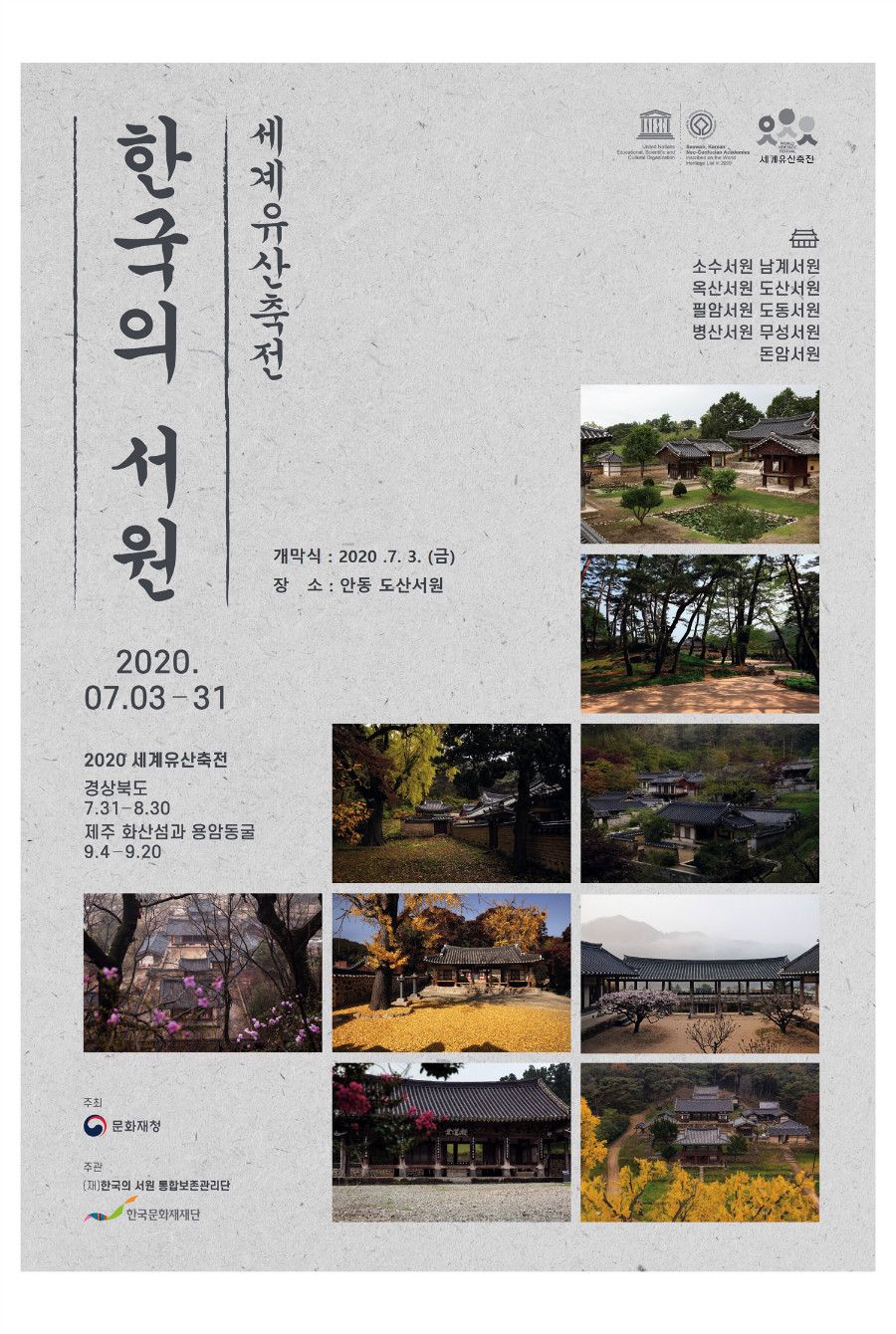 A poster to publicize the 2020 World Heritage Festival-Korean Seowon.
Andong and eight local governments who have Confucian academies and eight other Confucian academies, designated as UNESCO World Heritage sites are holding the 2020 World Heritage Festival known as Korean Seowon.

The Korean Seowon festival lasts one month in July to mark the first anniversary of their inscription.

Each Confucian academy offers diverse performances and events, including Confucian academy reenactment events, temple stays, traditional martial arts performances, painting contests, ancient state examinations, Chinese poem writing contests and sacrificial rituals.

Starting this year, the 2020 World Heritage Festival is hosted by the Cultural Heritage Administration to publicize the values and significance of cultural properties, put on the UNESCO World Heritage List.

The 2020 World Heritage Festival, Korean Seowon, will take place in July under the theme "Seowon Becomes Global Flowers."

In August, Gyeongsangbuk-do will hold a similar festival to publicize their UNESCO-listed cultural heritage sites, such as Daeneungwon Royal Tomb, Cheomseongdae, Hahoe Village, and Buseok Temple, which will be followed by an another event to be held in Jeju.

Nine South Korean Confucian academies were inscribed on the UNESCO World Heritage List for their "outstanding universal value" in July 2019, The decision was made in a meeting of the UN World Heritage Committee in Azerbaijan, raising the total number of South Korea's World Heritage sites to 14.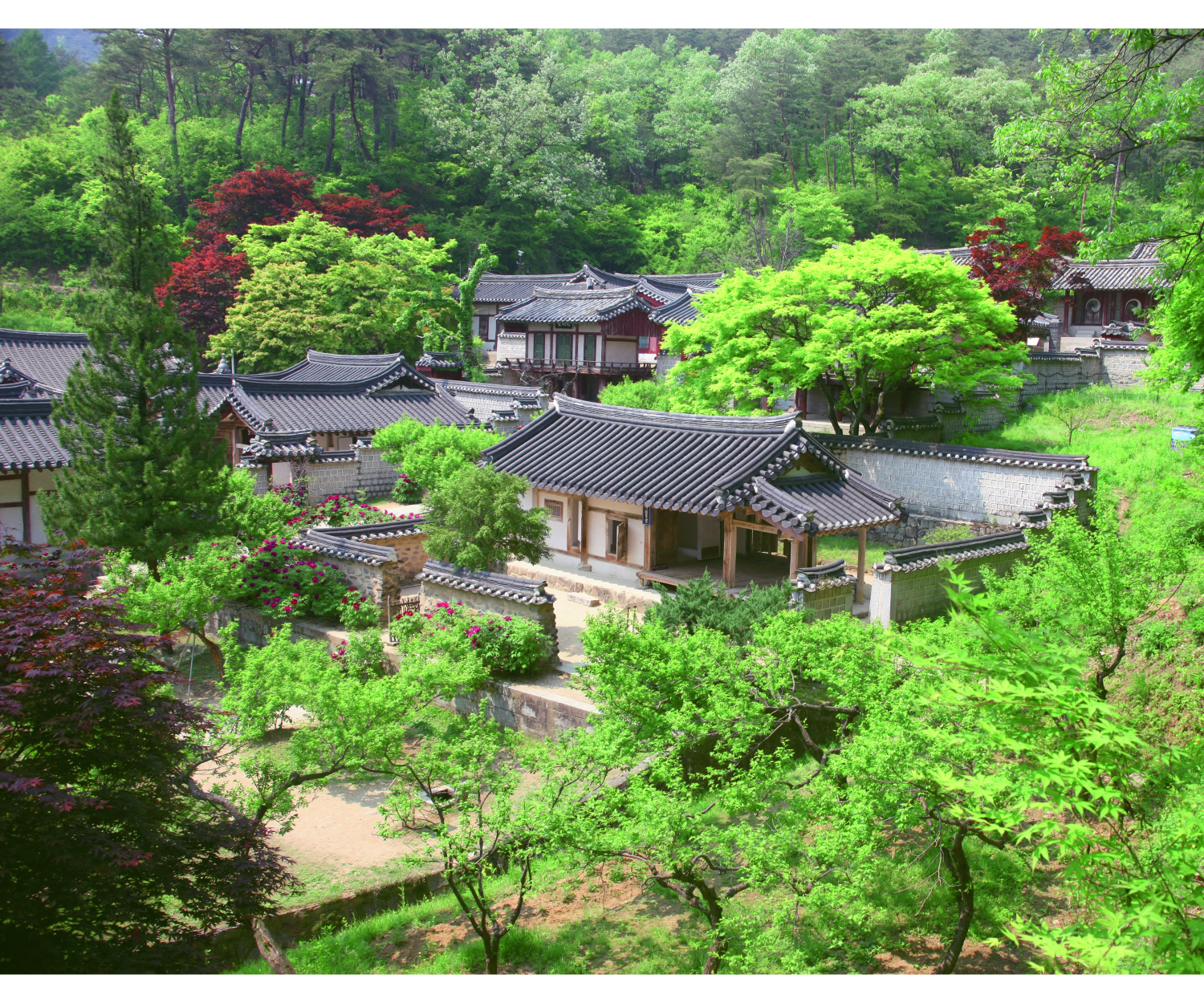 An aerial view of Dosan Seowon. (Photos: Andong City Govt.)

Dosan Seowon (Confucian Academy) was the venue of a ceremony to open the 2020 World Heritage Festival, Korean Seowon, which took place at 4 p.m. on July 3. Eight other Confucian academies - Sosu, Namgae, Oksan, Pilam, Dobong, Byeongsan, Museong and Donam - followed suit.

They presented their own diverse anniversary commemorative programs. During the opening ceremony, videos on stories about the famed Confucian scholar Yi Hwang were presented, in addition to commemorative performances such as traditional chamber music and percussion music concerts.

A concert to commemorate Yi Hwang started with a chorus of "Dosan 12 Melodies," composed by the Confucian scholar. The concert also presented not only traditional music like gayageum but also western music such as soprano, baritone, cello, flute and piano music.

The Dosan Seowon Exhibition was opened on July 2 for an 18-day run as a pre-event of the opening ceremony under the theme "Dosan Seowon Talks about Human's Spiritual Values."

President Kim Byung-il of Dosan Seowon said Dosan Seowon was established in 1574 in what is present day Andong, South Korea, in memory of and four years after the death of Korean Confucian scholar Yi Hwang by some of his disciples and other Korean Confucian authorities.

Yi Hwang had retired to the location in 1549 and begun construction on the facility, a private Korean Confucian academy offering instruction in the classics and honoring the sages with regular memorial rites.

Like other Korean Confucian academies, Dosan Seowon serves two purposes: education and commemoration. The site was well known in Korea as one of the leading academies and was home to the Toegye School of Thought for over 400 years.
Although the educational function of the facility has long since ceased, the commemorative ceremonies have been and are still held twice a year.

The ancient academy was royally chartered in 1575 by King Seonjo and was featured on the reverse of the South Korean 1,000 won bill.