Gyeongbuk Gov. Lee Unveils 'Global Mega City' Vision
Gyeongsangbuk-do Gov. Lee Cheol-woo speaks at a meeting with reporters marking the 2nd year in the seventh publicly contested local autonomy on June 30 in which he announced "2022 New Gyeonbuk Vision." (Photos: Gyeongsangbuk-do provincial govt.)
Gyeongsangbuk-do Gov. Lee Cheol-woo, in the second half of his term, announced "2022 New Gyeonbuk Vision of becoming a "global mega city that competes in the world, going beyond Gyeongsangbuk-do."

At a meeting with reporters marking the 2nd year in the seventh publicly contested local autonomious region on June 30, Gov. Lee proposed "7 Plus 3 Project," combining seven priority tasks and three institutional reform tasks.

The 7 Plus 3 Project calls for implementing an integrated new airport in the Daegu-Gyeongbuk area; integrating Daegu and Gyeongbuk administration; making Gyeongbuk a business-friendly place; making Gyeongbuk a healing place in the new normal era of culture and tourism; making Gyeongbuk a farming and fishing center in a food security crisis,; making Gyeongbuk a super metropolitan transportation logistics center; and three institutional reform tasks to cope with the new normal.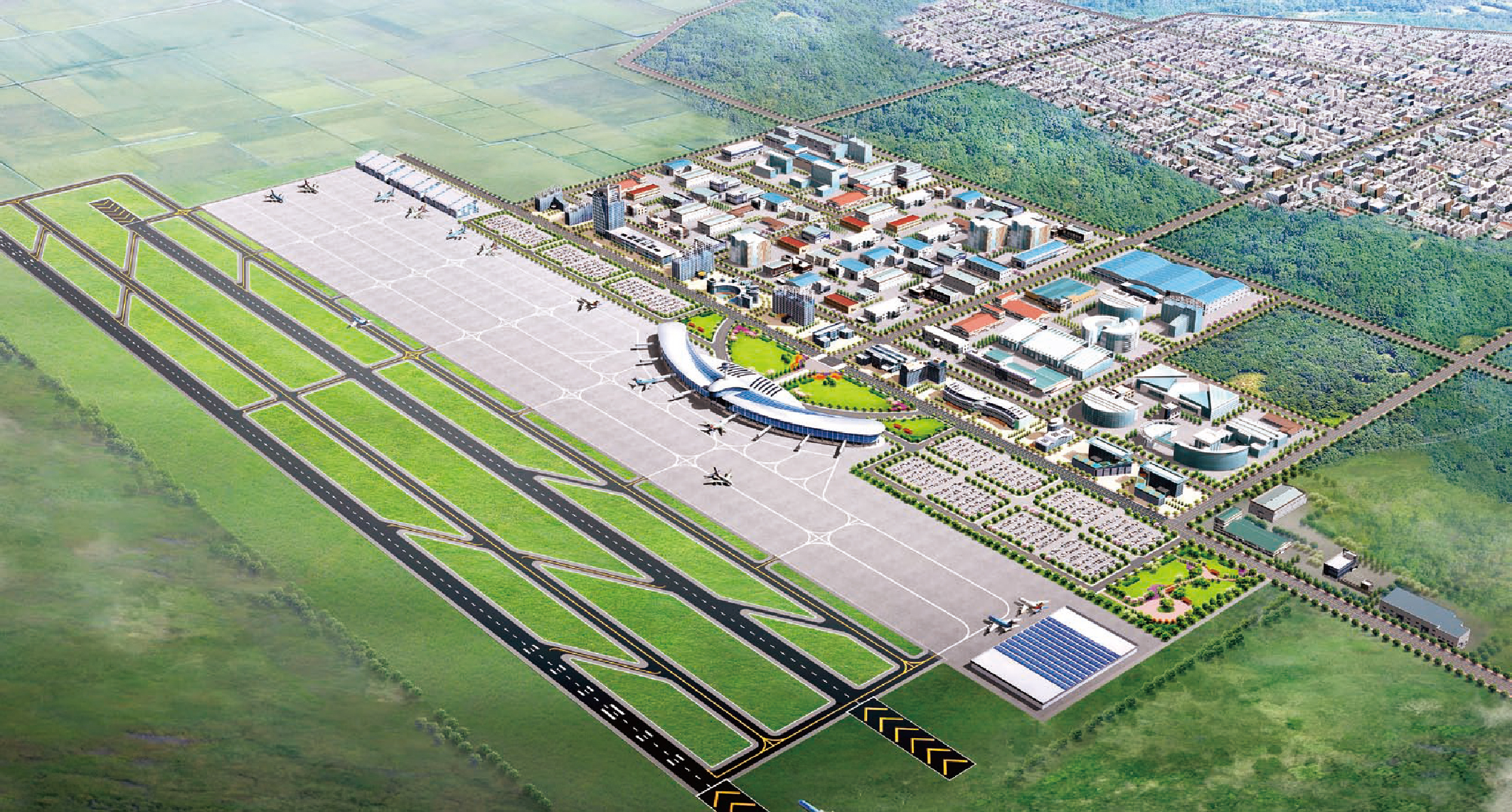 A bird's eye-view of Daegu-Gyeongbuk integrated new airport.

As to the construction of an integrated new airport in the Daegu-Gyeongbuk area, Gov. Lee said, "As a huge budget of 10 trillion won will be spent for the construction of the airport, a long-standing task among 5.1 million residents in the Daegu-Gyeongbuk area, and if related projects as well as roads, railroads and other SOC projects are included, it will be 'Gyeongbuk New Deal Project costing tens of trillions."

"It will be achieved as a watersheds event that will change the future of state and region," he said. Gov. Lee said the provincial government will push ahead with the establishment of a master plan and others after a site is finalized by a committee of the Ministry of National Defense on July 3.

The provincial government will seek the enactment of a special act on autonomy in the Daegu-Gyeongbuk area, which would integrate the Daegu-Gyeongbuk area's administration.
It would purse integration based on equality and shared growth to secure the competitiveness of the region against the Seoul metropolitan area and overcome a crisis of regional extinction.

Gov. Lee said a push committee comprising citizens and provincial residents will be formed this year to spread consensus, and parliamentary discussions will follow consultations with regional political circles, and working-level preparations will start next half with the goal of having the special act bill approved by the National Assembly next half.

Gyeongsangbuk-do plans to aggressively attract companies by implementing three special strategies related to reshoring to create jobs. To this end, the provincial government plans to raise the upper limit of subsidies to expedite reshoring companies' regional investments and smart factory support rate.
The move is designed to create job s and attract companies by building up "Gyeongbuk-style job creation model support regime through support such as special attraction incentives and nurturing of business-friendly environment.

The provincial government plans to implement "Gyeongbuk-style Smart New Deal Strategies" in accordance with the central government's "Korean New Deal" project.

Gov. Lee said Gyeongbuk's specialized "Digital New Deal" strategies like AI Inno-Valley, 5G on-tact health care, and smart living care will be implemented. Gyeongsangbuk-do will spearhead the innovation of regional industrial complexes and regulation-free zones like hemp-based bio industry regulation-free zone and technology-oriented R&D zone, Gov. Lee said.