Participate in 'AI One Team,' AI consultative body consisting of industry, academia and research circles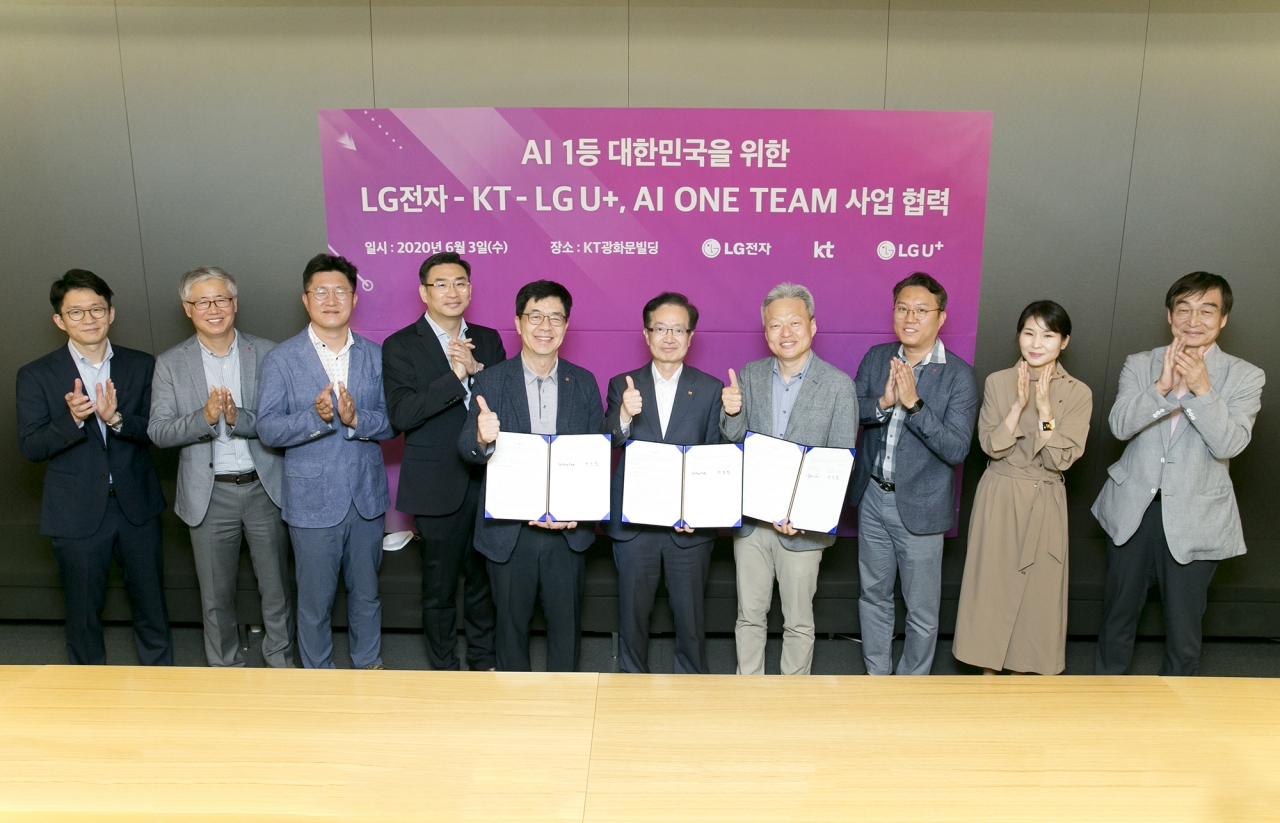 LG Uplus Senior Executive Vice President Lee Sang-min in charge of FC Division, KT Senior Executive Vice President Chun Hong-beom in charge of AI/DX Convergence Business and LG Electronics CTO Park Il-pyung pose after they signed an MOU at the KT's Gwanghwamoon Building on June 3 to jointly participate in the AI One Team to strengthen competitiveness of AI. (Photo: LG Uplus)
LG Uplus, KT and LG Electronics have joined forces to form an AI alliance.

LG Electronics and LG Uplus joined "AI One Team," an AI consultative body consisting of industry, academia and research circles.

It was established by Hyundai Heavy Industries Holdings, KAIST, Hanyang University as well as Electronics and Telecommunications Research Institute (ETRI) last February.

Korean AI groups, including the AI coalition established by Samsung Electronics, SK Telelcom and Kakao last January - are expected to take on global leaders, including Google and Apple.

LG Uplus, KT and LG Electronics signed an MOU at the KT's Gwanghwamoon Building on June 3 and agreed to jointly participate in the AI One Team to strengthen competitiveness of AI.

AI One Team focuses on solving social issues based on AI capabilities, ramping up AI capabilities by sharing their proprietary technologies and experiences, yielding business outcomes through the improving of AI competitiveness in product, service and solution sectors and building an AI manpower development platform connecting industry, academic and research circles.

LG Electronics and LG Uplus' participating AI One Team is expected to spur joint research and collaboration to secure proprietary AI technologies, including big data.

LG Uplus and KT have been recognized for developing AI based on 5G mobile telecom and data, while LG Electronics is noted for developing AI solutions based on expertise the electronics maker has accumulated.

Under the deal, the trio is expected to expedite joint research on AI.

LG Electronics is expected to benefit from the data provided by the two telecom service providers, which accounts for almost half of the nation's total data.
The trio will likely be able to create new value by jointly analyzing the two telecom service providers' data with their AI technologies. AI R&D centers in Seoul, Silicon Valley and Toronto, owned by LG Electronics, are expected to become a great boon to KT and LG Uplus.

If KT's AI TV "Giga Genie" and LG Uplus' brand "ThinQ" are connected, it is predicted to bring about new AI platforms and sound recognition products. LG Uplus and KT home IoT is expected to bear much fruits by connecting them with LG Electronics' smart home alliance.

The three companies' focus is on AI manpower development. They have agreed to nurture AI manpower in cooperation with KAIST and Hanyang University to fix a shortage of AI manpower.
They plan to create three-dimensional, refined analytical models via AI by making the most of telecom data and smart home appliance information to stem the spread of infectious diseases such as COVID-19.

KT has been at the forefront in areas such the prevention of infectious diseases via telecom data. Among those on hand at the signing ceremony were LG Electronics CTO Park Il-pyung, KT Senior Executive Vice President Chun Hong-beom in charge of AI/DX Convergence Business, and LG Uplus Senior Executive Vice President Lee Sang-min in charge of FC Division.

LG Electronics President Park said his company will cooperate in diverse areas with companies, universities and research institutes which have a competitive edge in the open innovation perspective, and it will contribute to raising AI competitiveness and creating real business performances.