Implements three tasks, including spurring efforts to nurture new industries and strengthening of the competitiveness of materials, parts and equipment industries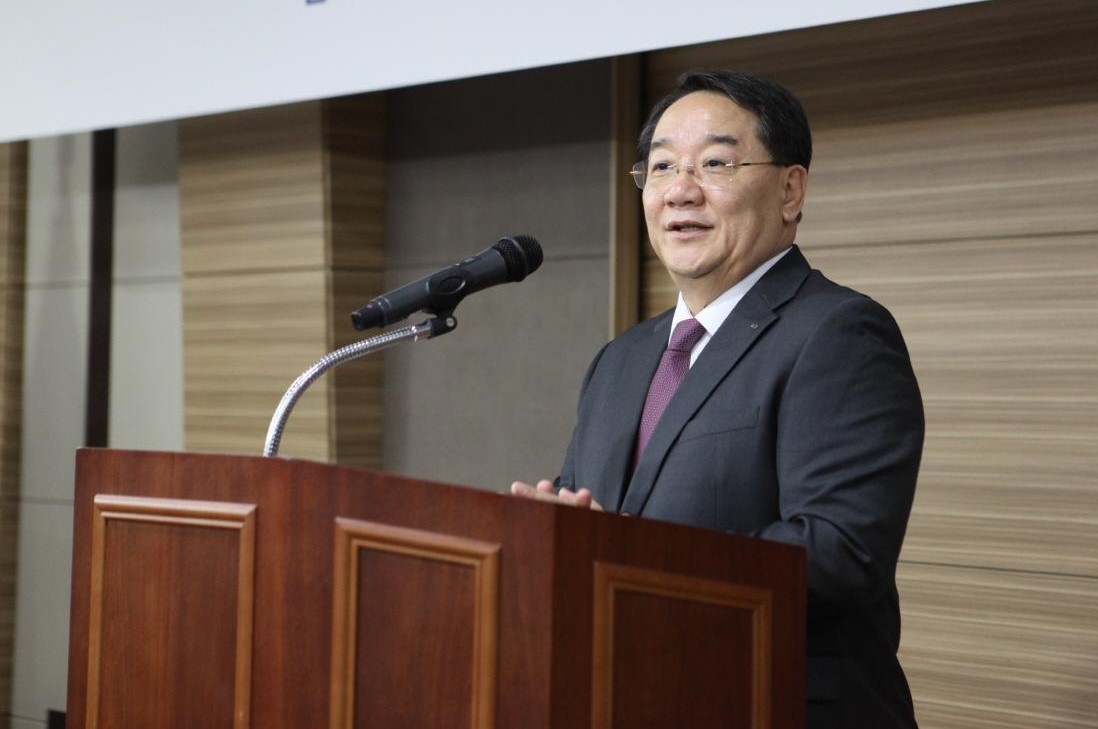 President Seok Yeong-cheol of Korea Institute for Advancement of Technology (KIAT). (Photo: KIAT)
President Seok Yeong-cheol of Korea Institute for Advancement of Technology (KIAT) said the organization will do its best to create an "industrial soil that can be sustained" in the post-COVID-19 era.
KIAT President made the remarks at a meeting with reporters marking one year in office at the Sejong Government Complex on June 8.

KIAT, an agency under the jurisdiction of the Ministry of Trade, Industry and Energy (MOTIE), is responsible for state-financed R&D in the industry technology sector, international cooperation and the nurturing of materials, parts and equipment industries.

The three tasks KIAT is implementing during this year are the spurring of efforts to nurture new industries, the enhancing of the vitality of mainstay industries, and the strengthening of the competitiveness of materials, parts and equipment industries.
The implementation of the tasks is designed to create a new format of industrial structure in keeping with calls for overall reform in economic and social structure, caused by the spread of COVID-19.

In order to spur efforts to nurture new industries, KIAT plans to provide support so that diverse new industries can enter markets.
In particular, KIAT, recognizing contactless digital content upgrade, plans to push for digitalization of all industries.
In February, KIAT inaugurated the Industry Intelligence Team.
The establishment of the team is designed to make all industries based on digital foundation and work out strategies to ensure innovative growth. The team supports the enactment of the tentatively named Special Act on Industry Intelligence.

In April, KIAT inaugurated the "Corporate Vitality Support Task Force" to be charged with provision of diverse policy support when companies try to enter new industries in the course of restructuring its business portfolios.
KIAT endeavors to ensure the substantial operation of a regulatory sandbox, now in its second year, with an eye to spurring the nurturing of new industries. KIAT now operates and supports a regulatory sandbox for industry convergence of the MOTIE and a regulatory free zone of the Ministry of SMEs and Startups (MSS).

KIAT plans to aggressively explore regulatory grievances for promising new industries such as AI, big data, bio and mobility and convergence and multi-disciplinary industries. The Regulatory Sandbox Support Team was established in February to support verification and commercialization.
In order to enhance the vitality of mainstay industries, KIAT also make efforts to streamline the foundations of mainstay industries whose competitiveness has been weakened due to industry environment changes.
KIAT has set aside 30.5 billion won for projects to invigorate regional economies. They are designed to help companies grappling with the weakening of manufacturing foundations in 11 regions, including Gangwon-do, secure orders, diversify businesses and nurture new industries.

KIAT has appropriated 56.7 billion won in projects related to "smart specialization infrastructure." Starting this year, KIAT provides comprehensive support such as equipment support, technology support and the nurturing of manpower specializing testing/evaluation/certification equipment in order to upgrade industrial structure in 14 cities and provinces and diversify businesses.
KIAT also provides support to ramp up the competitiveness of mainstay industries such as the shipbuilding, automobile and semiconductor sectors. To this end, 38.7 billion won will be spent to nurture manpower of related mainstay industries.

To strengthen the competitiveness of materials, parts and equipment industries, KIAT endeavors to diversify global value chains.
The material and parts convergence alliance project will cost 81 billion won. KIAT will pour 33 billion won into building reliability assessment infrastructure for key materials and components, for which Korea heavily depends on foreign imports, and invest 40 billion to build test-bed for certifying performances.
KIAT plans to spend 40 billion won in support for evaluating mass production performance.

KIAT plans to encourage Korean companies to participate in international technology collaboration programs with advanced countries in materials, parts and equipment sectors while seeking to establish a technology cooperation center related to materials, parts and equipment sectors in Germany.

KIAT's 2020 budget has surged to 1.867.9 trillion won, a 16.4 percent jump over last year. The reason is that the budget related to regulation sandboxes and materials, parts and equipment sectors has surged.

KIAT President Seok said, "Structural reform is essential for spurring long-term growth just as good as short-term pump-priming steps so that a sustainable innovation can be secured in a crisis in the post-COVID-19 era."