Bank Woori Saudara donates 5,000 pieces of protective clothing for medical staff to Indonesia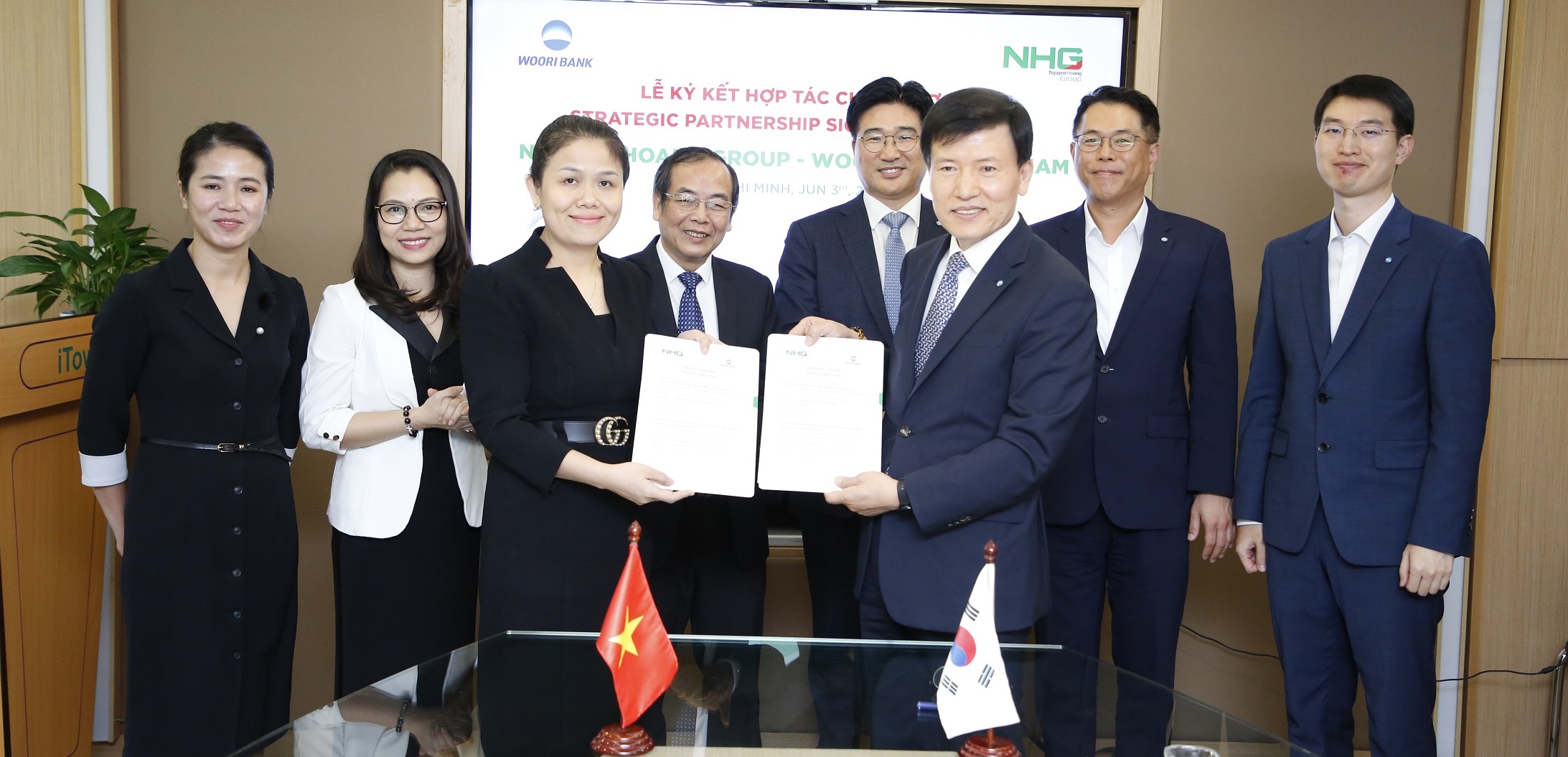 On June 3, Lee Jong-in (right in the front row), head of Woori Bank Vietnam and Ng Tao, representative of NHG show an agreement on a loan for facilities after signing it at the headquarters of Nguyen Hoang Group (NHG) in Ho Chi Minh City in Vietnam. (Photo: Woori Bank)
Woori Bank has won the status as the main bank of Vietnam's number one education company. This was the first time a Korean bank has penetrated the loan service market in the Vietnamese education sector. The Korean lender plans to further strengthen its operations in Vietnam based on the deal.

Woori Bank Vietnam signed a business agreement at the headquarters of Nguyen Hoang Group (NHG), a Vietnamese education group, to provide 460 billion dong (about 24.2 billion won) in loans for the establishment of the campus of Bien Hoa International School, said sources in the banking Indus try on June 3.

The signing ceremony was attended by Lee Jong-in, head of Woori Bank Vietnam and high-ranking officials of NHG.

NHG is the first-ranking education group in Vietnam, and is based in Ho Chi Minh City. It operates 33 campuses in 18 regions, including elementary, middle, high schools and colleges.
The number of students at affiliated educational institutions stands at 41,000. About 4,000 executives and employees work at these schools.

Woori Bank Vietnam has decided to provide a loan to facilitate the establishment of Bien Hoa International School to be set up by NHG in Bien Hoa of Dong Nai in Vietnam.
It also attracted businesses such as tuition collection accounts and credit cards for executives and employees of the school.

It is unusual for a Korean bank to beat local banks to win a position to be the main financial institution of a major organization in Vietnam.
"The local corporate finance desk and corporate finance team quickly caught information on the establishment of the international school and thoroughly prepared to make the deal," a Woori Bank official said. "It helped to expedite the decision on the loan through the Asian Loan Review Center of Woori Bank in Singapore."

With the agreement, Woori Bank aims to further strengthen its efforts to tap into the Vietnamese market, focusing on education. The number of local RMs will be increased sharply from nine to 30. "Based on NHG's network across Vietnam, we will also actively target the private loan market for school employees and parents of students," the official said.

Woori Bank also joined Indonesia's efforts to fight the COVID-19 virus. Bank Woori Saudara announced on May 19 that its employees visited the National Disaster Prevention Agency in Jakarta, Indonesia, and donated 5,000 pieces of protective clothing for medical staffs to Indonesia which lacked protective gear and equipment.

Indonesia's confirmed COVID-19 cases were spiking in large cities, and the Indonesian government was implementing a nationwide "large-scale social constraints" to prevent the spread of the plague.

At sites where medical staff are combating the novel coronavirus, many were infected due to a lack of protective equipment such as protective clothing and face masks in Indonesia.
Ninety percent of raw materials for medicine and medical equipment are imported from abroad, making it difficult to supply them to where they are urgently needed. In response, Bank Woori Saudara donated protective clothing produced by Korean factories for Indonesian medical staffs struggling in difficult circumstances.

"I pay tribute to the Indonesian government, the people, and medical staffs who are committed to rolling back the COVID-19 virus by implementing social restrictions," said Choi Jeong-hoon, head of Bank Woori Saudara.
"I sincerely hope that this support will help Indonesia overcome the COVID-19 crisis and the current situation will improve. We will continue various social contribution activities in the future."

Woori Bank acquired a stake in Saudara Bank in Indonesia in 2014 and is operating 157 branches there. In addition to corporate financing, it is providing various financial services such as deposits, currency exchanges, remittance, internet banking and mobile banking for customers.