NH Nonghyup Bank Makes Stride in Asset Management and Cloud Computing Infrastructure
Sohn Byung-hwan, President of NH Nonghyup Bank, puts utmost effort into strengthening wealth management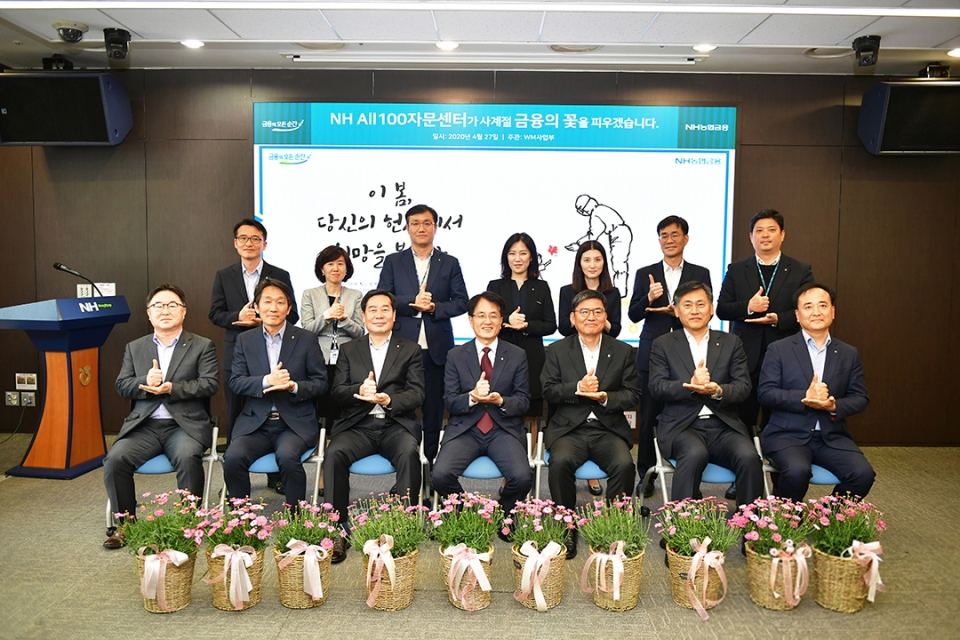 Sohn Byung-hwan (fourth from left in the front row), president of NH Nonghyup Bank poses for a commemorative photo shoot with employees after holding an event to give NH All100 Advisory Center and make presentations on customer counseling cases at NH Nonghyup Bank Headquarters on April 27. (Photo: NH Nonghyup Bank)
Sohn Byung-hwan, president of NH Nonghyup Bank, is focusing on strengthening wealth management (WM).
In particular, Sohn is speeding up the construction of a national network so customers in rural areas as well as the Seoul Metropolitan area can receive NH Nonghyup Bank's high-quality wealth management services through systems such as video counseling.

According to NH Nonghyup Bank on May 5, wealth management was selected as one of the future core projects in the digital transformation era, and the WM division was newly established and reorganized as an independent business division earlier this year. As a recent follow-up, the NH All100 Advisory Center was created.

In the meantime, NH Nonghyup Bank's image as a bank for ordinary people was relatively strong, but as the aging trend has been intensifying and the importance of wealth management grew, NH Nonghuyup Bank has been seeking to transform itself.
President Son, who took office in March, has decided to zero in on securing expertise and expand business in the wealth management sector.

The NH All100 Advisory Center is composed of 23 people with various professions, such as tax accountants, real estate agents, retirement planners, and WM specialists. It serves as the control tower of the Nonghyup Bank wealth management network.

For example, as of the end of last year, NH Nonghyup Bank has 1,134 branches, the largest number among banks in Korea. When customers apply for wealth management, they form a team to send to the area. It is characterized by providing wealth management solutions through collaboration with sales offices and continuously conducting follow-up management.

"Because our customer base is wider than those of Seoul-based commercial banks, it is essential how we will be able to provide quality wealth management services to local customers in remote areas," said Kim Hee-jung, head of the NH All-Back Advisory Center.
"Customers in rural areas receive high-quality wealth management services at a general branch office through a management and consultation support system centered on professional manpower." Video services have also begun.
If customers apply for video counseling through branches located throughout the country, they can receive general wealth management services.
The face-to-face wealth management consulting has a timing problem due to the need to make an appointment and visit a branch.

However, using video counseling has the advantage of being able to immediately offer wealth management services on the spot even during a transaction or consultation with a salesperson.

"The video counseling service will bring a big change because it can provide wealth management services in the Seoul metropolitan area to customers in rural areas, where experts can hardly visit," Kim said.
In preparation for an increase in demand for wealth management counseling, NH Nonghyup Bank is considering expanding the NH All100 Advisory Centers in major areas, while gradually scaling up the number of tentatively run WM-specialized branches, of which there are currently four.

In the meantime, NH Nonghyup Bank will prepare a hybrid cloud blueprint this year. The lender laid the foundation for private cloud infrastructure will draw up a plan to introduce a public cloud service this year and start building the infrastructure beginning in 2021.

NH Nonghyup Bank is pursuing a transition into a cloud computing system from a long-term perspective.
First, it will implement it in three stages from 2018 to 2020. "We plan to internalize technology through private cloud computing according to a roadmap and promote its upgrade to hybrid cloud computing," an NH Nonghyup Bank official said.

Until recently, NH Nonghyup Bank has focused on preparing private cloud computing infrastructure. In the first phase in 2018, it built an IaaS platform. In the second phase in 2019, a PaaS platform was built.