Chalks up 138.7 billion won in operating profit and 107.1 billion won in pre-tax net profit in the first quarter of this year on a consolidated basis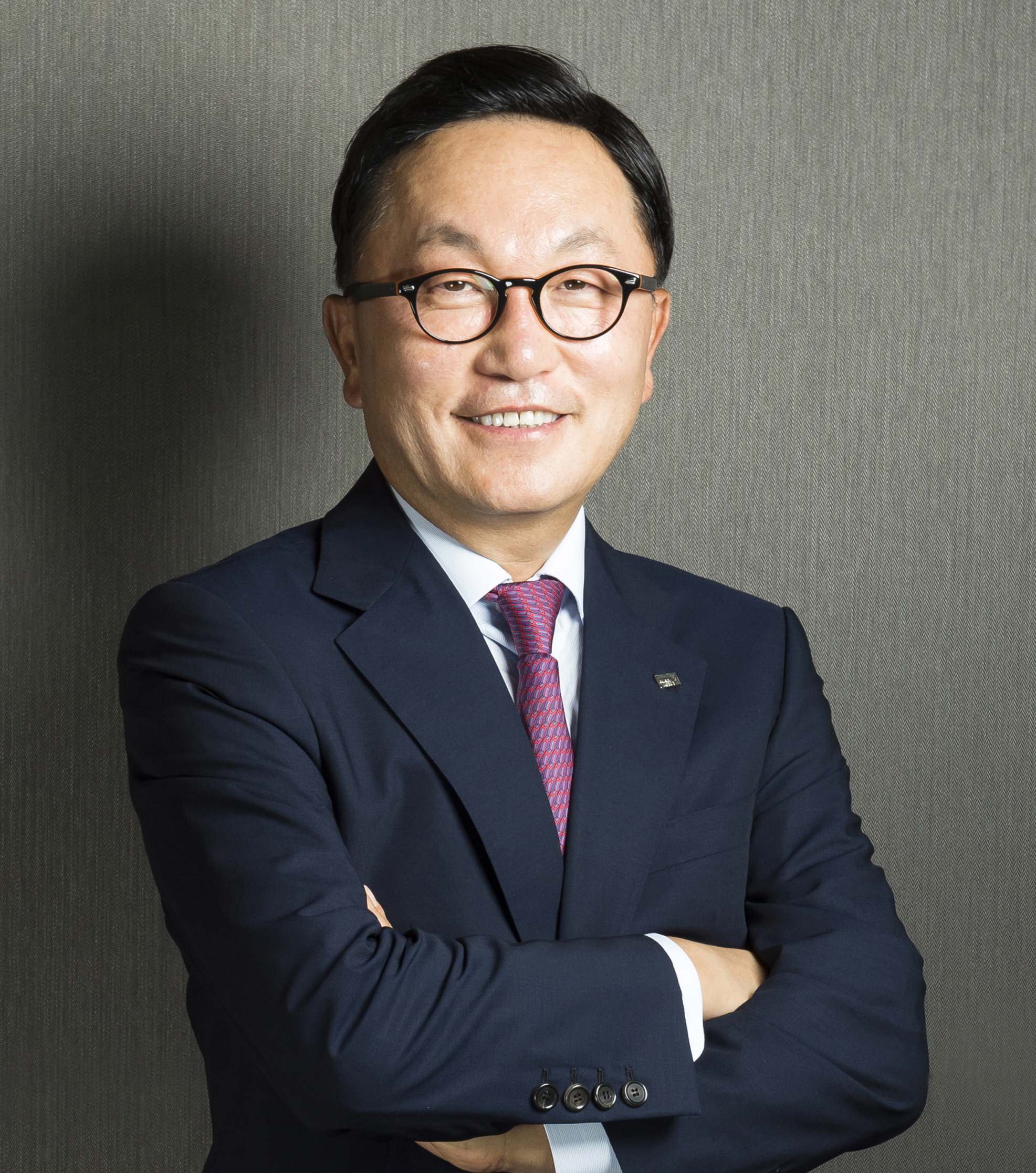 Chairman Park Hyun-joo of Mirae Asset Daewoo. (Photo: Mirae Asset Daewoo)
Mirae Asset Daewoo chalked up better-than-expected Q1 business performances, dispelling earlier worries and surprising financial experts.
As financial investment companies have showed different outcomes, depending on their respective business portfolios, the COVID-19 pandemic may be considered as a litmus test to demonstrate their risk management capabilities.

Mirae Asset Daewoo posted 138.7 billion won in operating profit and 107.1 billion won in pre-tax net profit in the first quarter of this year on a consolidated basis.
The largest investment banking and securities company by market capitalization in Korea saw Q1 operating profit and net profit drop 2.4 percent and 36.3 percent, respectively, compared to the same period one year ago.

Despite the COVID-19 pandemic, Mirae Asset Daewoo's Q1 performances are 78.1 billion won, or 77 percent and 97 percent, respectively, more than market consensus predictions: 78.1 billion won in operating profit and 54.3 billion won in net profit

Officials with Mirae Asset Daewoo said the company managed to realize a relatively stable profit thanks to a balanced business portfolio despite the pandemic.
In particular, they said Mirae Asset Daewoo saw a lower portion in hedges against the management of equity-linked securities and a lower ratio of debt guarantees vs. equity compared to other securities companies, contributing to effectively coping with liquidity issues, they said.

Mirae Asset Daewoo's relatively better business performance has proven is reflective of a business portfolio befitting a crisis.

Securities companies depend on major revenue resources like investment banking, wealth management (WM), and trading.
Of late, leading brokerage companies have restructured their business portfolios with a focus on investment banking, so they managed to make a leap forward on the back of the booming IB business last year.
But things had changed as the COVID-19 pandemic has dampened the IB business and expanded volatility.

Attention is focused on securities companies which have strengths in the wealth management business. The wealth management market is divided into the conventional brokerage sector and financial products like funds and wraps.
Mirea Asset Daewoo, a consolidation of Mirae Asset Securities specializing in wealth management and Dae Securities with a strong point in the IB sector, has a balanced business portfolio.

A look into Mirae Asset Daewoo's revenue resources showed that brokerage fees took a 40.7 percent share, followed by IB charges with a 22.2 percent portion and the trading segment, including principal investment, with a 15.7 percent share and financial product fees with a 14.3 percent portion.

Even though 182.1 billion won was paid out in dividends in Q1, Mirae Asset Daewoo saw its owner's capital rising to 9.15 trillion won.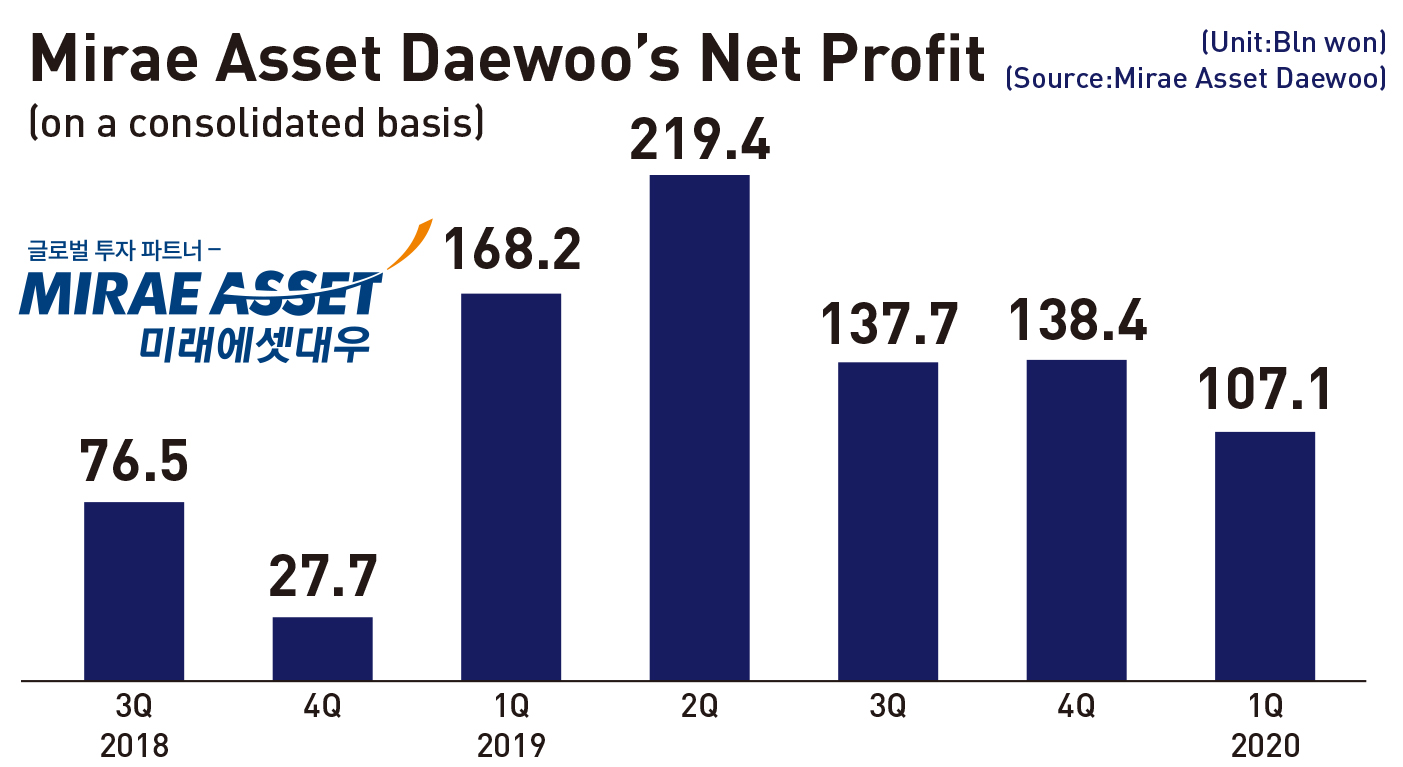 Brokerage revenues shot up on the back of biggest-ever trading amounts. The IB fee segment surged more than 20 percent for the eighth consecutive quarter. The overseas business segment jumped 29.3 percent in pre-tax net profit.

Brokerage fee revenues surged to 143.2 billion won, a 70.7 percent jump compared to the previous quarter. Overseas revenues, including overseas stock, stood at 30.6 billion won, the biggest-ever one.
The figure represented a 137.2 percent jump or an increase of 17.7 billion won compared to the previous quarter. The portion of overseas fees expanded to 21.4 percent.
As foreign stock balance shot up 700 billion won in Q1 to 8.3 trillion won, the foreign fee revenue segment is forecast to have a bigger portion.

The IB fee revenue dropped 15.6 percent over the previous quarter. The overall IB-related revenues amounted to 103.6 billion, maintaining more than 100 billion won for the eighth consecutive quarter since Q2 2018.