KB Kookmin Card 1st Korean Credit Card Co. to Enter Thailand
Signs subscription agreement to acquire a controlling 50.99 percent stake in J Finteh, a Thai personal loan provider, for 24.8 billion won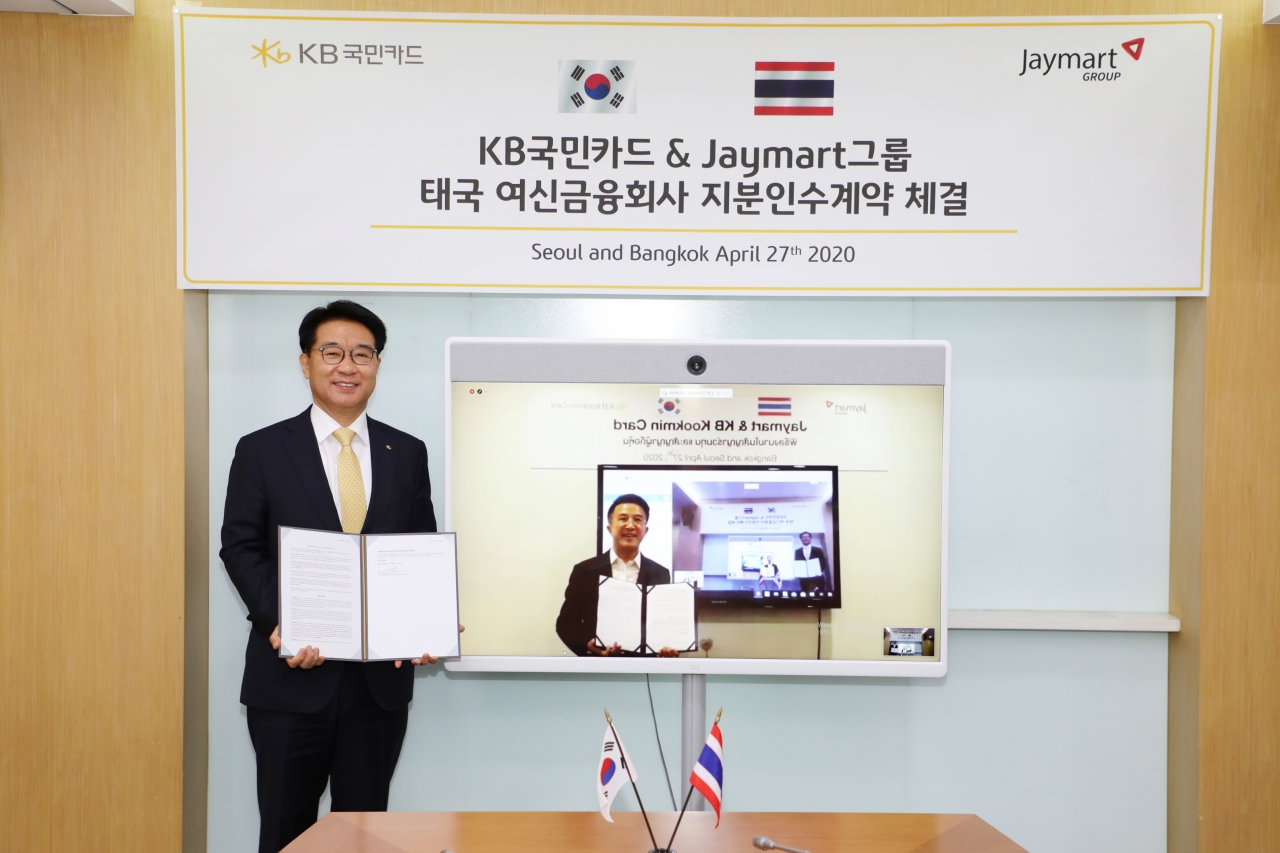 President Lee Dong-chul of KB Kookmin Card holds a copy of a share subscription agreement to acquire a controlling 50.99 percent stake in J Fintech, a Thai personal loan provider, after signing the deal with Jaymart Group Chairman Adisak Sukumvitaya via a teleconference meeting on April 27. (Photo: KB Kookmin Card)
KB Kookmin Card has agreed to acquire a Thai credit card company to enter the Southeast Asian financial market. KB Kookmin Card has become the first Korean credit card company to enter Thailand.
The deal will allow KB Kookmin Card to expand its presence in the Southeast Asian market after entering Cambodia and Indonesia.

KB Kookmin Card struck a share subscription agreement to acquire a controlling 50.99 percent stake in J Fintech, a Thai personal loan provider, for 24.8 billion won (650 million baht) on April 27.
The Korean credit card company plans to complete the acquisition process after gaining the nod on the deal from Korean and Thai financial authorities. J Fintech will be incorporated into a subsidiary of KB Kookmin Card if the deal goes through.

J Fintech is a financial subsidiary of mobile phone distributor Jay Mart. Engaging in the business of lending money under the brand J Money. J Fintech posted 151.6 billion won in total assets and 2.6 billion won in operating profit at the end of last year.

Jay Mart currently owns 95.65 percent of J Fintech's shares. KB Kookmin Card will purchase J Fintech's newly issued shares.

KB Kookmin Card, Korea's third-largest credit card company, has focused on tapping the Southeast Asian consumer loan service market since CEO Lee Dong-chul took office in 2018.
KB Kookmin Card acquired Tomato Specialized Bank in Cambodia in 2018 and took over Indonesian lender Finansia Multi Finance in 2019.

With the acquisition of J Fintech, KB Kookmin Card will be allowed to be engaged in lending business like credit and automobile loans and credit specialized financing business in Thailand.

KB Kookmin Card strives to reduce borrowing costs by raising capital through guarantees after J Fintech becomes a subsidiary of the Korean company. KB Kookmin Card plans to restructure J Fintech's portfolio with a focus on blue-chip assets and raising the financial soundness of its outstanding assets.

The Korean credit card company also plans to utilize as a "captive market" 192 outlets across Thailand, owned by Jay Mart Mobile, a subsidiary of Jay Mart Group, as part of efforts to ramp up sales infrastructure and diversifty business channels.

KB Kookmin Card's market entry to Thailand is made through comprehensive consideration of continuing growth potential of the Thai financial markets like credit card and other financial business environment, and two years' preparatory work to acquire a Thai financial institution that could have synergetic effects and utilize the captive market have finally bore fruits, a KB Kookmin Card official said. KB Kookmin Card is a wholly owned unit of KB Financial Group.