Chairman Kim asks employees to step up efforts to help those financially hurt by novel coronavirus crisis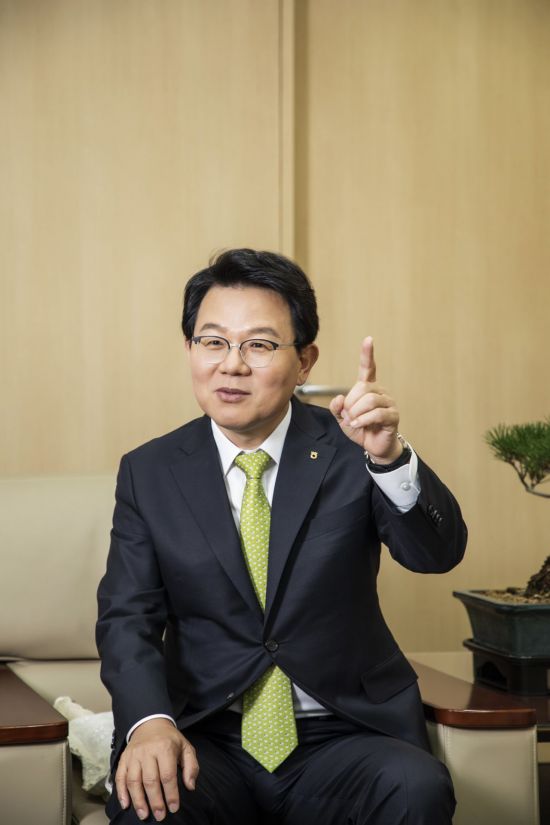 Chairman Kim Gwang-soo of NH Financial Group. (Photo: NHFG)
NH Nonghyup Financial Group posted 338.7 billion won in net profit in the first quarter of 2020. This was a decrease of 21.7 percent compared to the same period of 2019. The drop was blamed on a decrease in profits in the securities, foreign exchange and derivative sectors.

On April 29, the NH Nonghyup Financial Group announced its first-quarter earnings results. As the financial market's volatility expanded, the combined net profits of NH Nonghyup Bank and NH Investment & Securities decreased by 361.4 billion won from 2019.
The group's net profit hit 413.6 billion won with the addition of 107 billion won spent for agricultural support projects under the Agricultural Cooperatives Act is included.

Its interest income edged up to 1,948.6 billion won from the same period of 2019 (6.1 billion won). The net interest margin (NIM) fell 0.8 percentage points due to a cut in interest rate, but interest income assets increased.
Its commission income jumped by 51.2 billion won to 377.4 billion won from the previous year thanks to an increase in non-face-to-face transactions and stock trading. Its cost of credit loss provisions slid 18.7 percent to 82.8 billion won.

NH Nonghyup Financial Group's total assets touched 450.9 billion won, an increase of 5.6 percent from the end of 2019. Its ROE stood at 6.32 percent and its ROA was 0.31 percent.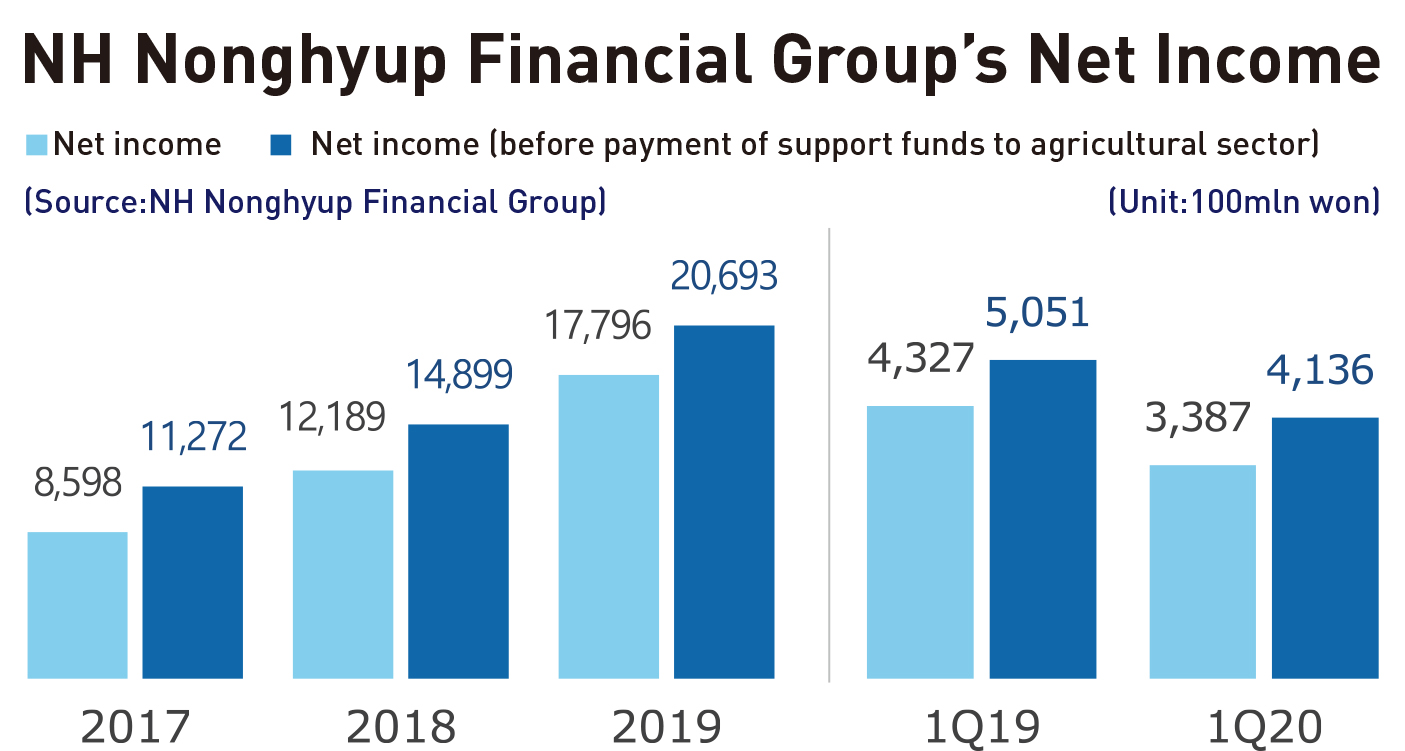 Nonghyup Bank's net income in the first quarter hit 316.2 billion won, down 13.7 percent from the same period of 2019. The bank's interest income and commission income slightly increased, but gains from securities declined due to increased volatility in stock prices.

NH Investment & Securities posted 32.2 billion won in net profit, Nonghyup Insurance, 5.1 billion won, NH Property and Casualty Insurance, 8.9 billion won, NH Capital 10.5, billion won, NH-Amundi Asset Management, 6.1 billion won and NH Savings Bank 5.2 billion won, respectively.

"We will minimize short-term management shocks kindled by the novel coronavirus crisis by moving ahead with solid emergency management," an NH Nonghyup Financial Group official said.

Meanwhile, NH Nonghyup Financial Group held a video conference to discuss measures to support those who suffered from the spread of the COVID-19 virus in the middle of Mach.

The participants checked the status of financial support for companies financially hurt by the spread of the plague and actions taken by 17 sales offices nationwide including those in the Daegu and Gyeongbuk areas, which were the hardest hit by the epidemic in Korea.

Kim Gwang-soo, chairman of the NH Nonghyup Financial Group, received a briefing on the status of each region at the meeting and shared the group's responses by regions with other participants.
In particular, the participants discussed emergency loan applications, counseling and guarantee reviews, as well as cooperation with local credit guarantee organizations.

They reviewed financial support for small business owners and small and medium-sized enterprises (SMEs).
Chairman Kim said, "With the prolongation of the COVID-19 situation, people are going through difficulties in all areas of society," Chairman Kim said.

"In particular, SMEs and small business owners are under mounting financial pressure," Chairman Kim said. "Timing is more important than ever. We need to speed up our process for funding so that they will be able to receive practical financial assistance."

In addition, Chairman Kim asked employees to make a quick improvement to work processes such as the elevation of loan limits and the placement of additional personnel by actively listening to the voices of those in the field.