Woori Financial Group Posts 518.2 Bln Won in Net Profit in Q1 despite COVID-19 Crisis
Decides to provide support funds in 2020 to innovation-powered companies with excellent technology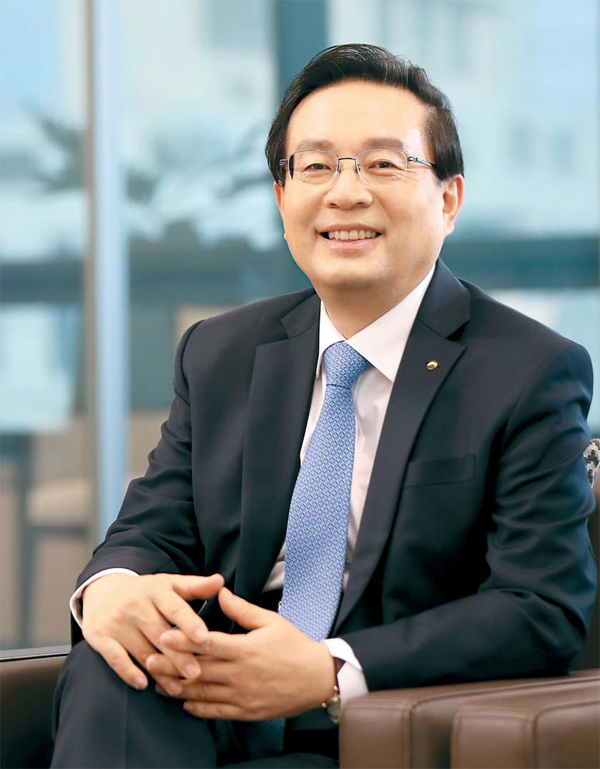 Chairman Sohn Tae-seung of Woori Financial Group. (Photo: Woori Financial Group)
Even the COVID-19 crisis could not stop Woori Financial Group from recording a surplus in the first quarter. The company announced on April 27 that it posted 518.2 billion won in net profit in the first quarter of 2020.
Although the amount decreased 8.9 percent from a year ago, it posted higher earnings than the market expected.

Its net operating income, which consists of its interest income and non-interest income, expanded 3 percent from the same period of 2019 to 1,776.9 billion won.
Its interest income swelled 0.6 percent year on year as procurement costs decreased as a result of its efforts to attract core deposits, despite the trend of falling market interest rates.
Woori Financial Group aggressively increased loan assets despite the COVID-19 crisis. Corporate loans increased 5.7 percent to support corporate liquidity.

Loans to large companies swelled 14.2 percent on-quarter, and those to SMEs rose 2.5 percent. SOHO loans, including loans to small business owners, grew 1.7 percent, which means that the financial group's business policy for small business owners who needed emergency funds was implemented. Loan assets expanded, but risk was thoroughly managed.

Its substandard-and-below ratio hit 0.4 percent. The delinquency rate was maintained at 0.31 percent. This means that the two were maintained at stable levels.

In addition, as a result of spreading a soundness-oriented credit culture and improving risk management capabilities, its ratio of high-quality assets arrived at 85.8 percent. The coverage ratio for substandard and below was 120.7 percent.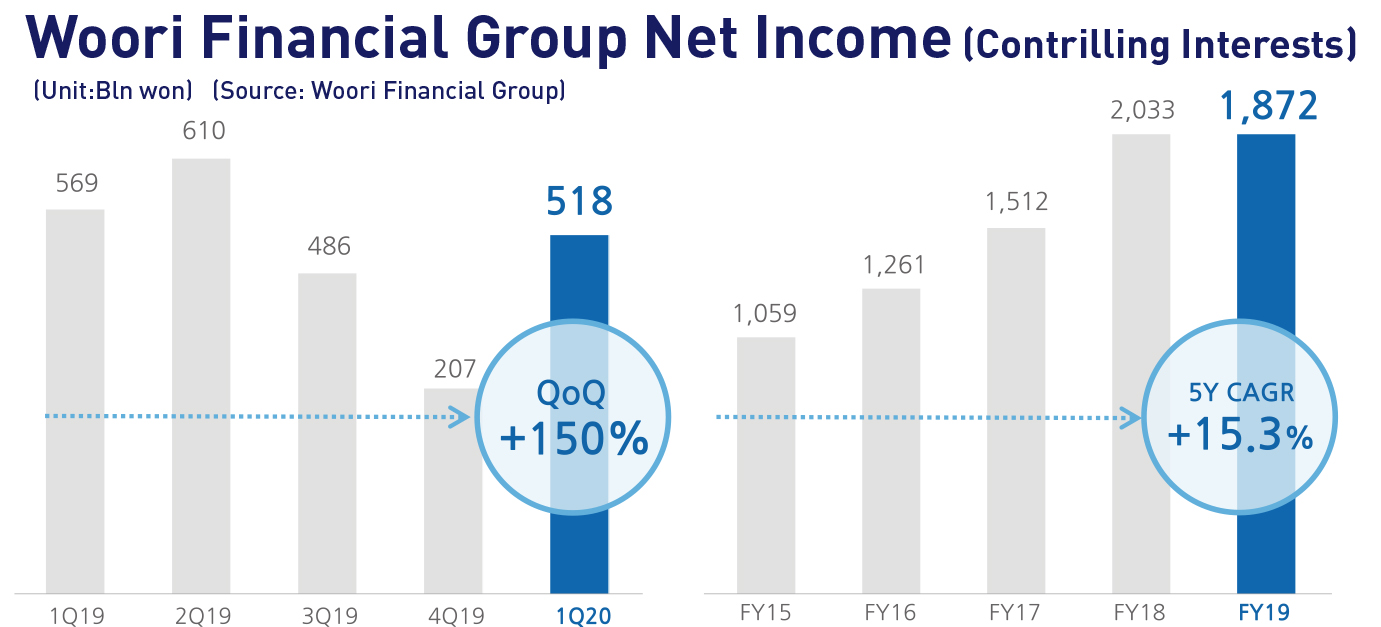 Meanwhile, non-bank affiliates of the Woori Financial Group also contributed greatly to the group's business performance. Since the beginning of 2020, the business performances of Woori Asset Trust, Woori Asset Management, and Woori Global Asset Management has been fully counted in calculating the group's business results.
Its non-interest income increased 61.9 percent from three months ago due to profits made by the newly incorporated subsidiaries.

In particular, the business performance of Woori Card, the leader of non-banking affiliates, stood out. Woori Card posted 51 billion won in net profit in the first quarter, up 112.5 percent from the same period of 2019.

In addition, its Global Division achieved a net profit of approximately 53 billion won in the first quarter, accounting for more than 10 percent of the group's net profit.

"It is true that the Korean financial industry faces great challenges due to the spread of the COVID-19 virus," said an official of the Woori Financial Group. "However, the fundamentals of Woori Financial are completely different from those of the past financial crisis. We will be able to overcome the current situation with many uncertainties through our strong ability to stably generate profits and manage financial soundness."

"We will contribute to the stability of the nation's financial system by sincerely playing our social roles as a financial institution including credit support and participation in the financial market stability program," the official added
Woori Financial Group has decided to provide 6.32 trillion won in support to innovation-powered companies with excellent technology and big growth potential in 2020.
Although global financial market uncertainties increase risk as overall investment activities droop, the company will implement a plan to help prospective companies grow into unicorn companies after overcoming a wide array of difficulties.

On April 26, the Woori Financial Group announced that it checked the statuses and plans of innovation-powered finance in a meeting of the Innovation-Powered Finance Promotion Committee presided by Chairman Son Tae-seung with the participation of the CEOs of group affiliates.

The Innovation-Powered Finance Promotion Committee launched in 2019 with Chairman Son as its chairman has been carrying out various support measures with implementation groups in four categories of credit support, improving credit systems improvement, investment support, and fintech support.