Shinhan Bank is expediting improvements in various systems and processes with focus on customers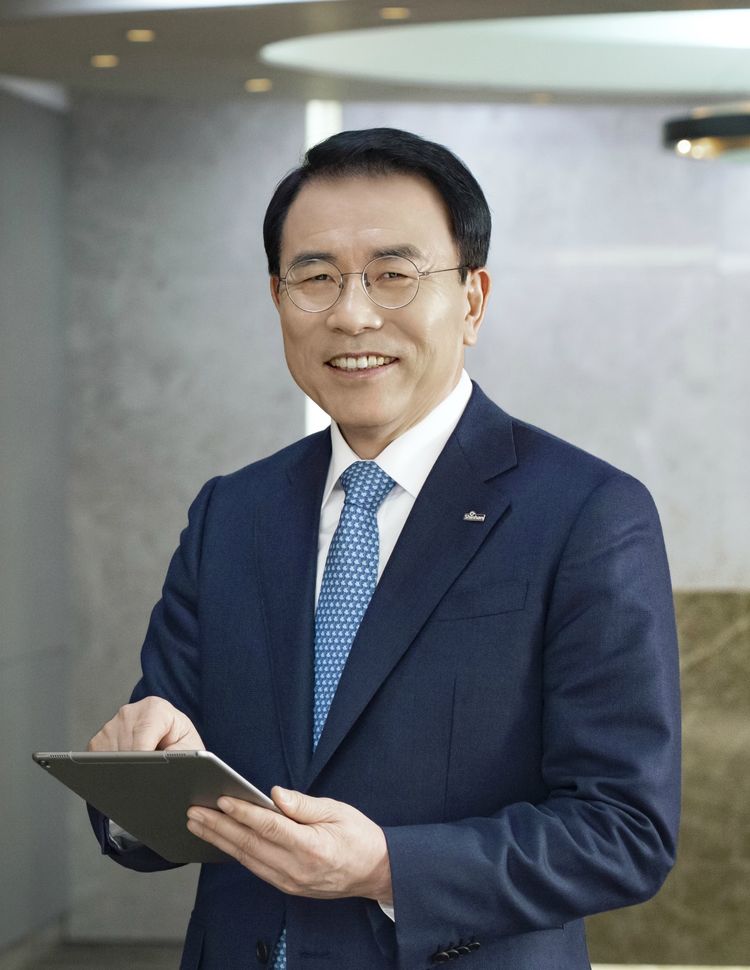 Chairman Cho Yong-byoung of Shinhan Financial Group. (Photo: Shinhan Financial Group)
As Korea's major financial holding companies announced their earnings, Shinhan Financial Group posted 932.4 billion won in net profit in the first quarter of 2020, a level similar to that of 2019.
The group retained its position as a leading financial player with net profit eclipsing that of KB Financial Group, the second largest financial group in the Korean financial industry, by 202.9 billion won.

According to data released by Shinhan Financial Group on April 24, its net profit in the first quarter arrived at 932.4 billion won, an increase of 1.5 percent (14 billion won) compared to 918.4 billion won a year earlier.


Its current net profit was in the middle of the 800-billion-won range, considering temporary effects of the acquisition of a stake in Orange Life Insurance, Shinhan Financial explained.
Although the effects of the new coronavirus crisis were not fully reflected in the first quarter results, the effects of the global calamity are expected to be felt in earnest beginning in the second quarter.

Its interest income, the main source of revenues for the group, sat at 2,003.9 trillion won, an increase of 5 percent (96 billion won) from 1.90 trillion won in the same period of 2019.
Commission revenue also increased to 50.8 billion won, up 10.8 percent (51 billion won) from 480 billion won in 2919 thanks to the increase in securities trust commission and lease business income commission.

However, its non-interest income decreased by 10.6 percent (880 billion won) to 734.0 billion won compared to 822.0 billion won in the same period of the previous year. This is the result of a significant decrease in securities and foreign exchange derivatives gains due to falling stock prices.

In the meantime, Shinhan Financial Group is diversifying its business portfolio to prepare for an ultra-low interest rate era. In the first quarter, the non-bank division's profit share increased from 34 percent to 35 percent thanks to the strengthening of the non-bank business division such as the acquisition of remaining equities in Orange Life and assets from its credit card and lease affiliates.

In addition, the first-quarter business results showed the implementation of more inclusive financial policies to strengthen support for small and medium-sized enterprises (SMEs) and households to help them overcome the crisis.
Its SME loans increased 2.3 percent year on year, and loan growth in the first quarter touched 2.9 percent, the highest in the last 10 years. Its investment in innovative companies expanded to 80 billion won.

Main management indicators are at high levels. Its NPL ratio reached 0.54 percent. Its ROE and ROA stood at 9.75 percent and 0.68 percent, respectively.

Jin Ok-dong, president of Shinhan Bank, is speeding up improvements in various systems and processes at the bank, while placing top priority on a customer-centered and customers-come-first philosophy.

In 2020, Shinhan Bank decided to increase the size of the Pioneer Customer Advisory Group by 30 percent from the previous year, according to sources in the financial industry on April 26.
The Pioneer Customer Advisory Group consisting of customers with various occupations and age groups of the 20s to the 60s review and evaluate products, services, systems, and processes from customers' points of view offer various opinions to the bank. By analyzing their opinions, the bank strengthens the interests of financial consumers.

They conduct activities such as submitting consumer opinions at the product and service development stages, planning, and follow-up management - expressing opinions on making an improvement on systems after monitoring the bank as a whole, giving free and innovative opinions for the financially marginalized.

In fact, 27 of 128 opinions in the first half of 2019 and 22 of 75 proposals in the second half of the same year were utilized in actual system improvements.

This is part of the customers-come-first policy that Jin has emphasized. Jin, who took office in March 2019, has been practicing customer-oriented policies such as the Win-Win Growth Evaluation System.

In the First Half Business Strategy Meeting, Jin emphasized customer-oriented sales by saying, "Customers have to come first in all our decision-making processes. Consumer protection, legal compliance, and internal control must precede the implementation of business strategies."