Entry into Kazakhstan, following deals to explore Vietnamese and Malaysian markets in 2019, is owed to KRA's full-fledged efforts to explore international business opportunities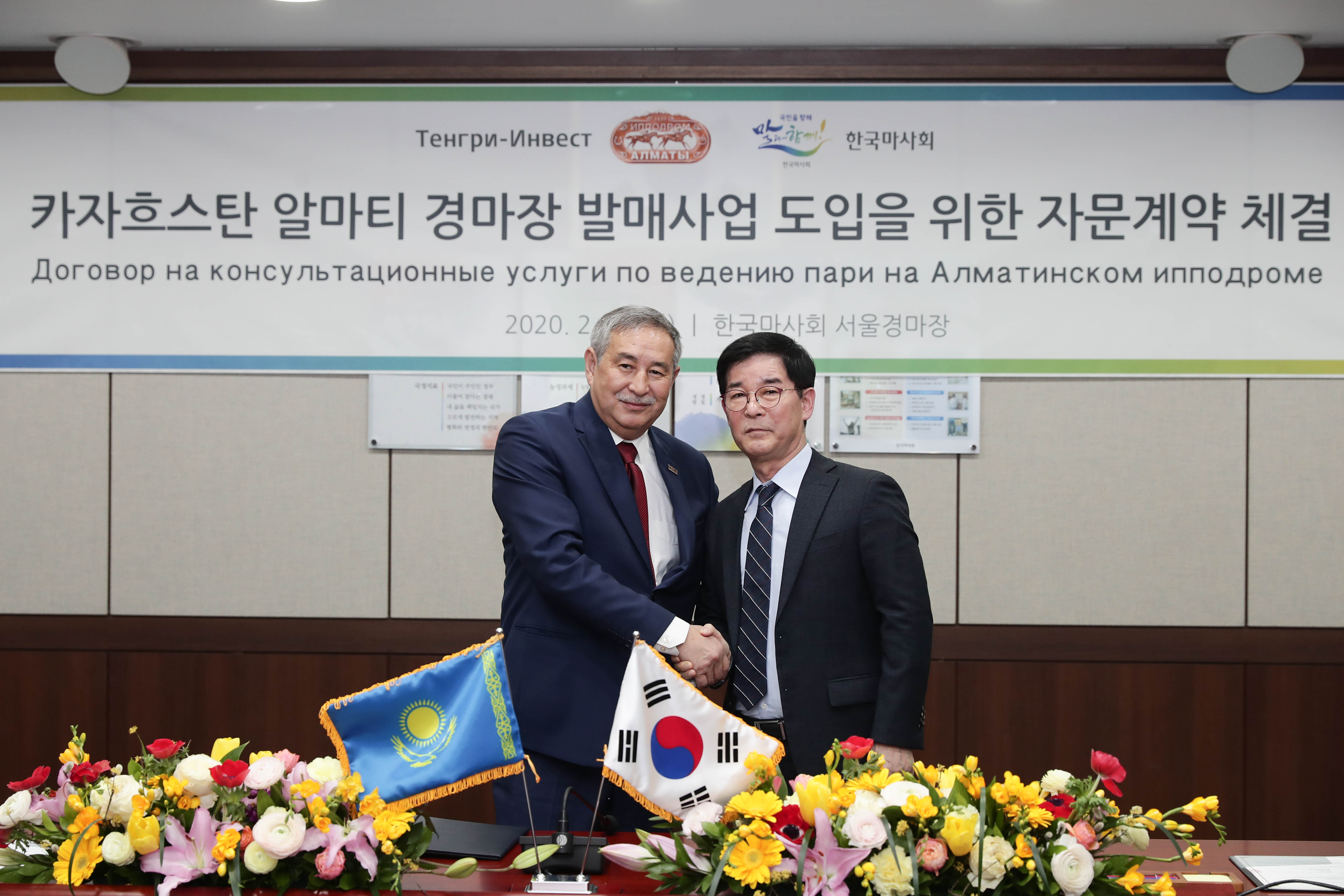 Chairman Kim Nak-soon of the Korea Racing Authority (KRA) shakes hands with CEO Serik of Tengry Invest after signing and 2 in a agreement signing ceremony at KRA headquarters in Gwacheon, Gyeonggi-do. (Photo: KRA)
Korea's homegrown ticketing system will be exported to Kazakhstan, a New Northern Policy country in which the horse breeding industry was launched some 5,500 years ago.

Korea Racing Authority (KRA) signed a contract to provide consulting services on ticketing business with KRA said on May 9. It is the third time that the KRA has entered overseas horsing markets recently.

The latest deal follows the KRA's entry into Vietnam and Malaysia last year.

The KRA inked an agreement with DIC of Vietnam to provide consulting programs to build tracks and infrastructure in the Southeast Asian country, and it also signed an MOU with RSTC of Malaysia to export retired horses to the Southeast Asian country.

KRA Chairman Kim Nak-soon, CEO Serik of Tengry Invest, and 20 related officials participated in an agreement signing ceremony at KRA headquarters in Gwacheon, Gyeonggi-do, on Feb. 16. Under the latest deal, KRQ will provide consulting services on ticketing, operation plant, work manual, and computing education for a project to install ticketing systems at an idle space in Almaty Racecourse.

Following the signing ceremony, the delegation toured LetsRun Park Seoul and LetsRun Park BusanGyeongnam to watch horseracing competitions. They were given an opportunity to receive a briefing on the method of operating KRA's ticket issuance system, dubbed "K-Tote."
Originally, the KRA was scheduled to provide cons
ulting services for five months from April, but the consulting schedule was cancelled due to the global coronavirus pandemic. KRA and Tengry Invest agreed to reset the consulting schedule and launched preparations on the provision of consulting services.

The academic journal "Science Magazine" carried a paper in 2019 proving that excavations dug from Bota culture in Northern Kazakhstan traced those of horses, domesticated for the first time in the world.
Likewise, Kazakhstan has domesticated horses from ancient times, and the country has a sprawling area covering roughly 2.72 million sq. meters, ranking ninth in the world, and a continental climate, an optimal natural environment for horse breeding.

A report issued by the Korea Rural Economic Institute in 2015 showed that Kazakhstan has a population of more than 2 million horses, including thorough bred species and other diverse horses in wide use for the agriculture sector, transportation and eating. Almaty, the former capital city of Kazakhstan, is still one of the country's three economic centers.

Almaty Racecourse, located in downtown Almaty, is a prestigious course, built in the 1930s in which horse racing and polo competitions take place.
But the racecourse has underdeveloped racing and ticking systems, which are currently manually done. Tengry Invest, the owner of the racecourse, has teamed up with KRA to solicit consulting services on the ticketing sector.

The latest deal signifies Korea's first entry in Kazakhstan, securing a foothold in the Northern Policy countries.

If the consulting services on ticketing leads to the Almaty Racecourse's adoption of the K-Tote, KRA's ticket issuance system, Korea will likely earn about 6 billion won in foreign revenues.
KRA is expected to team up with Korean startups as the private sector's involvement in the production of ticket issuances systems and computing system support is essential.

CEO Serik of Tengry Invest said the Almaty Racecourses have great access and decades-old history, but the infrastructure is decrepit and suffering from a low utilization rate.

From a long-term perspective, the KRA is expected to expand exports to horses on top of the ticket issuance business. The KRA is seeking to win additional overseas projects worth about 4 billion won related to horse breeding, personnel education, horse racing operation systems and completion systems.

Chairman Kim said the KRA's entry into Kazakhstan, following its entry into Vietnam and Malaysia in 2019, was owed to the authority's full-fledged efforts to explore overseas markets.
He expressed the hope Korea's racing DNA would be transferred to Kazakhstan through partnership between KRA and Kazakhstan.