As part of its strategy to continually explore overseas markets and help SMEs go abroad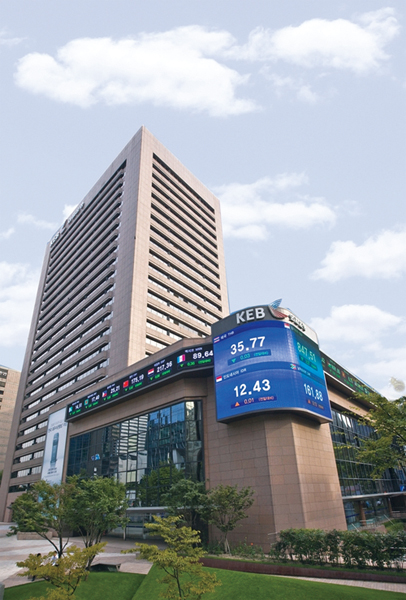 This year may be hard for other banks in Korea, but not for the Korea Exchange Bank (KEB), because the bank will strive to expand high quality assets, increase its loans to SMEs, and secure a major share of the retirement fund market, in addition to strict risk management as President Yun Young-ro spelled out in his New Year's speech outlining the bank's objectives 2013.
KEB will try to expand its high quality assets by increasing its loans to SMEs and loans to customers with good credit ratings in such a way as to improve the quality of its assets.
Yun also urged KEB's officers and staff to work hard to find new profit sources to make the bank's profit base more solid for its future growth. As such, the bank will make efforts to secure its place in the rapidly growing smartphone and mobile banking markets.
KEB will also focus on risk management, which should be well taken care of in a detailed manner, not neglecting anything that might bring losses to the bank.
KEB has also decided to create synergy in its operations by reducing expenses and by expanding trade financing and investment banking sectors to increase non-interest earnings such as fee income. The bank will also continue to explore the foreign exchange market, which is the bank's strongest sector. KEB received high praise for opening a branch in Abu Dhabi last December, and boosting the prestige of Korean banks in the region. The UAE has never allowed foreign bank branches in its territory so far.
In addition to the UAE, the bank received tacit permits to set up branches in the Clarke airbase in the Philippines, and Istanbul, Turkey. The bank is at work to open its branches in other countries including a branch in Chennai, India, and Sydney, Australia, in addition to a number of cities in the United States.
Such an effort by the bank helped it win the award for Most Excellent Foreign Exchange Bank from Global Finance Magazine last year for an 11th straight year.
The bank also provides financial support to SMEs under a segregated strategy focused on joint growth, with export-oriented SMEs taking advantage of its diverse foreign exchange transactions at its SME Global Counseling Center. The center is the first such facility set up by any domestic bank based on President Yun's management philosophy to help the globalization of SMEs by reforming the existing foreign exchange consulting team.
KEB has also signed an agreement with the Korea Chamber of Commerce and Industry to support SMEs that are encountering problems with foreign exchange rate changes.
KEB has also been providing financial support to SMEs with its "2x SME Loans" with 400 billion won in total lent since last November.