Govt. Comes Up with 'Korean New Deal Program' to Create Jobs in New Industries
In special address marking his 3rd year in office, President Moon says 'The Korean version of the New Deal is a preemptive investment for the future, designed to establish digital infrastructure'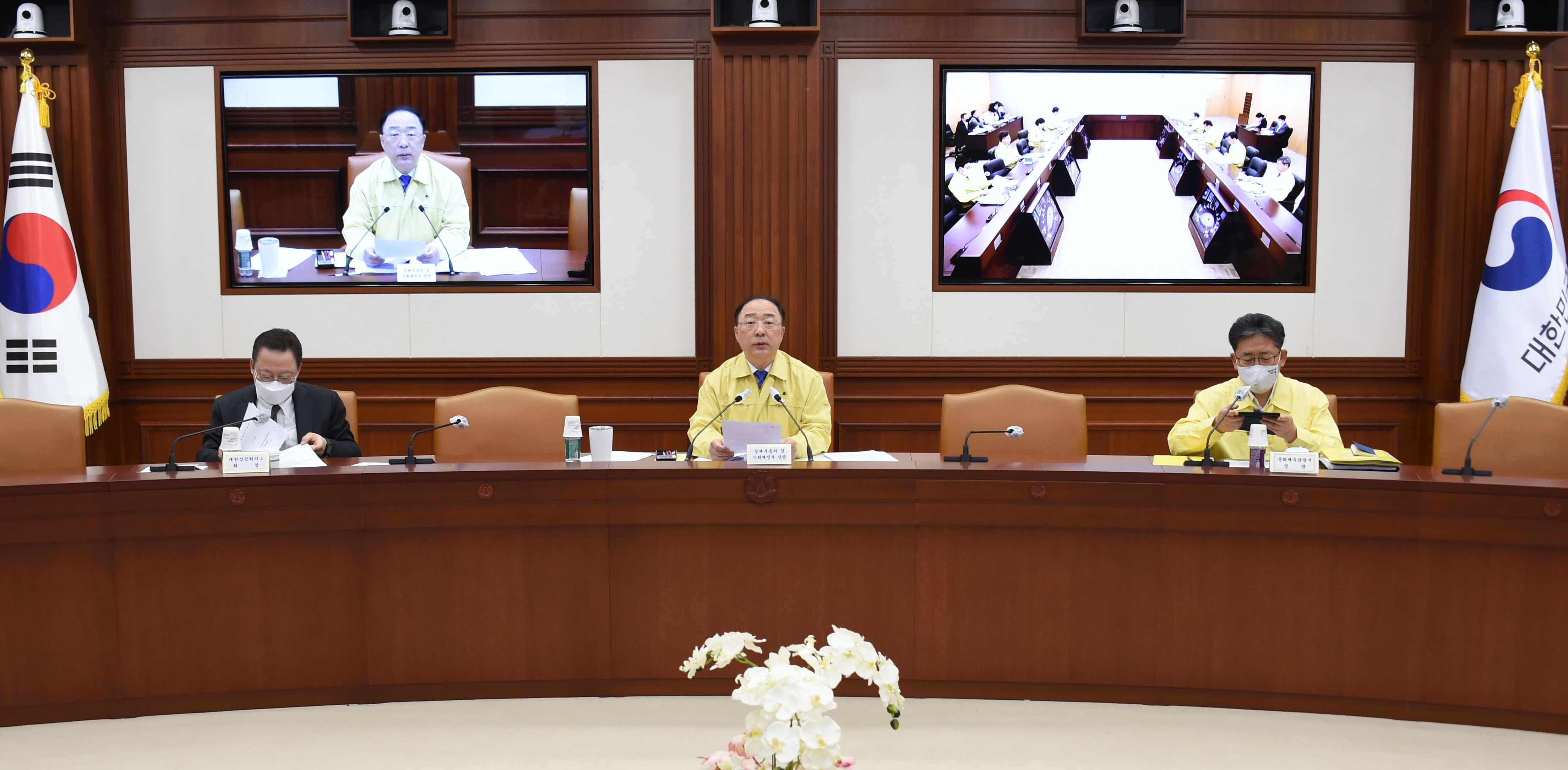 Deputy Prime Minister-Minister of Economy and Finance Hong Nam-ki gives a speech at the 2nd Meeting of the Central Economic Response Headquarters at the Seoul Government Complex on May 5. (Photo: MOEF)
The government has drawn up a blueprint of the Korean version of the "New Deal" Program to create jobs in new industries. The plan, calling for building digital infrastructure in the next two and three years, and expanding jobs in new industries, is designed to overcome a "job cliff" caused by the COVID-19 pandemic.

The government plans to announce a detailed Korean-style version of New Deal Program when it comes up with economic policy guidelines for the second half of this year in May.

In a special address marking his 3rd year in office on May 10, President Moon Jae-in said, "The Korean version of the New Deal is a preemptive investment for the future, designed to establish digital infrastructure."

"The early establishment of 5G infrastructure and the building of infrastructure to collect, accumulate and use data will be pursued as national projects. Non-face-to-face industries related to medical services, education and retail distribution will be intensively fostered," President Moon said.

"The large-scale job creation project will be actively pursued: Cities and industrial complexes, roads and transportation networks, and aging national infrastructure will be combined with artificial intelligence and digital technology in order to make them smart. We will harmonize the process to fully uphold the important value of not only protecting personal information but also securing a public service role for medical services and education," he said.

Deputy Prime Minister-Minister of Economy and Finance Hong Nam-ki presided over the 2nd Meeting of the Central Economic Response Headquarters at the Seoul Government Complex on May 5. At the meeting, they decided to focus on the transformation into a digital economy, accelerated by the COVID-19 pandemic, along with job creation and innovation in a digital economy.

Deputy Prime Minister Hong said, "The Korean style New Deal Program, designed to create jobs based on a digital economy and accelerate economic innovation, differs from the conventional public works-oriented New Deal program designed to boost the national economy."

1st Vice Minister Kim Yong-beom of the Ministry of Economy and Finance said the latest Korean style New Deal Program is a concept of massive fiscal investments, being accompanied by institutional reform.

To this end, the government established three projects as part of the New Deal Program – building digital infrastructure, cultivating contactless industries and improving the existing SOC with digital technology. In order to realize the three projects, the government decided to implement 10 core tasks.

Specifically, Korea will build a whole cycle of data infrastructure, ranging from data collection to data integration and data utilization. The government will expand the utilization of data in six sectors with higher public awareness – financing, medical care, transportation, public field, industry and mom-and-pop business.

The nation will build 5G m infrastructure as soon as possible and ramp up related convergence businesses. Korea will also expand AI data and infrastructure, and spread AI integration to all industries. In order to nurture contactless industries, the government plans to build infrastructure for remote education while expanding cyber safety.
In order to improve the existing SOC with digital technology, the government will establish a regime to gather and share data.

Deputy Prime Minister Hong said the government will establish economic policies for the 2nd half of this year and draw up a 3rd supplementary budget proposal in May to work on the Korean New Deal Program.

A budget to finance projects, to be implemented this year under the Korean New Deal Program, will be reflected in the upcoming 3rd supplementary budget proposal. Funding for other projects will be included in the budget proposal for the year 2022.

Meanwhile, the 2nd Meeting of the Central Economic Response Headquarters decided to offer emergency unemployment support for those falling outside unemployment insurance (1.5 trillion won).
Platform workers, freelancers, self-employed and furloughed employees will receive the support if they earn 50 million won or less a year, or 100 percent or less of the AMI (average medium income), and if they see income reduction of 25 percent or more.

A monthly payment of 500,000 won will be given to around 930,000 workers for three months. In order to provide the emergency unemployment support for those without unemployment insurance, 940 billion won will be financed with government reserves, and the rest will be financed from a 3rd supplementary budget.