Sudokwon Landfills CEO Cho unveils the plan to make landfills clean, fresh and core clean energy town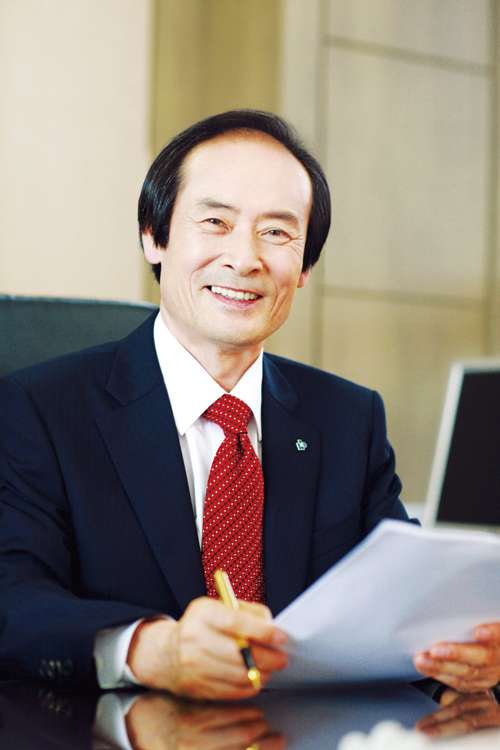 President Cho Choon-koo of Sudokwon Landfill Site Management Corp
President Cho Choon-koo of Sudokwon Landfill Site Management Corp. in an interview with NewsWorld said landfill sites around Seoul will be made into an environmentally friendly space where people can have enjoyable outings amid greenery and flowers from the plants with fresh air.
He said they have to make the landfills clean and fresh to make landfill sites a core force for low-carbon green growth. President Cho also gave a special stress on the company s plan to expand its overseas operation by strengthening its joint venture landfill gas power generation plant in Sichuan Province, China and spurring plans to advance into Russia and Sri Lanka with the projects to generate power from gas produced by landfills.
Question: What are some of the major tasks for your company this year?
Answer: First, I would like to convey my warmest greetings to every resident in the district who have been steadfastly paying attention to the landfill sites and have been supportive of our corporation, including related organizations and groups.
Major objectives of the company for 2012 are summed up in this slogan: "The creation of environment-friendly landfill sites and to manage them as energy and natural resources to push green growth." The projects in relation to the slogan will be pushed hard, including the elimination of bad odors seeping out of the landfill sites and the building of a stable base for management. We will also spur the construction of golf courses on the No.1 landfill site, which is nearing completion, and open them as part of the project to build tourist attractions on those sites.
To be more detailed, we have to make landfill sites clean and fresh through our clean environmental management. We will have to draw up a roadmap for cleaning up waste through environmentally-friendly treatment; upgrade the public trust in landfill sites with stable landfill site management; develop a nucleus force for low-carbon green growth; and focus on overcoming various conflicts with the resident communities by setting up smooth relations with them.
Q: Can you please elaborate on that?
A: First of all, the realization of clean and fresh landfills is aimed at improving the quality of life for the resident communities nearby the landfill sites. The pipes for gas seeping out of the landfills will be replaced with new ones and by the end of February the measures to improve the landfills generating bad smells will be drawn up. The facilities at the landfill sites will be covered and we will plant trees and perform other basic supplemental measures to reduce bad odors generated by the landfills. The landfill site management corp. will spare no efforts to cooperate with local autonomous administrations on various measures to improve the landfill sites including measures for the proper removal of wastes around the landfills and dust on transportation roads.
Second, we will try to boost public confidence in landfill sites through stable management. We have already installed a CCTV monitoring system to make the handling of waste and inspection more transparent so that every phase of those activities can be watched and checked. In order to stop wastes from being dumped illegally, the inspection of the waste materials should be done automatically, especially checks on flammable materials, by strengthening checkups continuously. We will also set up a plan to develop a landfill leachate management system so that it can be released or highly treated within the boundary of the law.
Third, we plan to develop the landfill sites as a core force for low-carbon green growth.
In order to build 'Sudokwon Integrated Environment-Energy Town,' we will hold continuous contacts with three cities to build a waste resources energy town to the best of our abilities. We will spare no efforts in providing our technologies to help our civilian firms advance into overseas environment businesses, the development of green technology, and the promotion of CDM projects to cope with climate change. We will spur the company's overseas operations on the occasion of the company's participation in the landfill gas power generation project in Sichuan Province in China.
Lastly, we will try to overcome conflicts with the residential communities through a smooth relationship with them. We will continue to push the construction of a welfare town for residents in connection with the company's major projects, employment of the residents, along with other projects in cooperation and support of the residents. We will also continue to hold cultural events under various themes to support regional cultural development.
In a bid to make all these plans to be realized, we will set up a committee for mutual development with the residential communities to discuss major issues at hand so that the company can do more for regional development.
Q: What is the significance of and expected effects from overseas technology support using the environmental technology along with the continuous push of CDM projects as an environment industry?
A: We earned so far 1.4 million tons of CO2 exposure rights and made 3.48 billion won by selling the first CO2 exposure rights in 2010. We are going to win 900,000 tons of CO2 exposure rights in the first half of this year and we plan to set up the mid-to-long term exposure rights deal plan, along with the continuous push to win the CO2 exposure rights confirmation procedures.
Due to the landfill technologies accumulated so far, the company was able to launch its operation in China's environment market successfully, with the projection that the company will earn 30 billion won in net profit on sales of 140 billion won on facilities investment of 22 billion won in the next 12 years of joint operation with our Chinese partners. We have dispatched a number of experts to Sichuan Province and plan to expand our operations in Russia and Sri Lanka.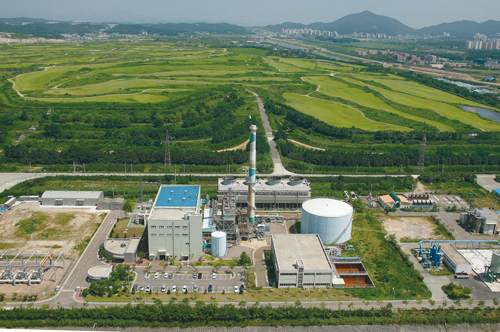 A view of a gas power plant operating in Sudokwon Landfills managed by Sudokwon Landfills Site Management Corp.
Q: How much waste was dumped into the landfill sites last year?
A: Around 4.35 million tons of waste was dumped into the landfill sites around Seoul last year, up 7.2 percent over 2010. Breaking it down, there was 770,000 tons of garbage from homes (17.6 percent), 1.78 million tons from work sites (41.1 percent), and 1.79 million tons of waste from construction sites (41.3 percent). Waste from Seoul led all other areas, followed by Gyeonggi Province with 1.69 million tons (38.9 percent), and Incheon (16.5 percent).
The increase was mainly due to a long summer rain period last year that left more wastes than in average years, raising the waste quantities that were brought into the landfills.
Q: Lastly, the company has been turning waste into energy sources and natural resources while changing the landfills into forests and dream parks that anyone would want to visit, as they are world-renowned environmental tourist spots.
A: We plan to run the landfills thoroughly to build environmentally friendly cultural spaces to boost the regional and national prestige and make them into spaces people in the country will be proud of.