Woori Financial Group Does Its Best to Extend Corporate Financing to Cope with Pandemic Crisis
Under the stewardship of Chairman Sohn, the financial group is expected to make aggressive M&As against financial institutions such as securities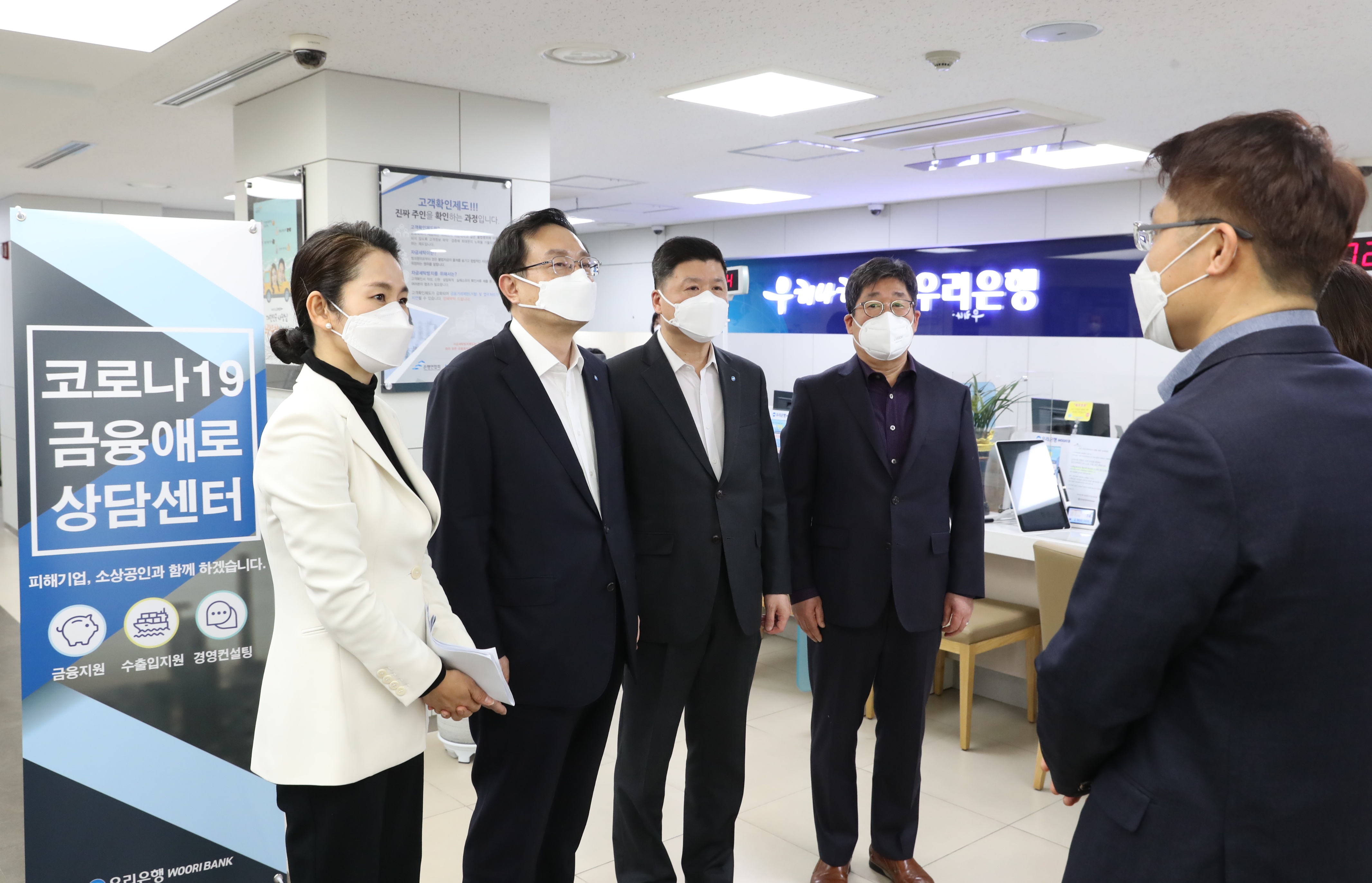 Woori Financial Group Chairman Sohn Tae-seung, Woori Bank President Kwon Kwang-seok tours the bank's South Gate branch in Seoul and listens to voices of merchants grappling to cope with hardships, caused by the spread of COVID-19. (Photo: Woori Financial Group)
Chairman Sohn Tae-seung of Woori Financial Group, now in his reelection term, purchased an additional 5,000 Woori Financial Group shares in a third time so far this year to show his determination in responsibility management.

Woori Financial Group Chairman Sohn bought up 5,000 group shares on April 14 for the third time so far this year. Chairman Sohn's latest purchase of group shares brought to 15,000 shares the number of treasure shares Chairman Sohn purchased so far this year. As a result, Chairman Sohn now possesses 78,127 Woori Group shares.

Chairman Sohn's move may be construed as part of his steps to keep the prices of group shares from further dropping from the economic fallout of the global financial market, caused by the spread of COVID-19.
Chairman Sohn's additional purchase of group shares is analyzed to stress the fact that fundamentals of Woori Financial Group are in a quite different situation from those in previous financial crises and can afford to overcome market misgivings and uneasiness.

"Chairman Sohn's purchase of group shares this time, marking a 2nd year since the establishment of the financial group, is an expression of his determination or a sense of confidence to accomplish the part of roles in the financial society and protect corporate and shareholders' values amid the inside and outside crisis," a Woori Financial Group official said.
Woori Financial Group plans to communicate with Korean and international investors in diverse channels down the road, he added.

Woori Financial Group has inaugurated an emergency management countermeasure committee designed to cope with the current situation in which the global economy, financial markets, and even life styles have been shocked by the spread of COVID-19.

Chairman Sohn convened the group's management consultation meeting via a teleconference channel with executives of the group's holding company and subsidiary CEOs on March 13. He said, "Of late, the spread of COVID-19, declared as a pandemic, has virtually changed into fears beyond a crisis."
He stressed that a first step of the group's entering an emergency management mode is to work out countermeasures against it by precisely analyzing the current situation through mobilization of the group's all capabilities.

During the meeting, Chairman Sohn ordered the establishment of the emergency management countermeasure committee.
The group decided to create a strategy & coordination team, a financing management team, a risk management team and a market sensing team under the jurisdiction of the committee through discussions with each subsidiary's CEO and executives.

A group of the group's young gifted manpower, tentatively named "Blue Team," will be established with the goal of working out growth plans to translate the crisis into opportunities after overcoming the COVID19 pandemic.

Woori Financial Group has decided to strengthen policies to protect financial consumers' rights down the road. The move is designed to improve the image of the financial group, tarnished with improper selling of derivatives-linked products and misuse of customers' information.
The board of directors Woori Financial Group will inaugurate an internal control and management committee to supervise all problems of the financial group's subsidiaries.

Under the stewardship of Chairman Sohn, the financial group is expected to make aggressive M&As against financial institutions such as securities.
The financial group acquired two asset management companies and a real estate trust company last year, and it plans to take over a securities company to further boost profitability and growth of the financial group.

Chairman Sohn toured Woori Bank's South East Gate branch as his first duty following his reelection. He oversaw the branch office's steps to stem fallout from the spread of COVID-19.

About 300 merchants and marginalized businesses applied for emergence fund borrowings. He also held a teleconference with representative directors of the financial group and demanded for planning prior scenarios to brace for the worst business environment that might be caused by a prolonged recession.