Shinhan Financial Group Plunks Down 270 Billion Won in Social Contribution Projects
Chmn. Cho declares 'Hope Society Project' corresponding to name of 'top-tier Shinhan'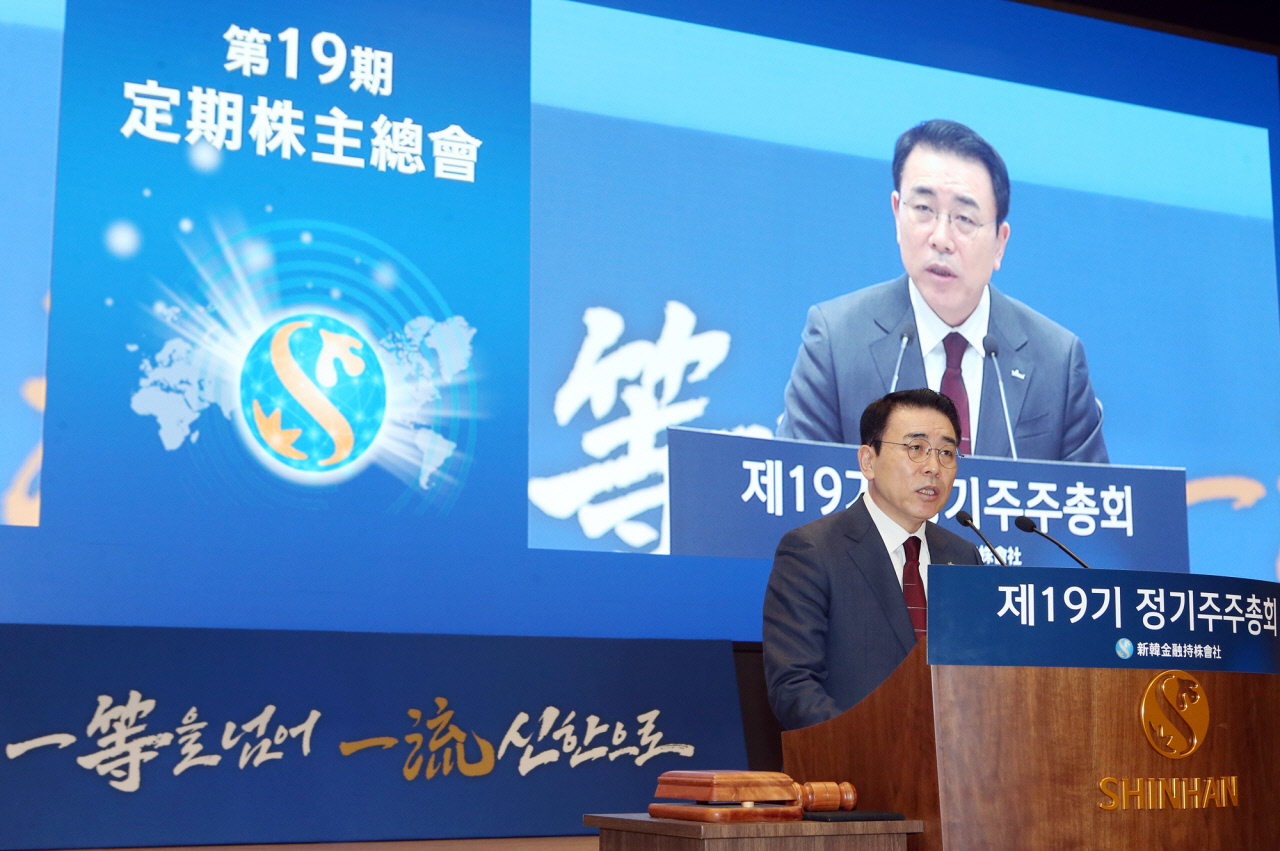 Chairman Cho Yong-byoung of Shinhan Financial Group speaks at a general shareholders' meeting at the group headquarters in Sejongdae-ro, Seoul, on March 26. Chairman Cho was reelected as chairman of the group. (Photos: Shinhan Financial Group)
Chairman Cho Yong-byoung of Shinhan Financial Group has launched his second term as CEO of the financial group after being reelected at a general shareholders' meeting. His term ends in March 2023.

Shinhan Financial Group held the general shareholders' meeting at the group headquarters in Sejongdae-ro, Seoul, on March 26 and approved Chairman Cho's reelection. Upon his reelection, Chairman Cho said he will put out all the stops to restore trust, corresponding to the name of "top-tier Shinhan."

He attached top priority to restoring trust from customers during his second term.
Shinhan Financial Group had been communicating with shareholders since last year to get Chairman Cho's reelection approved at the general shareholders' meeting.

Since Chairman Cho took office, Shinhan Financial Group has maintained its status as the nation's leading financial group. The group logged the best-ever net profit in its corporate history last year.

Shinhan Financial Group also strengthened the non-banking business sector by acquiring Orange Life Insurance and Asia Trust Co. Under the stewardship of Chairman Cho, the financial group has ramped up the global business sector with a continued growth in global net profit.
Chairman Cho have been evaluated to have made excellent management achievements by securing both stability and profitability.

But Chairman Cho has lots of tasks to be addressed under his second term. He now has to handle the improper selling of derivative-linked funds. The financial group had Shinhan Investment CEO Kim Byung-cheol replaced over the scandal.

Chairman Cho said at the meeting that the controversial selling of derivative-linked funds disappointed customers who entrusted their precious assets to the firm. He said he would devote himself to minimizing customers' losses and addressing the situation soon, as Shinhan Investment had announced.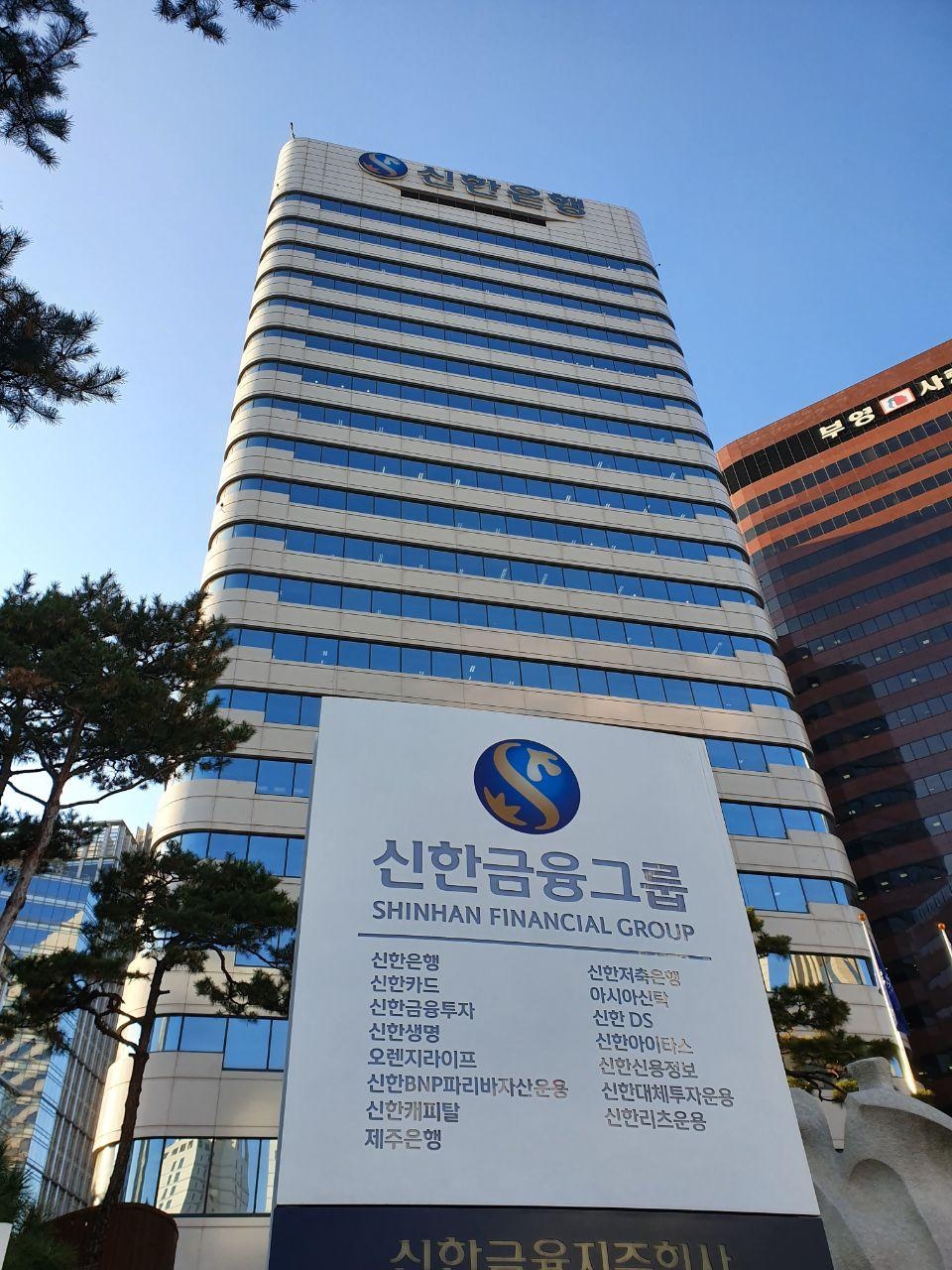 A view of Shinhan Financial Group headquarters in Saejongdae-ro, Jung-gu, Seoul.

Shinhan Financial Group declared "Hope Society Project" involving all group subsidiaries, designed to put into practice social contribution activities in December 2017. The financial group has been implementing the project to put into practice "warm-hearted financing."

The financial group plans to plunk down a combined 270 billion won by 2020 to implement social contribution projects like supporting income and employment services for those in the vulnerable economic bracket.

According to an MOU with the Ministry of Gender Equality and Family, Shinhan Financial Group has spent 24 billion won to implement a project to help women with discontinued employment find jobs and run child care centers for first graders.

Each woman with discontinued employment can receive a maximum 900,000 won while participating in the project. So far, 6,826 women have benefited from the project to provide educational support, and out of the total, 4,502 beneficiaries have successfully landed jobs.