KODIT Steps Up Efforts to Give Support to SMEs Financially Hurt by COVID-19 Crisis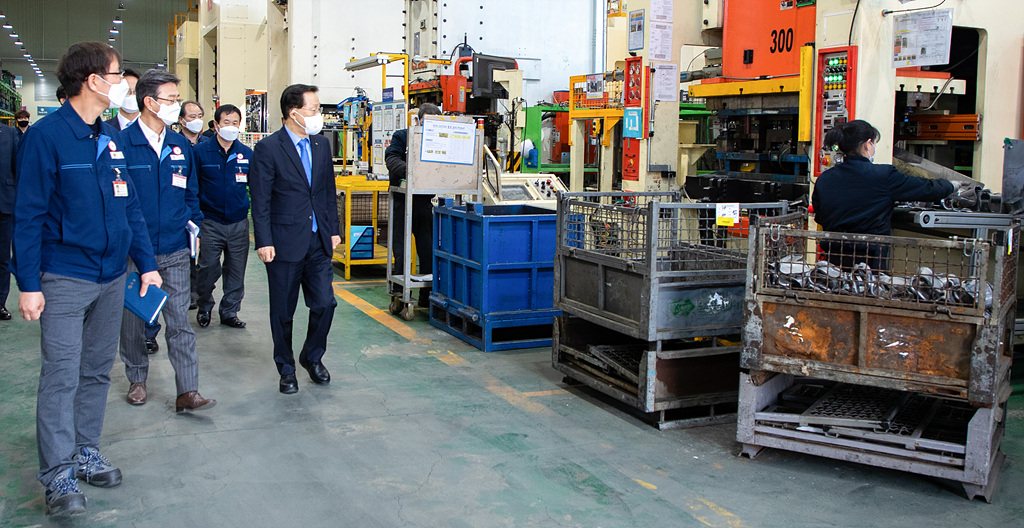 KODIT Chairman Yoon Dae-hee listens to the voices of the management and employees at Kiseung Industrial Co., a car parts manufacturer in Daegu on April 9. (Photo: KODIT)
The Korea Credit Guarantee Fund (KODIT) announced on April 13 that it was actively expanding guarantee-based support for small and medium-sized enterprises (SMEs) to resolve the temporary management difficulties of SMEs, which have been financially hurt by the spread of the COVID-19 virus, and help them stabilize their business management as soon as possible.

KODIT started with a special guarantee for SMEs that suffered damage due to the COVID-19 spread in March. Its support expanded to quick and full-coverage guarantees for SMEs and small business owners, guarantees for the IBK's low-interest loans for small business owners and the self-employed, preferential guarantees for enhancing corporate vitality for companies in main industries and small and medium-sized export companies in new growth engine sectors.

Thanks to aggressively supplying guarantees to support companies and business owners who suffered from the relentless spread of the COVID-19 virus, in the first quarter of 2020, KODIT's supply of new guarantees reached 2,653.4 billion won, an increase of 38.5 percent compared to the same period last year.

In the case of the Daegu-Gyeongbuk region, the region hit hardest in Korea, the supply of new guarantees grew by 49.7 percent compared to the same period of 2019 due to special guarantees for disasters through the Korean government's declaration of the Daegu-Gyeongbuk region as a special disaster zone.

On the other hand, KODIT Chairman Yoon Dae-hee visited Kiseung Industrial Co., a car parts manufacturer in Daegu and Brand New Music in Seoul on April 9 and 10. Yoon listened to their difficulties in the field and discussed ways to support the companies.

Kiseung Industrial has been steadily growing based on its accumulated technology in automobile parts for a long time. But the rapid spread of the new coronavirus gave the company a problem receiving parts from China. KODIT addressed the problem through a special guarantee.

Brand New Music, which was growing thanks to rising sales of albums and domestic and overseas performances, was financially hurt by the cancellation of overseas tours and concerts in the aftermath of the COVID-19 crisis. The company overcame a financial problem by receiving quick financial support from KODIT.

KODIT announced in February that it confirmed its major business plan for 2020 to rev up the Korean economy and innovation growth engines by holding the 2020 Business Strategy Meeting. They held the meeting in a video conference method to combat the spread of the new coronavirus.

Through this meeting, KODIT decided to take the initiative in enhancing smooth funding and promoting the stable growth of SMEs by managing 49.3 trillion won in general guarantees, an increase of 3.3 trillion won from 2019 and supplying 2.4 trillion won in guarantees for SMEs' corporate bonds.

In addition, by taking over 20 trillion won in credit insurance, it will strengthen its roles as a safety net to prevent a chain reaction of bankruptcies of SMEs.
In order to actively respond to economic uncertainties and inject vitality into the Korean economy, KODIT ramped up the total amount of general guarantees most in the past three years.

KODIT will also expand the supply of guarantees in key policy areas. It plans to supply a total of 46 trillion won this year; of that, 17 trillion won is reserved for start-ups, 12 trillion won for export companies, 3 trillion won for major industries, 9.5 trillion won for companies related to the Fourth Industrial Revolution and 4.5 trillion won for job creation and maintenance companies.

This is an increase of 1 trillion won from the previous year. The major industries refer to six core manufacturing industries (the automobile, shipbuilding, steel, chemical, semiconductor, display industries).

Making new attempts in new fields will not stop. KODIT will actively support the government's innovation-powered finance policy by setting up a commerce credit index (Korean-type Paydex) that combines commerce payment information from SMEs with dynamic corporate information.

Moreover, an organization dedicated to technology evaluation and cultural contents will be established and support for technology innovation companies and cultural content companies will be expanded.