Forges partnership with IBK to create jobs and support companies financially hit by spread of COVID-19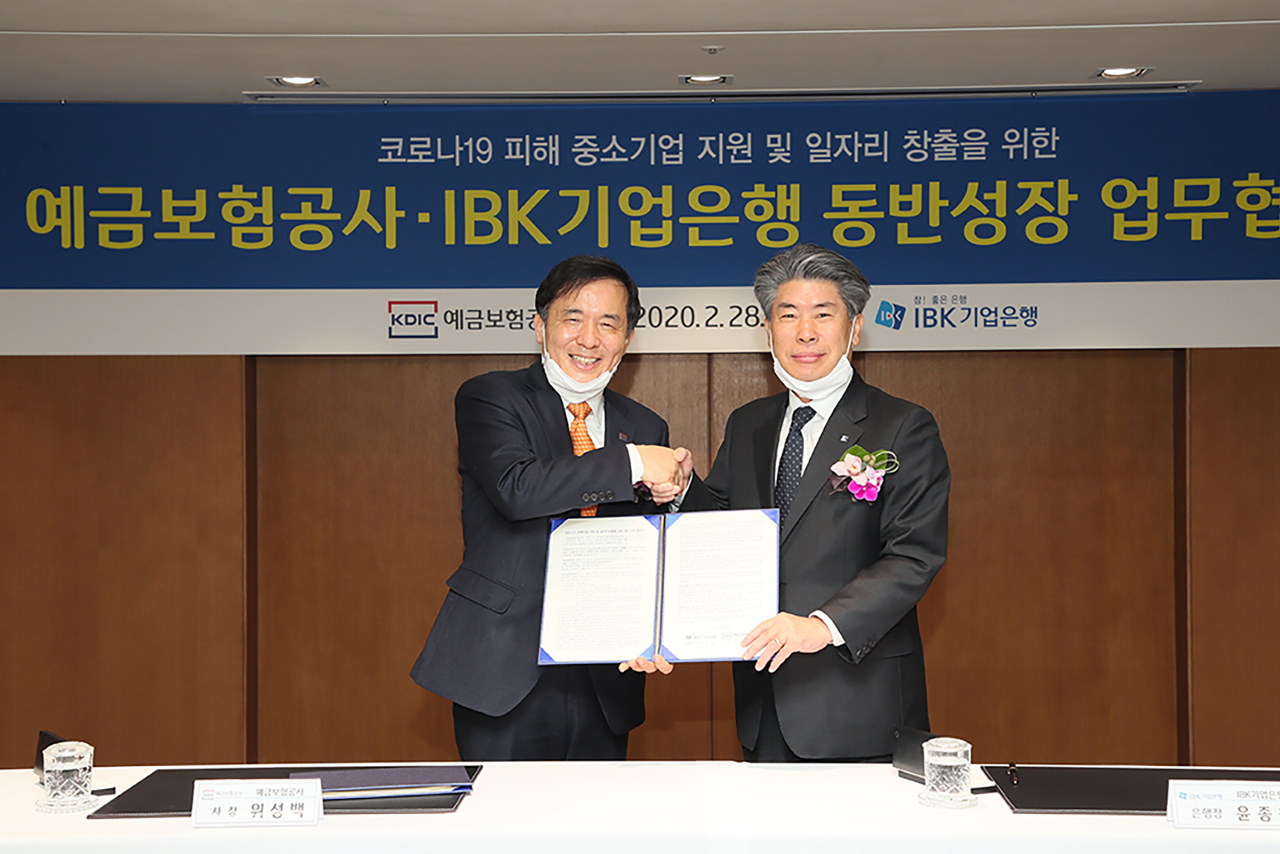 President Wi Seong-bak of Korea Deposit Insurance Corporation (KDIC) and IBK President Yoon Jong-won pose after they signed an MOU at IBK headquarters in Seoul on Feb. 28. (Photo: KDIC)
The relentless spread of the novel coronavirus is expected to put increasing pressure on debtors who are carrying out debt restructuring arrangements due to worsening economic conditions caused by the virus.
Accordingly, Korea Deposit Insurance Corporation (KDIC) has decided to defer the repayment of debts for up to 12 months for those who are implementing repayment arrangements, in order to ease their repayment burdens and help them get back on their feet financially.

Failed financial companies will provide guidance by sending texts to debtors about repaying their debts in installments. Debtors will proceed promptly in a non face-to-face manner by submitting an application for the deferment of repayment online.
KDIC will continue to make efforts as a public organization during national crises to fulfill its responsibilities in creating social value and realizing inclusive finance by minimizing damage to the economically marginalized.

KDIC and the Industrial Bank of Korea (IBK) agreed to create jobs and form a partnership on Feb. 28 to support companies suffering from the spread of the COVID-19 virus.
Under the agreement, KDIC and the IBK will raise 100 billion won in mutual growth cooperation funds so that SMEs financially hurt by the novel coronavirus fiasco and SMEs creating new jobs will be able to receive an interest rate 0.6 percentage points lower than general loan rates.

This agreement was signed as part of a nationwide movement to overcome the novel coronavirus crisis by providing low-interest loans to SMEs going through difficulties, directly or indirectly, due to the spread of the epidemic.

KDIC and the IBK have steadily supported SMEs since signing an agreement to lower interest rates for SMEs by jointly raising funds in 2012.
The cooperation between the two organizations lays the foundation for the success of the government's policies to overcome the national economic crisis. KDIC and the IBK are planning to implement various support plans that can practically help SMEs in need down the road.

Moreover, KDIC will let young people and local residents use more stores without paying rent. This means that KDIC will expand a project that freely leases vacant shop spaces to small business owners and vulnerable groups struggling due to the COVID-19 crisis.

Four commercial spaces in Acro Tower in Hwanghak-dong, Jung-gu, Seoul, were provided to be used as entrepreneurs' offices and local residents' learning centers at no cost to them.

The free use of such spaces scaled up foot traffic in the shopping building, injecting vitality into the place and finally helped fill other vacant leases in the building. Proceeds from the sale of the spaces were used as relief funds for savings banks that had gone bankrupt.
Restaurants and coffee shops are already in operation in the building, and all of the 10 shopping spaces will be leased in April as rental contracts expire.

"We will support the socially disadvantaged through the vacant store space utilization project and promote the local economy through effects from revitalizing surrounding commercial areas," a KDIC official said.

"For the small business owners and marginalized groups having difficulties paying rent due to the ongoing COVID-19 virus crisis, we will additionally provide 10 free vacant store spaces in four regions including Seoul and Daejeon.
KDIC hopes that this project will be a good example of 'helping oneself by helping others,' a Buddhist maxim, and contribute to the spread of a social value creation culture throughout our society." In the meantime, KDIC has been spearheading the nationwide social distancing campaign in line with the government's policies to stem the spread of the novel coronavirus.

Accordingly, it has been putting social distancing by placing seats apart in its cafeterias and customer service center and setting up transparent partitions between employees and customers.
At the same time, KDIC has enabled its employees to work from home through the construction of a virtual private network (VPN) system for telecommuting, the development of a video conferencing system and the provision of mini PCs.