Pres. Moon given mandate to continue to implement his national agenda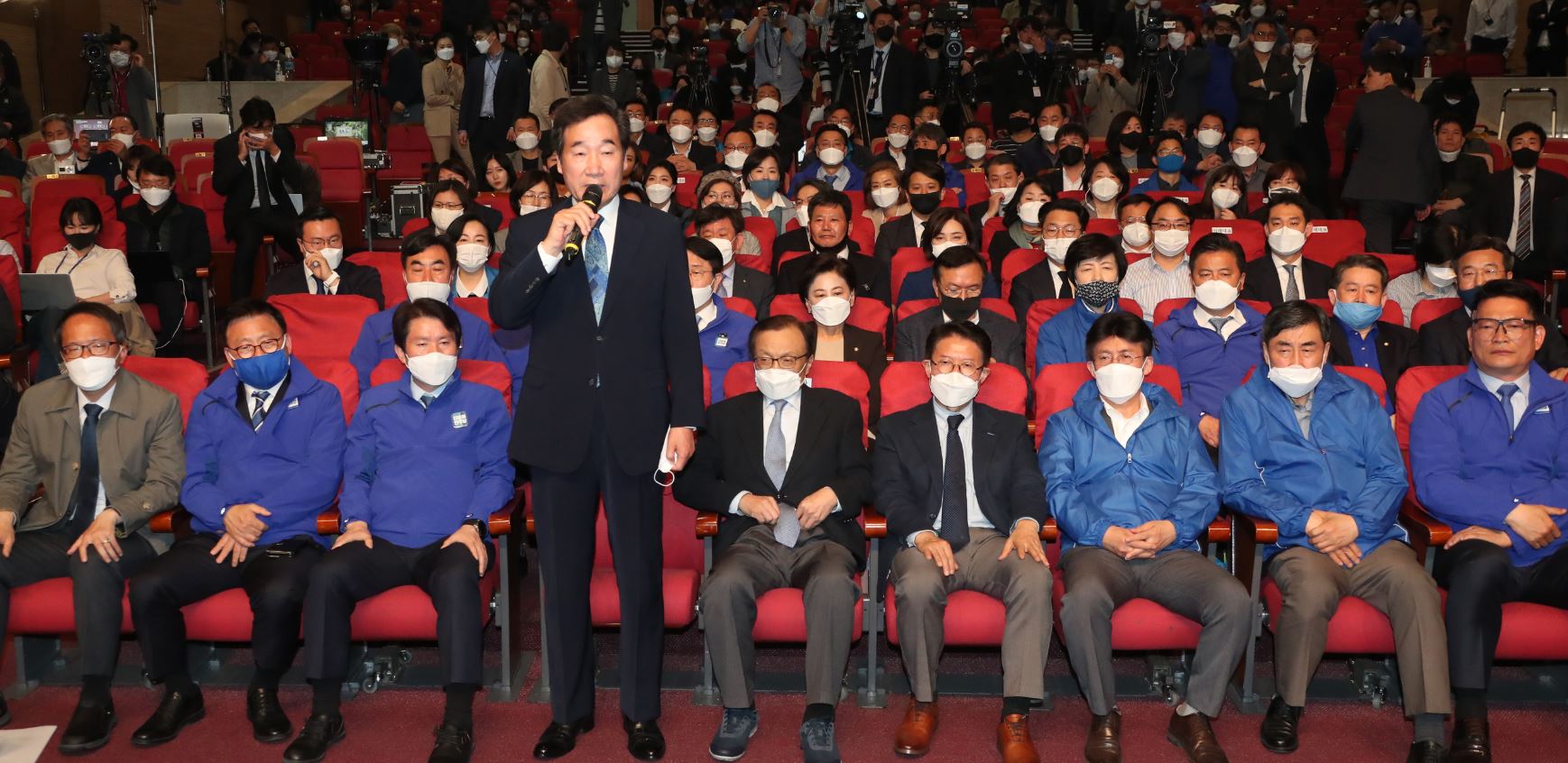 Lee Nak-yeon, co-chairman of the ruling Democratic Party's campaign committee, delivers a speech at the party's vote counting room. He beat Hwang Kyo-ahn, chairman of the opposition party,in Seoul's Jong-no electorate race, dubbed as a pre-match of two presidential hopefuls ahead of an upcoming presidential election, to be held in two years.
The ruling Democratic Party (DP) snatched a sweeping majority of parliamentary seats in the general elections on April 15.

DP, along with its satellite party for proportional representation, won 180 seats, or three-fifths of the 300 seats up for grabs, the biggest-ever majority since the revision of the Constitution in 1987.
If six seats from the Justice Party, three from the Openminju Party, and an independent seat are also counted, the number of seats for the ruling party bloc will reach around 190, allowing it to have reign over parliament.

On the other land, the conservative opposition United Future Party, and its satellite of proportional representation, each got 84 seats and 19 seats, for a combined 103 seats.
That is lower than the current parliament, representing a humiliating loss. Even if three seats from the People's Party, headed by ex-presidential candidate Ahn Cheol-soo, along with four independent seats are also counted, the pan-opposition bloc would stand at just 110 seats.
Four big shots - Hong Joon-pyo, Kim Tae-ho, Yoon Sang-hyun, and Kwon Sung-dong - failed to obtain candidacies from the United Future Party, ran as independents and emerged as victors.

Overall, DP won 163 seats, followed by the United Future Party with 84 seats and one seat for the Justice Party, along with five independents.

Under proportional representation of 47 seats, the United Future Party got 19 seats, followed by the Together Citizens Party with 17 seats, the Justice Party with five seats, the People's Party with three seats and the Openminju Party with three seats.

The ruling party's landslide victory, seen as a mid-term evaluation of the President Moon Jae-in government's first three years in office, is expected to give a more leeway to the government to push ahead with its national agenda, including income-led growth and reform bills, during his remaining term.

The government set in motion the establishment of a corruption investigation agency as part of efforts to reform the prosecution. The day after the ruling party victory, President Moon extended his thanks and vowed to work for the people.

"The government will take a heavy sense of responsibility rather than elation, and the government will not be arrogant and will humbly lend an ear to the voices of people," he said in a statement.
His remarks were also echoed by DP Chairman Lee Hae-chan and Lee Nak-yeon, co-chairman of the ruling party's campaign committee. DP Chairman Lee said full responsibility to put on a right tract the upcoming 21st parliament rests on the ruling party.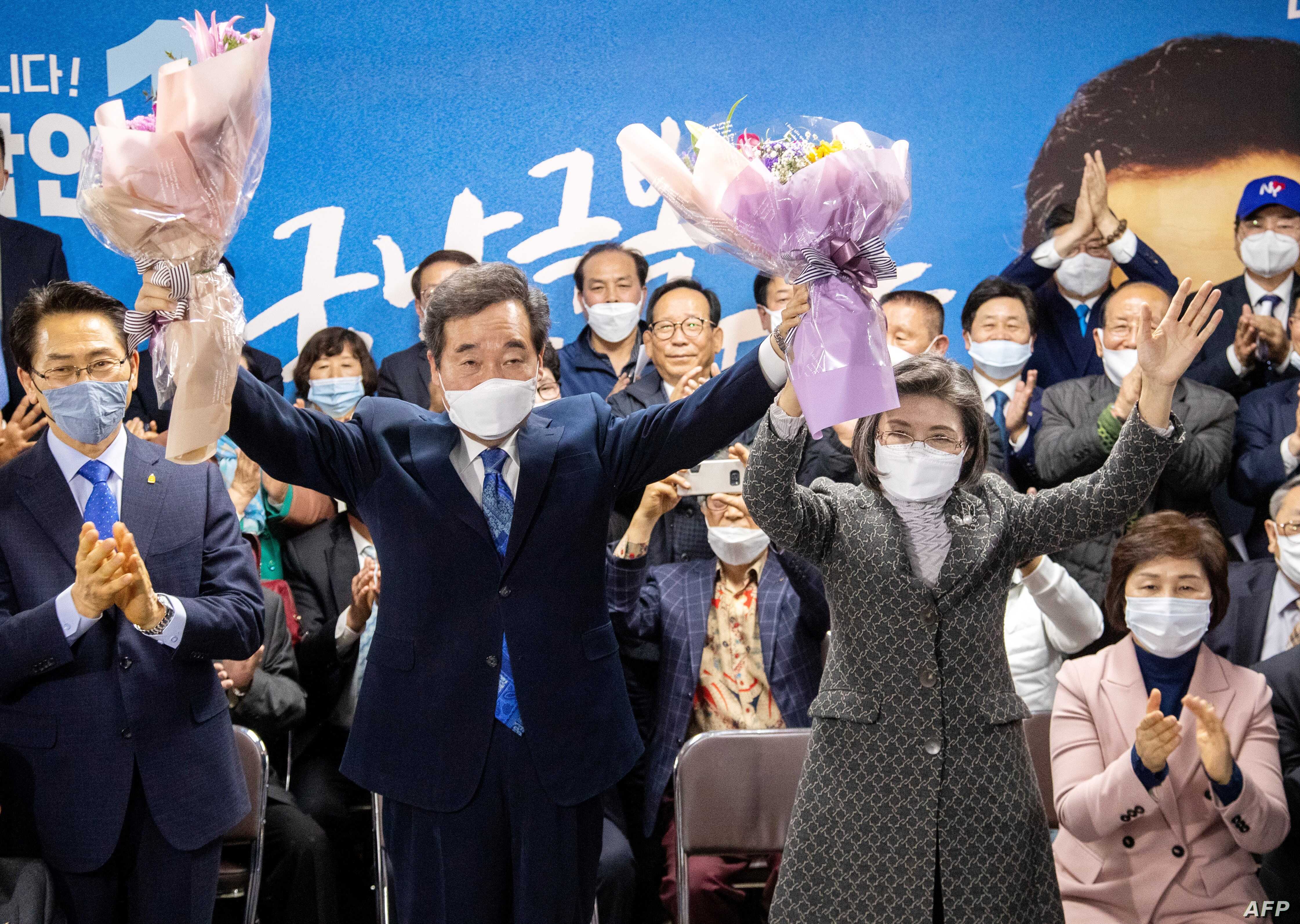 Lee Nak-yeon, a lawmaker-elect, and his wife acknowledge his supporters after they received a bouquet of flowers as he was confirmed to be elected from Seoul's Jongno electorcal disrict at his campaign office on April 15.

Lee Nak-yeon defeated Hwang Kyo-ahn, chairman of the opposition party, by a ratio of 58.3 percent to 39.9 percent in Seoul's Jong-no district. The race was dubbed as a precursor for a potential presidential race among two hopefuls. Lee said, "I feel a heavy sense of responsibility, and people have given the DP and Together Citizens' Party many seats, leaving us with greater responsibilities."

People have entrusted the government and ruling party with responsibilities to overcome the national pandemic disaster and global crisis, caused by the spread of COVID-19 and the sagging economy, Lee added.

Lee's victory is expected to give him more room to solidify his power base as a leading contender in the ruling party's presidential candidate nomination race.
He has seen his nationwide recognition and stature rise by participating in election campaign rallies as co-chairman of the ruling party's campaign committee to support other ruling party candidates across the nation.
About 40 people have already volunteered to serve as chairmen of committees to patronize him during the national polls. Other would-be contenders include Seoul Mayor Park Won-soon and Gyeonggi Gov. Lee Jae-myung.

Figures compiled by the National Election Commission (NEC) showed that 29,121,467 people cast votes in 253 constituencies. DP got 14,345,425 votes or 49.9 percent of the total cast one.
The figures represent a difference of 8.4 percentage points or about 2.4 million votes, compared to the United Future Party, which obtained 11,915,277 votes or 41.5 percent. But ironically, the narrowing winning difference translated into a greater margin of winning seats: 163: 83.

The ruling party swept 41 seats out of the 49 seats up for grabs in Seoul at the expense of the major conservative party. Winners from the ruling party include Koh Min-jung, an ex-presidential spokesman, and Lee Soo-jin, a former judge. Koh and Lee defeated former Seoul Mayor Oh Se-hoon and Na Kyung-won, an ex-floor leader, in their hotly contested races in Seoul.
Chairman Lee Hae-chan of the ruling Democratic Party delivers a speech at the party's future election committee at the party's room in Yeouido, Seoul, on April 16 as Lee Nak-yeon, a lawmaker-elect and a would-be presidential contender, looks on. (Photos: The ruling Democratic Party)
The ruling party also dominated seats in Gyeonggi-do and Jeolla provinces, and fought well in the Chungcheong area. On the other hand, the conservative party managed to control its strongholds in Gyeongsang provinces.

The national polls solidified a two party structure: DP vs. United Futures Party. Other minority parties, including the Justice Party and People's Party, suffered a setback with lower seats.

An analysis of winners from DP and Together Citizens' Party showed that they included about 50 members of pro-President Moon faction, including Chun Hae-chul, an ex-supreme council member of the ruling party, and Kim Tae-nyun of DP's former policy committee head; 20 winners who served as senior secretaries and aides to President Moon, including Yoon Gun-young and Yoon Young-chan; and 10 lawmakers-elect, who worked as ex-antigovernment activities, including Woo Sang-ho and Woo Won-shik. The ruling party succeeded in having about 30 experts from each walk of life elected in the national polls.
They include Choi Ki-sang, a former senior judge with the Seoul Central District Court, and Hong Sung-koo, an ex-president of Mirae Asset Daewoo, and Lee Yong-woo, an ex-Korea KaKao Bank president.

With an approval rate for President Moon on the rise even after the spread of COVID-19, the ruling party and its candidates were given a leg-up by making the most of the government's successful handling of the crisis.

One of the ruling party's candidates posted a campaign catchphrase "Korea Wins Corona (Coronavirus)." The pandemic issue overshadowed other campaign slogans like the conservative party's blame of the current government for the sagging national economy and policies such as weaning the nation off nuclear power.

The conservative United Future Party selected Kim Jong-in, once dubbed a "king maker," as chairman of its campaign committee, but failed to win the hearts of more moderately-minded voters. It also failed to shake off its image as a force of the "old guard", and did not come up with fresh alternative economic policies.