Strives to ramp up its presence in the global nuclear power market with its accumulated technology and experience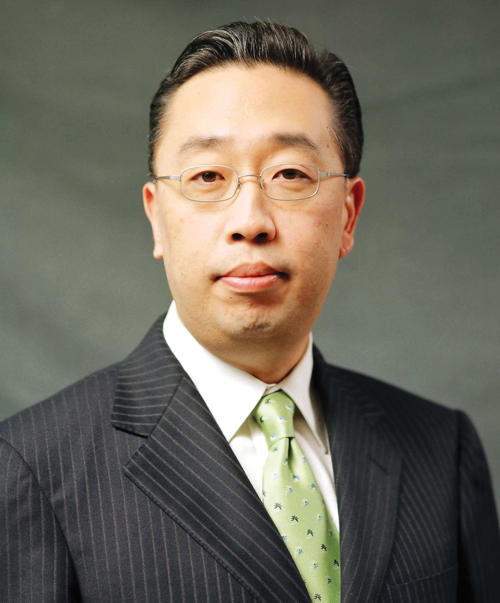 Doosan Heavy Industries & Construction President Park Gee-won
Doosan Heavy Industries and Construction has grown into a major player in the global nuclear power industry. Doosan, a supplier of major nuclear equipment, including nuclear reactor vessels and steam generators, is now participating as part of a Korean consortium to export Korean-type nuclear power units to the United Arab Emirates.
Given the fact that the supply of major nuclear power equipment accounts for more or less 25 percent of sales from landing a nuclear power unit construction project, Doosan is expected to be the biggest beneficiary of the UAE deal.
Doosan has gained global recognition in the quality of its mainstay products in Korea and abroad. Nuclear reactor vessels, boilers and rotor shafts produced by Doosan are on the list of the 2011 world-class products designated by the Ministry of Knowledge Economy.
Doosan is almost on par with global nuclear power players in terms of quantitative amounts as the company supplies nuclear reactor vessels, steam generators, and major nuclear power equipment, as well as almost all components for the industry including casks.
Prior to the UAE deal, signed in December 2009, Doosan made history in the Korean nuclear power industry in May 2009 when it delivered a nuclear reactor head and control rod control systems (CRCSs) for replacement of old facilities at the No. 2 reactor at the Palo Verde Nuclear Power Plant in Arizona, the United States.
This marked the first time Korea has exported a nuclear reactor head and CRCSs to the United States, which is a global nuclear powerhouse and an originator of many nuclear technologies. It is the fourth time Korea has exported nuclear power plant facilities to the U.S. since it first shipped a nuclear steam generator there in 1999.
The nuclear reactor head is the core equipment for the nuclear reactor, which is mounted at the top of a nuclear reactor to conduct various control functions by maintaining the internal pressure of the coolant. The CRCS is an electrical device for controlling the nuclear reaction, and each reactor head at the Palo Verde Nuclear Power Plant is equipped with 89 CRCSs.
Doosan has proactively participated in nuclear power plant projects in the U.S. and has exported core equipment for nuclear power plants that adopt the latest design and production technologies, a Doosan official said.
Doosan has made a strong showing in the business of manufacturing replacement equipment for plant life extension in the U.S. since September 1999 when it landed an order to supply a replacement steam generator for Sequoyah Nuclear Power Unit 1 in Tennessee. Doosan has been recognized for its capability to produce major nuclear power equipment as it con-tinues to land orders for replacement steam generators and reactor vessel closure heads from the U.S.
These sales led to Doosan's signing of deals to supply major equipment for the advanced nuclear power plant Generation III+ AP1000 to the U.S. and China. Doosan secured its competitive edge by landing an order in China as the first supplier of major equipment for the AP1000 units in 2007. Furthermore, the company has signed a contract for technology transfer to support China's localization goals and is strengthening its relationships with Chinese companies.
Doosan is currently striving to augment its position in the Chinese nuclear market by creating joint ventures with local companies. Doosan has cut a prominent figure in the domestic and overseas front by securing orders for the first six AP1000 units in the U.S., which resumed construction of new nuclear units in 2008 for the first time in over 30 years; receiving orders from Japan in both 2007 and 2008 to supply casks; supplying replacement steam generators for Ulchin Nuclear Units 1&2 in 2008; and supplying major equipment for Shin-Ulchin Nuclear Units 1&2 in 2009.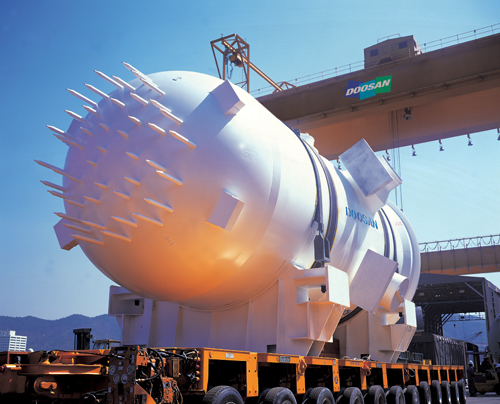 Doosan Heavy Industries & Construction has become a global leading supplier of reactors and other major nuclear facilities.
Doosan is the nation's only manufacturer of major equipment for nuclear power plants such as reactor vessels, steam generators, and pressurizers. The localization of these systems started with production based on technologies imported from U.S. Combustion Engineering in the 1970s. Doosan raised the localization rate of nuclear power equipment production technology to the 60 percent range during the "promotion of localization" period in the 1980s and it reached 95 percent during the "technology self reliance" period in the 1990s.