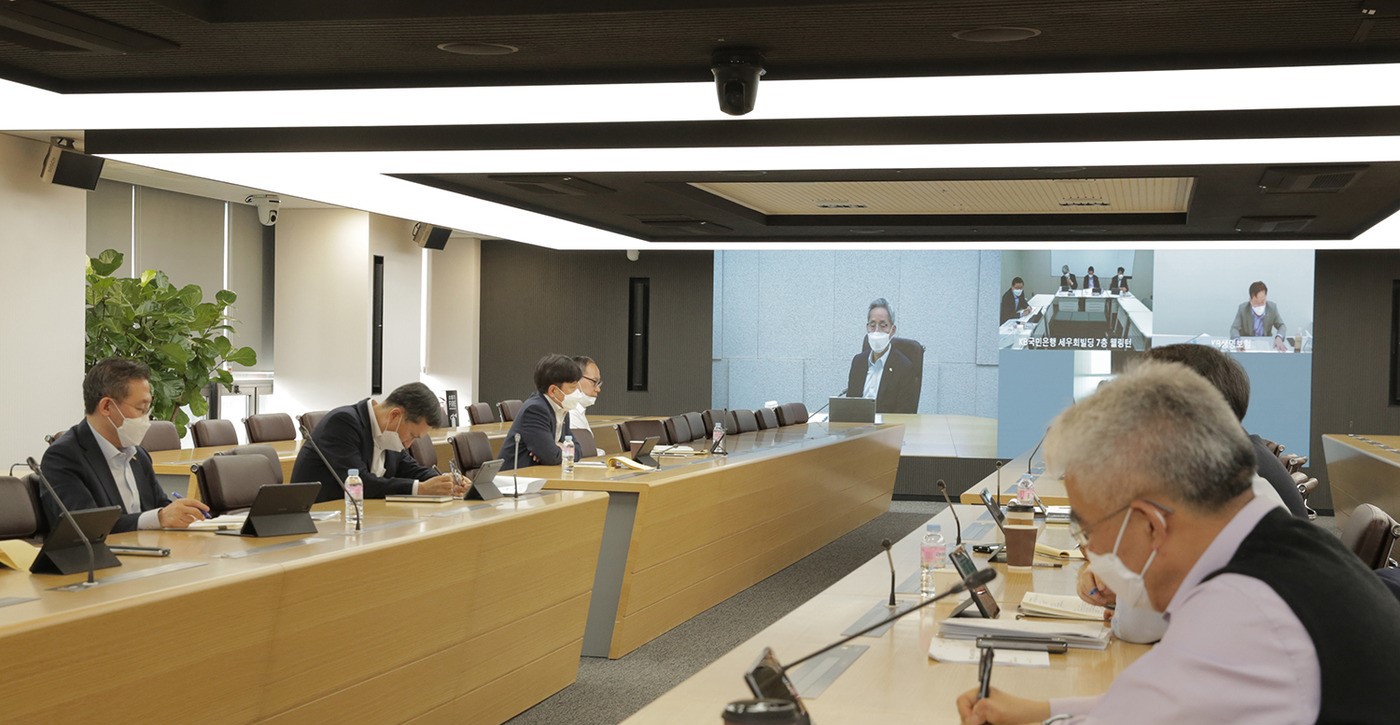 The KB Financial Group responds quickly to the novel coronavirus fiasco by running the Emergency Management Committee. KB Financial Group employees have a meeting through a video conferencing system. (Photo: KB Financial Group)
KB Financial Group will establish the Environment, Social Responsibility and Governance (ESG) Committee that encompasses both environmental protection and corporate social responsibility to expedite and sustain ESG management.

KB Financial Group announced on March 9 that it would establish an ESG committee among its board of directors as part of its colossal effort to become a leading financial group in ESG management.

The ESG Committee will consist of nine internal and external directors, including Chairman Yoon Jong-kyu, and will make the most powerful decisions on the group's ESG management from a mid- to long-term perspective, including establishing ESG strategies and policies, managing and supervising progress in ESG management.

"The establishment of the ESG Committee within the board of directors means that the KB Financial Group's ESG management is not just a superficial slogan, but also expressed a substantial and strong commitment to putting ESG management into practice," a KB Financial Group official said.

"KB will be a leading financial group in ESG management duly recognized by the market and society."
Meanwhile, KB Financial Group's efforts to fulfill its responsibilities in the ESG sector are highly appreciated at home and abroad.
The Dow Jones Sustainability Index (DJSI) included KB Financial Group for four consecutive years. The Bloomberg Gender-Equality Index (GEI) selected KB Financial Group two years in a row, a first for a Korean company.
The Korea Corporate Governance Service honored KB Financial Group as the best company in its GSC evaluations for two years running. KB Financial Group took home the Honor Prize in the carbon management sector at the CDP Climate Change 2018 for two consecutive years.

On top of that, KB Financial Group passed a matter on qualifications for outside directors set by relevant laws such as the Commercial Act and the Law on Governance of Financial Companies in a meeting of the Outside Director Candidate Recommendation Committee on Feb. 25.

The committee decided to recommend Kwon Sun-joo, a former president of the Industrial Bank of Korea (IBK) and Oh Kyu-taek, a professor of business and economics at Chung-Ang University as a new outside director candidate for a two-year term.
Four current outside directors were also recommended for one more year as well. The four are Stewart Solomon, Sunwoo Seok-ho. Choi Myung-hee and Chung Koo-hwan.

"We expect that this decision by the committee will boost the board's diversity and promote women's social advancement and participation in the board," a KB official said.

With the spread of the novel coronavirus, the Korean government sounded the alarm by raising the national crisis level to "serious" on Feb. 23.

The next day, KB Financial Group launched the group-wide "Emergency Management Committee" in an effort to focus all of its capacities on fights with the virus.
The "Emergency Management Committee" is chaired by Chairman Yoon Jong-kyu, and consists of the CEOs of seven affiliates including KB Kookmin Bank, KB Securities, KB Insurance, and KB Kookmin Card.

KB Financial Group held a meeting for the Emergency Management Committee to discuss various countermeasures to prevent COVID-19 infections among group employees, and taking actions promptly according to the countermeasure.
In order to minimize face-to-face meetings, video conferences were adopted via video conferencing systems in major buildings of the KB Financial Group and other subsidiaries.
All employees have to wear face masks and prompt inspection and response processes are applied to check the health of employees.

Also, in order to provide seamless financial services, employees at the headquarters of the KB Financial Group including IT personnel, are working from home.
A ubiquitous work environment has been built to let employees work from home based on a virtual private network.