Marking its 40th anniversary, the company aims to become a global leader in the heavy industries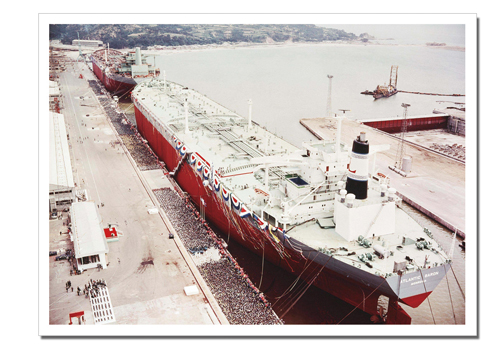 HHl's first two very-large crude containers (VLCCs) are christened in a ceremony at its shipyard in Ulsan on June 28, 1974. The ceremony also coincided with the dedication of the shipyard.
Hyundai Heavy Industries (HHI) marked the 40th anniversary of its establishment on March 23. HHI can trace back to an empty stretch of beach where the groundbreaking for its first shipyard was held in 1972. Since then, the company has come from strength to strength to become an integrated heavy industries company.
HHI is synonymous with the history of Korea's manufacturing industry. HHI's history is one of overcoming challenges, pioneering new technology, and foreseeing future trends. HHI's saga is largely due to the philosophy of its founder, Chung Ju-yung: "Creative wisdom, positive thinking and unwavering drive."
In the 1970s, the Korean government embarked on a project to nurture the shipbuilding industry, suiting Korea, a nation with rich labor resources and technology, as part of its scheme to make inroads into heavy and petrochemical industries, departing from the light industries. But the nation struggled to secure the huge capital needed as startup funds and government loans were not enoug the introduction of $43 million in foreign loans was required.
For a nation reeling from shock of the Korean War as well as a fledgling company like HHI with no experience, capital, or technology whatsoever, obtaining foreign loans initially seemed to be out of the question.
The HHI of today is owed to founder Jung's creativity in which he used a 500-won Korean coin featuring a Korean turtle ship produced during the 16th century to introduce the nation's shipbuilding potential. He finally persuaded Barclays to open a line of credit and to help HHI win orders for two very-large crude carriers (VLCCs) from Greek magnate George Livanos while HHI's shipyard was still in the planning stages.
The late Hyundai Group Chairman Chung Ju-yung gives a congratulatory speech at a ceremony
to mark the start of the shipyard's operation in 1973.
In March 1972, ground was broken on an empty stretch of beach in Ulsan, Gyeongsangnam-do to construct what would become the world's largest shipyard. Hyundai then started building the two VLCCs and the shipyard simultaneously. Two years later, HHI held a company event to simultaneously christian the two VLCCs and dedicate the shipyard.
Capturing the imagination of the international maritime community, the event was a historic first step for HHI. HHI landed additional orders for two VLCCs in March 1974 and the company saw its global market share surge to 2.8 percent or 1,396,000 tons in 1975, enjoying a dramatic improvement in craftmanship on top of productivity.
The first oil shock roiled the Korean shipbuilding industry, and HHI was faced with a crisis with a stream of order cancellations starting in 1974. As a step to overcome the crisis, the company °™ diversified its shipbuilding business and made an inroad in the ship repair sector establishing the Hyundai Mipo Shipyard.
Fortunately, as HHI was recovering from the ramifications of the first oil shock, the company began to enjoy a flood of orders from the global maritime industry. Even in spite the second oil shock that hit Korea in 1979, HHI experienced a boom with a 70 percent jump in orders, which was due to an increasing number of ship owners who opted for Korea's instead of Japan's shipyards.
HHI rose to the global number one shipbuilder in just 10 years after its founding, as its new orders soared three-fold to about 4 million gross tons (G/T) with a backlog of about 5 million G/T in 1983.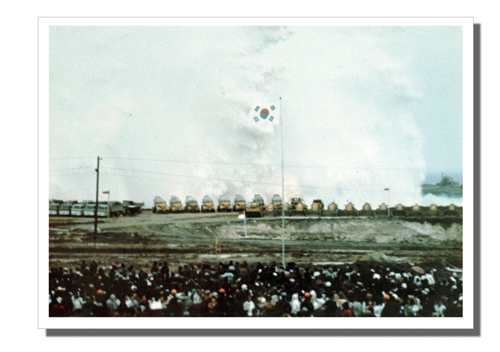 A blast signals the start of a project to build HHl's Ulsan shipyard at a groundbreaking ceremony in 1972.
EVOLVING INTO HEAVY INDUSTRIES CO.
Entering the 1990s, HHI focused on the construction of value-added ships because the company no longer enjoyed a competitive edge with VLCCs and container ships, which are easily built by ordinary shipyards.
The company turned to the construction of specialty ships such as LNG carriers, petrochemical products carriers, and military ships, and concentrated its capabilities on securing shipbuilding and navigation technology. HHI finally delivered Korea's first ever Moss-type LNG carrier,"Hyundai Eutopia" in 1994, valued at $250 million, which remained on the list of big-ticket ships until the mid-2000s, indicating that the technology for building such an LNG carrier was priceless.
HHI has ramped up its competitive edge in the value-added shipbuilding sector by successfully delivering drill ships and Aegis destroyers. The company has retained the global number one shipbuilding position by expanding its business portfolios to specialty ships for offshore resources exploration.
In the latest development, HHI set a new milestone for shipbuilders by achieving 100 million G/T in ship construction for the first time. Specifically, the company set a record of 171.7 million gross tons on March 8, just 40 years after its establishment.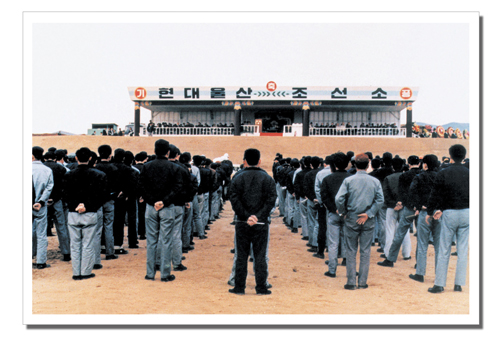 HHl's Ulsan shipyard employees attend a groundbreaking ceremony on an empty stretch of
beach in Ulsan in 1972.
In addition, HHI has been strengthening non-shipbuilding businesses such as offshore & engineering, industrial plant & engineering, engine & machinery, electro/electric systems, green energy, and construction equipment, evolving into a heavy industries company by lowering the portion of shipbuilding in revenues to 35 percent.
HHI has now established itself as a world-class heavy industries company with about 25,000 employees and 27.57 trillion won in annual sales.