President Kwon presides over trade office chiefs' meeting in Vancouver, Canada, on Jan. 10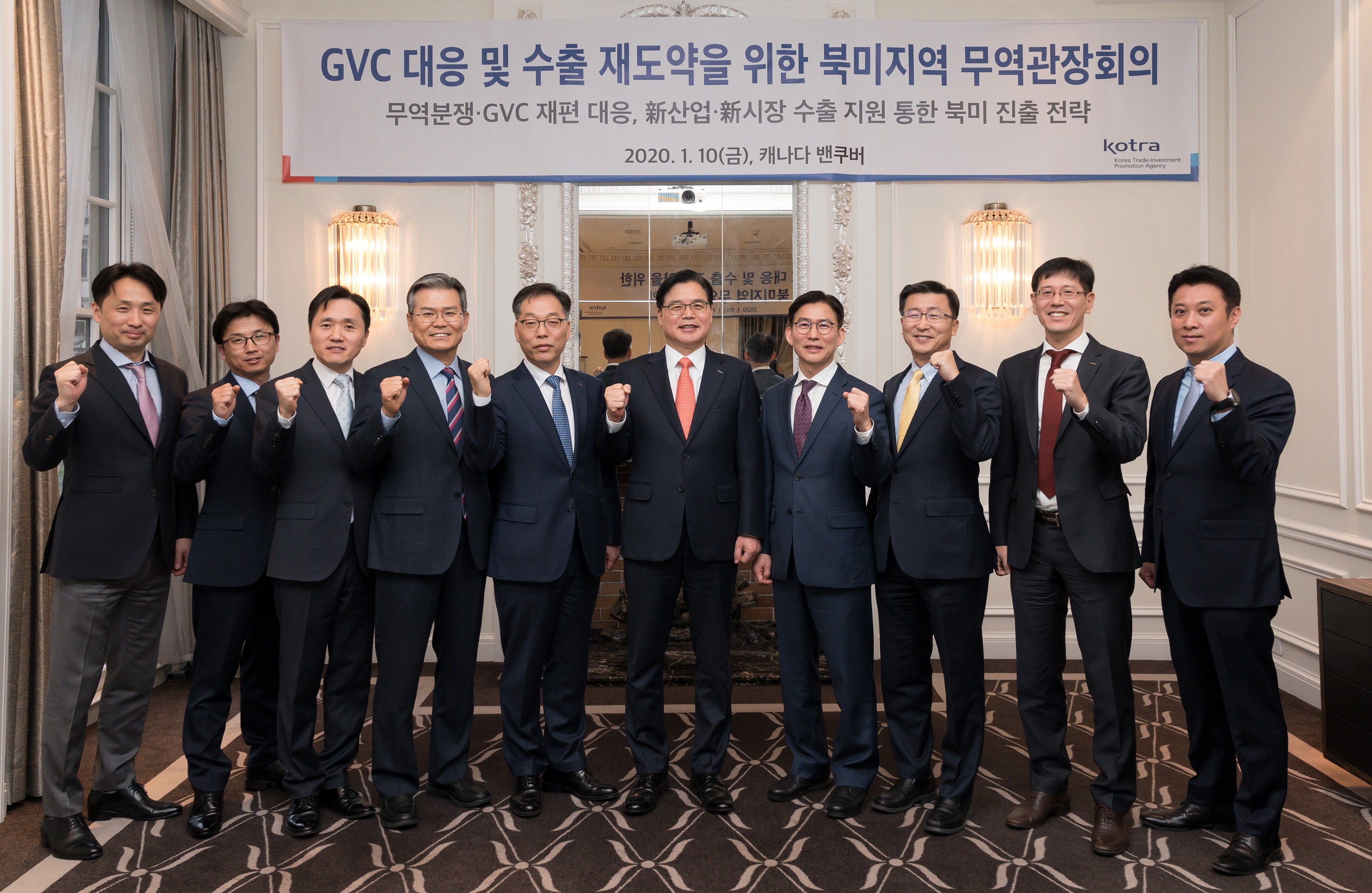 KOTRA holds a trade office meeting in Vancouver, Canada, on Jan. 10 on how to expand trade and investment in the North American region. President Kwon Pyung-oh (fifth from right) of KOTRA poses for a photo with trade office chiefs while vowing to boost Korean exports. (Photo: KOTRA)
President Kwon Pyung-oh of Korea Trade-Investment Promotion Agency (KOTRA) presided over a trade office chiefs' meeting in Vancouver, Canada, on Jan. 10 on how to expand trade and investment attraction in the North American area. President Kwon called for the establishment of more advanced strategies designed to support exports consummating with a new decade.

"Chances are high that the global economy is recovering following an initial deal on trade conflicts between the Unites States and China, and (KOTRA) will spearhead the Korean trade industry's another leap forward in the changing North American market by making the most of moves to restructure the global value chain," he said.

Even though the global economy suffered hard times in the wake of a prolonged U.S.-Chinese trade war, Korea's exports to the North America market strengthened.

As of December 2019, Korea's exports to North America rose 0.5 percent year-on-year to $77.46 billion.
The market is predicted to maintain a positive trajectory on the back of continued growth in employment and spending in North America this year. But there are lingering uncertainties, such as whether U.S. President Donald Trump will be impeached in the U.S. election year and changes in his approval ratings, continuity of trade protectionist moves, and expanded geopolitical risks.

In order to overcome uncertainties amid changes in the North American market, KOTRA established four strategies to enter the market and came up with business guidelines: A response to U.S.-Chinese trade conflicts and the realignment of the global value chain; providing support to new industry exports; making consumer exports premium ones; and support to investment attraction, market entry and startups.

In North America, companies are showing signs of a willingness to pivot to new suppliers due to the exhaustion caused by a prolonged U.S.-Chinese trade conflict and quality complaints for Chinese-made products. KOTRA plans to cash in on the unfavorable situation for Chinese-made products.

Each trade office plans to implement projects connected with core industries like the automotive parts segment in Detroit, the machinery equipment sector in Chicago, and energy raw materials and equipment segment in Dallas.

KOTRA will establish a support regime according to stages, such as demand analysis, invitation of businesses, one-on-on matching negotiations, and pinpointing deal-making to take advantage of the situation as global value chain entry opportunities.

Korea needs to make the most of the innovative mood of the North American market, which leads global technologies and industries like the realization of the 4th Industrial Revolution, expedited by the commercialization of 5G network and continued growth in medical and bio sectors. In this regard, KOTRA provides support to nurture new Korean industries.

Each country is rushing to step on the gas on the establishment of an eco-system for innovative industries and pivot to an R&D-oriented business environment. Each Korean SME and mid-size company has not found it easy to compete in the North American market on its own.
KOTRA plans to provide support to Korean businesses' participation in CES 2020 in Las Vegas in January, Saigon International AutoTech slated for May, Biotech Prance 2020 slated for June 2020 K-Global slated for September in Silicon Valley so that they can enter new growth engine sectors.
KOTRA makes all-out efforts to help Korean companies promote technology collaboration with global companies.

North America is the world's biggest consumer market and center of global trends. It is an optimal place for making premium consumer products.

KOTRA plans to contribute to promoting quantitative and qualitative innovation for Korean-made consumer products by providing support to Korean companies' building a brand image this year.
In particular, a pilot program, titled "Brand in US, Export Global," got a good reception. KOTRA will host K-lifestyle Consumer Show, an expanded version of the pilot program.
KOTRA plans to provide support to make the most of the brand premium being built in the North America to tap global markets such as China, ASEAN and South America.

KOTRA's president presided over a meeting of trade office hears in Panama on Jan. 13. The focus of the meeting was how to expand trade and investment attraction in the Central and South American area.
He urged participants to upgrade trade between Korea and Central and South America one stage by diversifying market entry methods on top of product portfolio.