Chairman Han of Shinhan Financial Group only considers merit and competence in personnel moves for corporate stability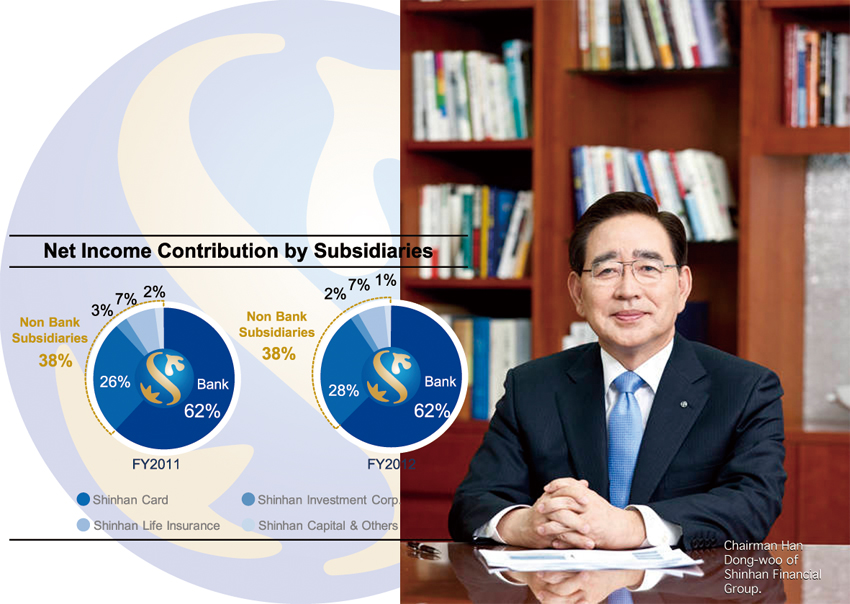 Chairman Han Dong-woo celebrated two years since his inauguration as head of Shinhan Financial Group in 2011, which was a very difficult time for the group.
What the chairman did as soon as he took the helm of the group was to restore the public' s trust in the financial group and Shinhan Bank in particular, and it occurred to him then that the organizational stability and recovery of trust in the financial market were the two most pressing matters in order for the group to get back on track.
The first thing he did was to be fair and non-biased in personnel matters, basing decisions on personal achievements instead of where candidates were from or their backgrounds, which was what he did to fill the vacant positions created by the high-level resignations. He wanted to do away with any kinds of conflicts and complaints inside the organization on personnel matters.
In many cases, those with a banking background took up most of the key positions including CEOs in such major affiliates as Shinhan Financial Investment and Shinhan Capital. Han avoided those practices and promoted personnel from within those affiliates as CEOs.
Retaining President Suh Jin-won as the head of Shinhan Bank on account of his achievements and stability in the bank early last year is also a good example of Han' s personnel moves.
Han told reporters recently that fair and rational personnel moves are the lifeblood for discovering the DNA of the group and making it more competitive. It didn' t mean that he always had a good time running the group in the past two years, however. He said he heard many times from former CEOs and present top executives how sorry they were regarding personnel policies, Han admitted.
For organizational stability, Han focused on building a system for taking over CEO jobs ever since he took over the group, including the qualifications required to be named a CEO in the group, and trained the candidates under the program based on the CEO qualification, which included an upper age limit of 67 years and mandatory retirement at age 70 years.
The financial group set a target for this year to be a global financial group by overcoming the low interest era to make a further jump from being the top financial group in Korea.
Han plans to run the group to push its overseas strategies focused on setting up branches in Southeast Asian countries like Myanmar and undertaking M&As while continuing to push compassionate financing to financially weak SMEs and individuals with a low income.