New Chmn. Na of KOFIA Calls for Bigger Role for KOFIA
In his inaugural speech, Na calls for deregulation of financial rules on private equity funds and project financing, and to allow emergence of new financial businesses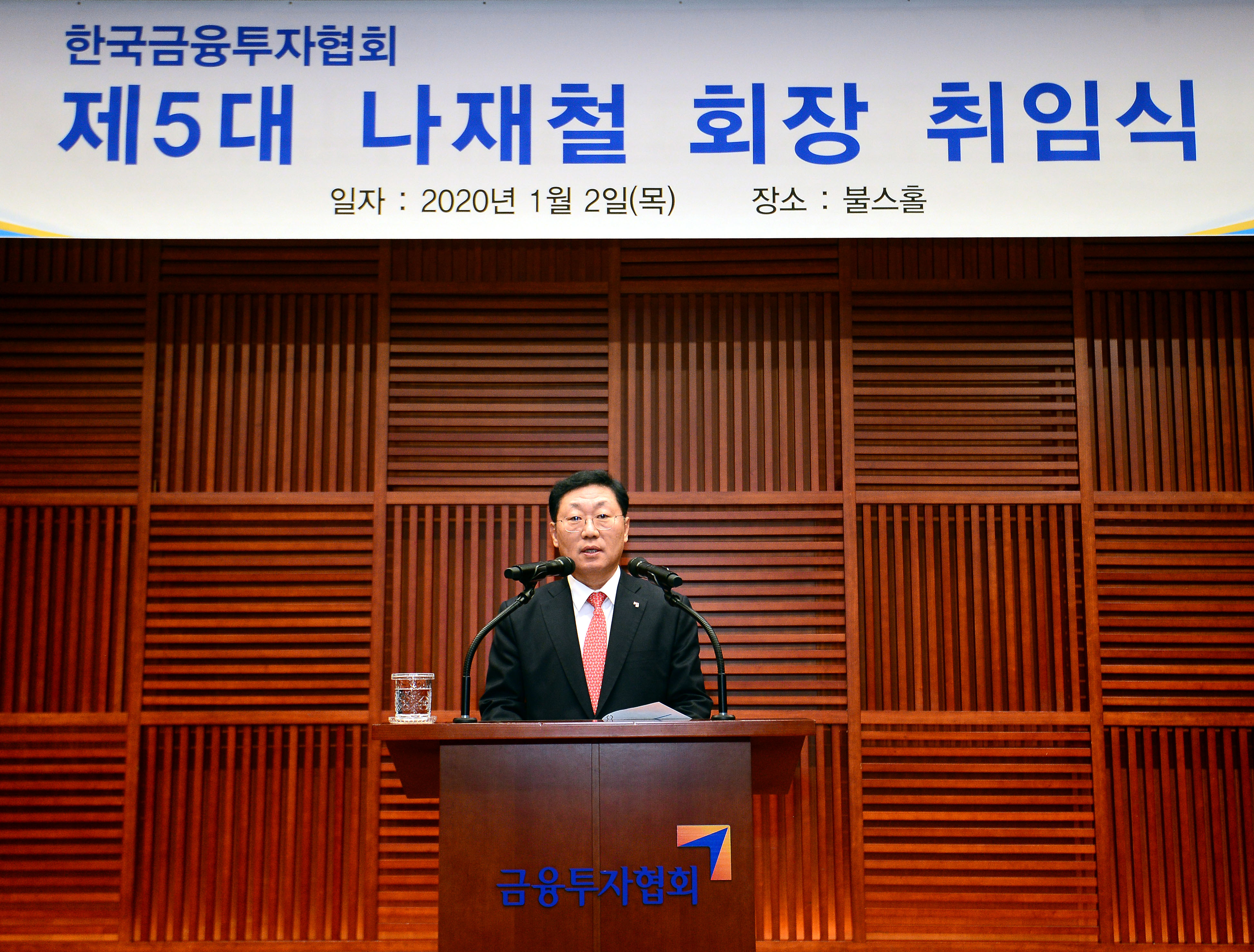 Chairman Na Jae-chul of Korea Financial Investment Association gives his inaugural speech as he took office at an inauguration ceremony on Jan. 2. (Photo: KOFIA)
New Chairman Na Jae-chul of Korea Financial Investment Association (KOFIA), in a speech at the inaugural ceremony on Jan. 2, said that he will propose the deregulation of rules that govern project financing.

In the speech, he said he will work on the deregulation of the financial rules across the board, knowing that Korea's capital market has not been able to grow as much as that of advanced countries due to government policies and regulations centered on the banking industry.
The rules limit companies from finding new business in the financial sector, he said.

The new KOFIA chairman also called for government policies allowing the introduction of fund-type retirement vehicles, venture funds and reform enterprises as well as self-regulatory functions to phase out incomplete financial transactions.

He also called for a bigger and more positive role for KOFIA beyond simply a negotiator between financial authorities, the government and legislature. KOFIA should be able to come up with alternatives that are both satisfactory to member firms and the financial authorities actively finding the measures.

He will also work on cutting down the expenses and boosting decision-making speed among KOFIA's operations.

KOFIA is the sole self-regulatory organization (SRO) of the Korean financial investment industry, overseeing a wide spectrum of industry areas. KOFIA believes that self-regulation should be responsive, flexible, and market-friendly.
To effectively carry out its roles and functions as an SRO, KOFIA maintains the Self-Regulation Committee (SRC).

The SRC is responsible for KOFIA' s self-regulatory activities, such as making decisions on regulatory enactments and revisions, and imposing sanctions on member companies, corporate executives and employees who fail to comply with regulations.
The committee is headed by a non-standing chairman.

KOFIA's main areas of self-regulation are:

1) Enacting regulations and codes of best practices for fair business activities

2) Reviewing standard agreements and advertisements

3) Conducting inspections of members

4) Registering and administering qualification exams for financial professionals

5) Mediating disputes between member companies and their customer

It's responsibilities are:

1. KOFIA establishes business conduct regulations for member companies on sales and other common business activities, as well as securities underwriting. The association also sets various guidelines, such as standard rules for investment advice and standard internal control criteria for financial investment firms.

2. To ensure investor protection, KOFIA conducts preliminary reviews on advertisements of financial investment products and the business activities of financial investment firms. It also reviews terms and conditions, and sets standard agreements to support investment firms' business activities.

3. KOFIA conducts member inspections and imposes sanctions for regulatory violations.

4. Financial professionals must receive accreditation by passing qualification exams, completing training, and registering with the association to conduct business activities such as investment solicitation and advice on financial instruments. KOFIA manages both the registration and the qualification exams.

5. To safeguard investor interests, KOFIA runs an investor protection center with an in-house attorney to arbitrate disputes.