Chmn. Kim Declares 'Trust, Growing Together, Sharing Happiness' as New Mission
Trust being the essence of financial industry, the group should work on building it and giving customers happiness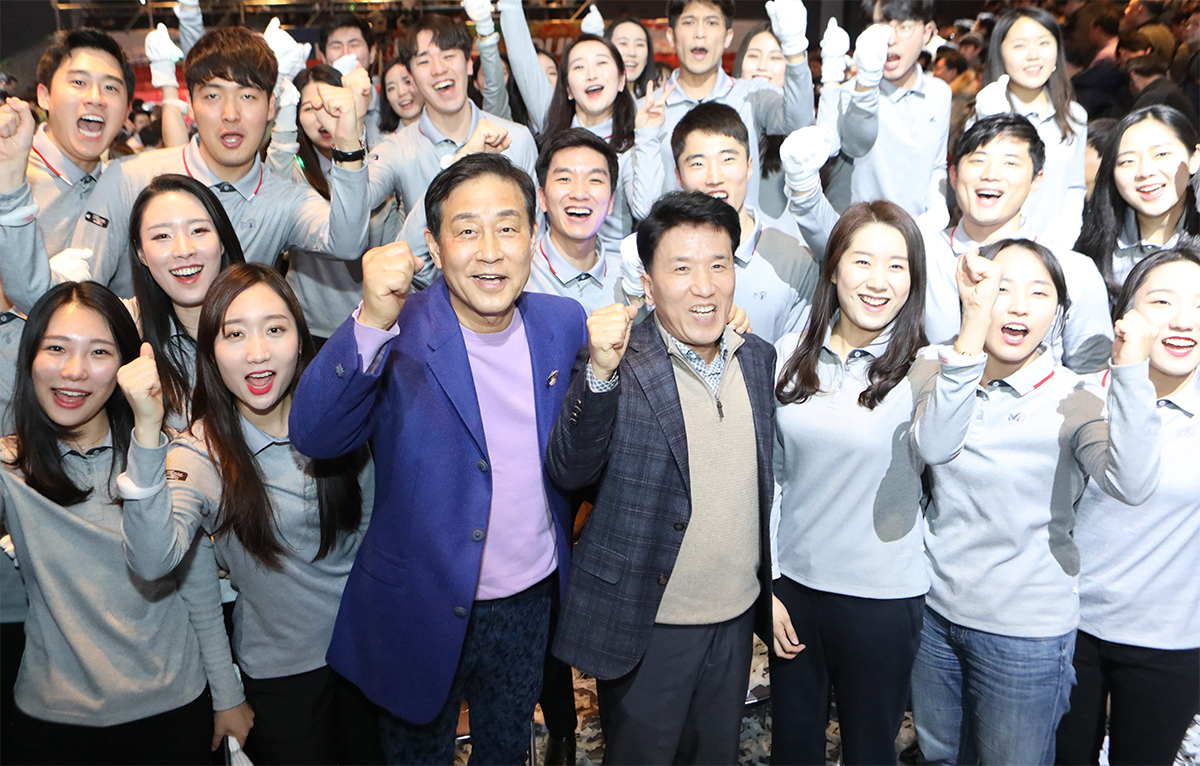 Chairman Kim Jung-tai of Hana Financial Group and Vice Chairman Ham Young-ju, other executives and staff members gesture at a ceremony to kick off the 2020 business year. (Photo: Hana Financial Group)
"Through digital innovation in finance, we must find new business models which will support financially marginalized people and thus the country," said Kim Jung-tai, chairman of Hana Financial Group on Jan. 2 in his New Year's message.

The essence of the financial industry is trust, he said. Therefore, Hana Financial Group is doing its best to achieve the happiness of its clients, because it says it knows that it is only through the true satisfaction of clients that a financial company can build trust.
Hana Financial Group will create a strong foundation of trust with all stakeholders, as well as with society in general.

Kim said new technology is making coffee franchises like Starbucks potential industry rivals. In a partnership with Microsoft and others since 2018, Starbucks has been working with cryptocurrency platform Bakkt to introduce a new consumer app soon.

"Starbucks is no longer a coffee company but a 'bank that has no financial regulation,'" he said. "Hana Financial Group has the largest global network of all Korean financial institutions, but we will not allow ourselves to become complacent in this fortunate position.
We will move on to become a leading player in the new global financial market as well as a name that represents Korea on the world stage.

"We will transform HFG into a truly global power player through a glocalization strategy that accepts and adapts to local culture and works toward partnered growth," he said.
Under the mission of "Growing Together, Sharing Happiness," Hana Financial Group hopes to uphold the fundamental role of finance in securing greater happiness and prosperity for everyone.
For the happiness of customers and society as a whole, Hana Financial Group will continue to pursue growth and sharing.

With the Korean financial industry's most extensive overseas network, Hana Financial Group is poised to become one of the world's leading financial groups.
This position is the result of the consistent business growth the group has shown since its inception in 1971 as Korea Investment & Finance, followed by its conversion to a commercial bank in 1991 and financial holding company in 2005.

Hana Financial Group dedicates itself to customer satisfaction and happiness through a comprehensive range of financial products and services for each stage of life.
As part of these services, its premier financial service network leads the industry by creating synergy among its subsidiaries in banking, securities, credit cards, capital, and insurance.

Hana Financial Group is a leading South Korean financial group providing integrated services through its subsidiaries, including KEB Hana Bank, Hana Daetoo Securities, KEB Hana Card, and Hana Life.
Hana Financial, like its rival Shinhan Financial Group, is one of the largest banking groups in the country by assets. Leveraging its network worldwide, it aims to enhance its overseas services, especially in China.

Originally founded in 1971 as Korea Investment & Finance, a money market brokerage, the company converted into commercial bank in 1991 and was renamed as Hana Bank.
It expanded its profile, through mergers with Boram Bank and Seoul Bank, and acquisitions of a range of services such as brokerage and insurance. The group completed its transformation into an integrated financial organization in 2005.

The group in 2012 bought Korea Exchange Bank, which originally specialized in currency transaction services and had a strong overseas network.
As of April 2015, Hana Financial Group had the largest overseas network among South Korean banking service companies, with 136 outlets in 24 countries, including China, Japan and the U.S.

In September 2015, Hana Bank and KEB merge to form KEB Hana Bank. Prior to the reformation, both banks have completed incorporation of overseas subsidiaries, such as in China and Indonesia, by the end of 2014.