The state-run bank to wait until Daewoo E&C's market value increases in about two years to sell its stakes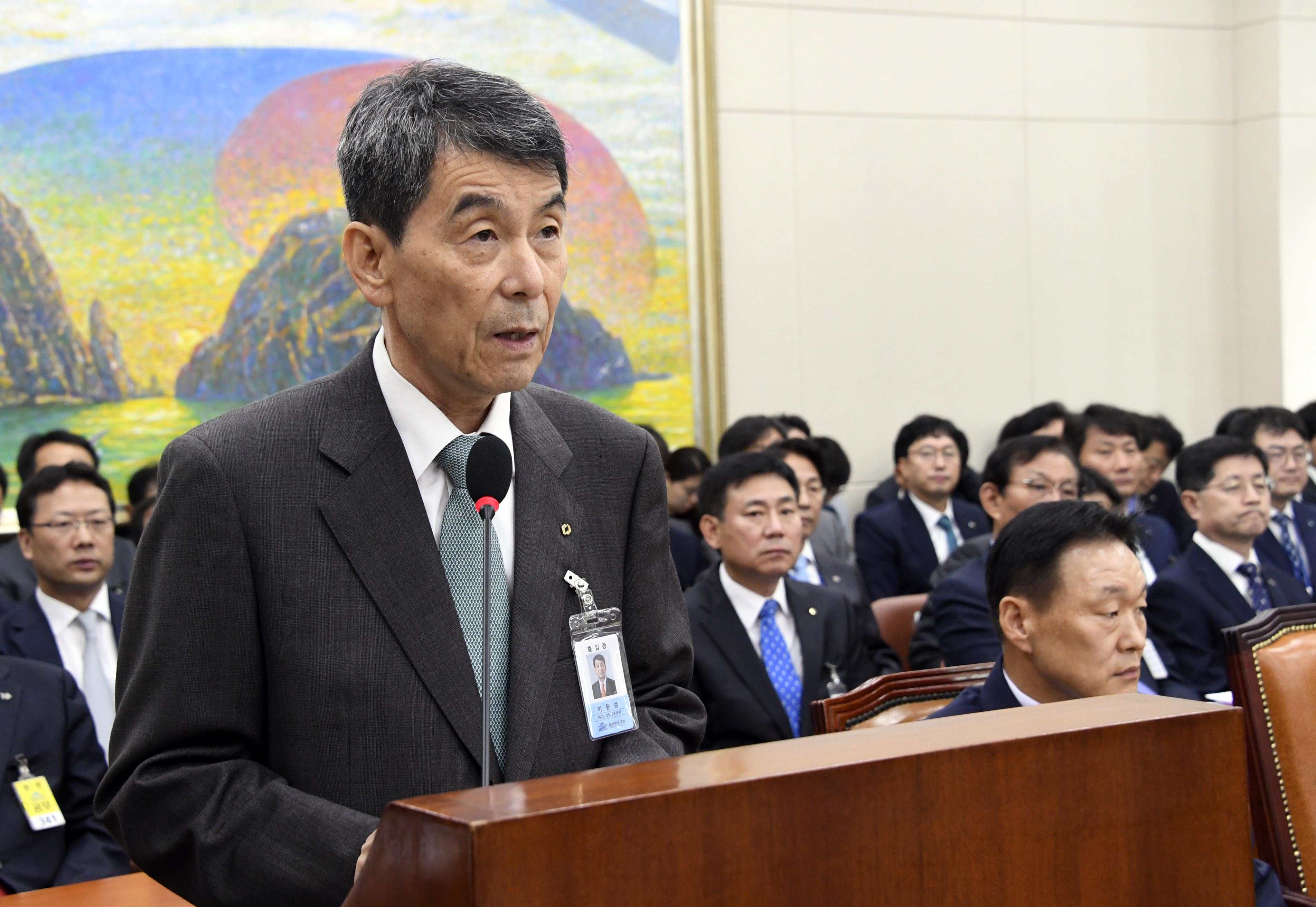 Chairman Lee Dong-gull of Korea Development Bank (KDB). (Photo: (Photo: National Assembly of the Republic of Korea)
The state-run Korea Development Bank (KDB) is considering selling its majority stake in Daewoo Engineering & Construction Co.(Daewoo E&C) in about two years, as the company is putting its focus on improving the value of the builder.
KDB Chairman Lee Dong-gull made the remarks at a parliamentary audit. Previously, KDB had said it would be in no hurry to sell Daewoo E&C.

Lee told lawmakers that KDB could sell Daewoo E&C "in about two years when the time is good." KDB, a key creditor of Kumho Asiana Group, purchased a 50.5 percent stake in Daewoo E&C in 2010 to help the debt-ridden conglomerate restructure its finances.

Some Kumho Asiana subsidiaries have struggled with debt since early 2010 due to a severe cash crunch sparked by the group's purchase of Daewoo E&C in 2006.

Daewoo E&C reported a second-quarter net profit of 82.6 billion won ($69 million), down 4.7 percent from a year ago.

Sales fell 24.7 percent on-year to 2.23 trillion won over the cited period, while operating profit dipped 37 percent on-year to 101.8 billion won. For the first six months of this year, Daewoo E&C secured 6.3 trillion won worth of orders, achieving 60 percent of its annual target of 10.5 trillion won.

Privatization process on Daewoo E&C is expected to renew as state lender Korea Development Bank (KDB) has handed over its stake in the Korean builder to its M&A specializing unit.

According to regulatory filing on Friday, KDB Value VI LLC, a special purpose fund KDB created for bailing out troubled companies, sold its entire 50.75 percent stake or 210.9 million shares in Daewoo E&C to KDB Investment in over-the-counter trade on June 14. KDB Investment in the filing vowed to be more eager in management involvement to raise corporate value and find a good buyer. On Friday, Daewoo E&C shares gained 1.11 percent to 5,010 won ($4.30).

The market interprets the move as part of the process of the state lender to divest its holdings in Daewoo E&C. Last year, it was close to selling off its Daewoo E&C shares to another mid-sized builder Hoban Construction Co. But the deal fell through due to Daewoo E&C's operational problem that surfaced during due diligence.

Lee Dong-gull, KDB chairman, repeatedly has said the bank will shake off Daewoo E&C stake even if it means losing money. The sale process, however, has been slow amid slowdown in construction market.
Inter-Korean economic cooperation projects that could have benefited Daewoo E&C along with other South Korean builders also cannot be expected in near future due to stalemate in North Korean denuclearization.

Korea Development Bank (KDB) is facing a dilemma over its attempt to sell a controlling stake in Daewoo E&C as potential bidders are unwilling to pay what the bank wants.

The state-run real estate developer LH's decision to ban Daewoo from bidding for public construction projects has further dampened investor sentiment, according to industry analysts.
They say the state-run bank has to accept what the highest bidder offers if it wants to dispose of its 50.75 percent stake in the builder. Or it could nullify the sale process if it cannot get the bidder to pay the amount it seeks. Either way, KDB will not likely be free from criticism.

According to financial industry sources familiar with the issue, Wednesday, Hoban Construction, U.S. investment company TRAC and two other unnamed investment entities have offered between 1.4 trillion won ($1.27 billion) and 1.5 trillion won for the stake.
But KDB wants at least 2 trillion won, including a management premium. But the stake is currently valued at about 1.2 trillion won, given Daewoo's share price is hovering around 5,800 won.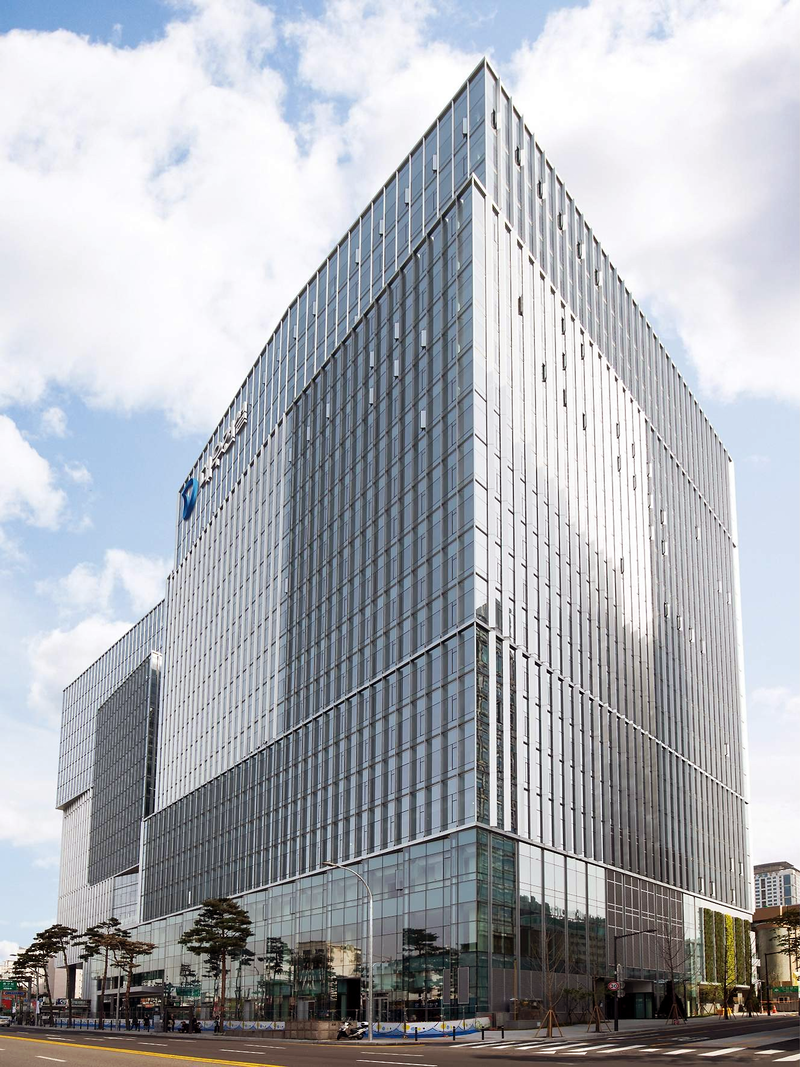 A view of the building in Eulziro, Seoul, where Daewoo E&C is located. (Photo: Daewoo E&C)