NH Bank to Help Niles Power Plant Project in the U.S. With Financial Loan Package
Korea Southern Power and Daelim Energy are participating as strategic investors with NH Bank, NH Investment & Securities and Hana Financial Investment, along with Japan's Nomura Securities and France's BNP Paribas and Credit Agricole up to join as members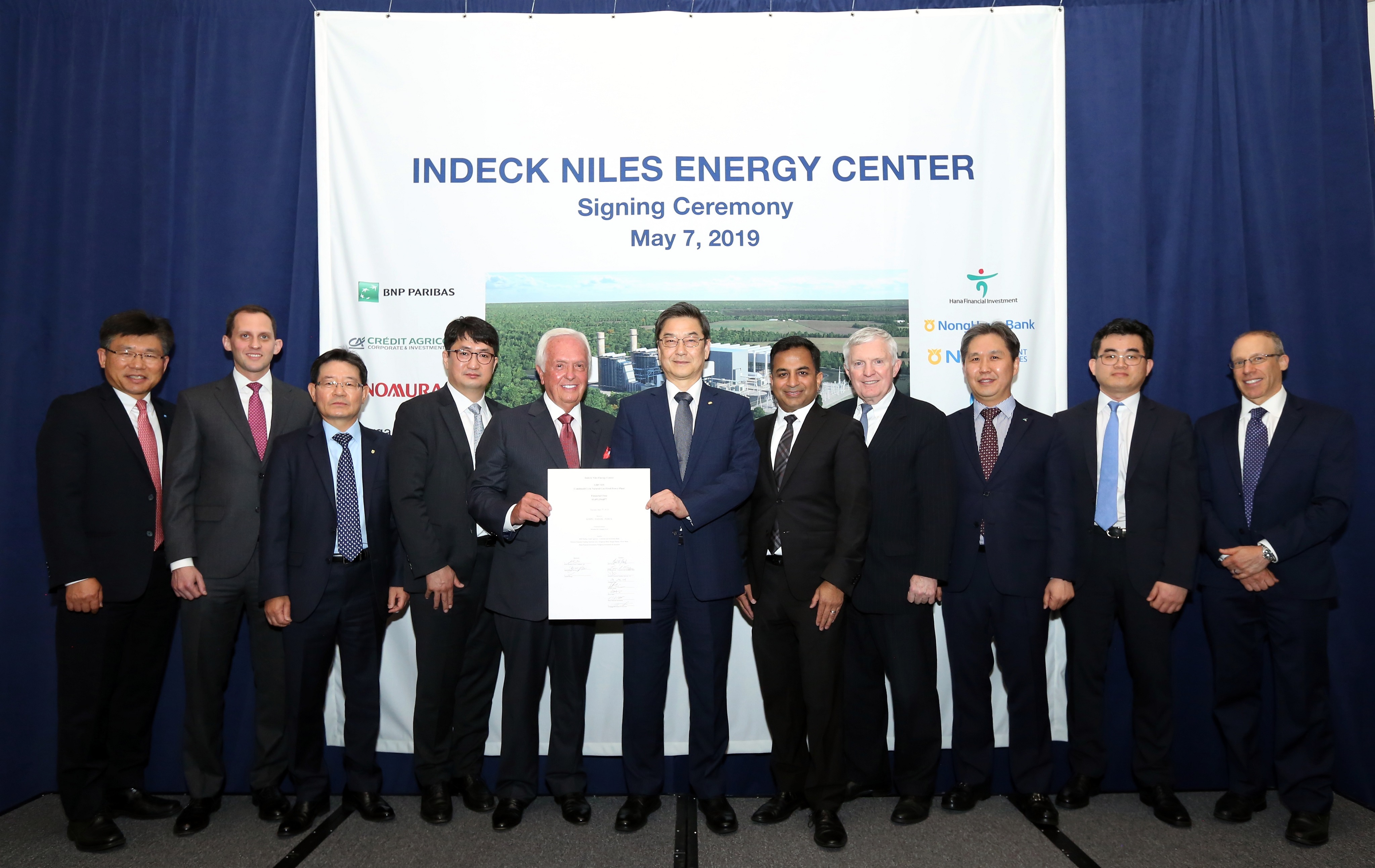 A group of key executives of NH Bank, Indeck Niles Energy and the companies participated in the financial package pose for a photo session after signing an agreement for the $590 million in financial package arranged by NH Bank for the Niles Power Plant Project in Niles, Michigan, on May 7 at Indeck Niles Energy Center in New York. President Suh Jung-shik of Korea Southern Power Co. holds the agreement with President Gerald Forsyth of Indeck. (Photo: NH Bank)
NH Nonghyup Bank has put together a senior bank loan worth $590 million to a U.S. power plant in Niles, Michigan. The Korean lender said recently it signed an agreement to provide $590 million in loans to the Niles project.

More than $1.05 billion is being invested in this project to build a gas-fired combined-cycle power plant with an annual capacity of 1,085 megawatts.
Construction began in August 2019, with the commercial operation date scheduled for March 2022. When in operation, the plant would be supplying power to North America's largest electricity market that stretches across from Pennsylvania, New Jersey and to Maryland.

Korea Southern Power and Daelim Energy are participating as strategic investors. Korea's NH Bank, NH Investment & Securities and Hana Financial Investment, along with Japan's Nomura Securities and France's BNP Paribas and Credit Agricole joined as members of a consortium.

Yoo Yoon-dae, vice president of NH Bank, said at the signing ceremony that the bank would play a central role in funding Korean companies in their efforts to go global. It would also strengthen its partnership with Nonghyup affiliates to seek more alternative investment opportunities overseas, he added.

Based on the mission of "sharing, helping and living a happy life together," it conducts the activities for sharing our talents, including investment techniques for the communities and marginalized people, children's future design and creating a happy home, among other customer profit boosting programs and value creation efforts, in a bid to create a happy world together with customers.

Under this program, the bank provides practical financial knowledge to youths, through financial education and experience of banks, to help them become good financiers. It also provides programs about children's career development, child leaderships, and school violence prevention in preschools, and elementary, middle and high schools to allow them to have enjoyable school days.

"Under this program, we provide seniors with financial education, through Happy Finance School, to foster their financial knowledge. We also operate hobby programs to allow seniors to plan a happy retired life," the bank said.

Targeting multicultural homes and North Korea defectors homes, it provides Korean language education, as well as educational about Korean culture, life etiquette, and practical financial knowledge, allowing them to boost their confidence and to learn rational financial investment techniques so that they can be more easily adapt to Korean life.

"In order to help general people (corporate employees, organizations, parents, etc.) to prepare for an aging population era, we provide diverse educational programs, including efficient investment techniques using financial products, employee encouragement (organizational activation, education on the prevention of sexual harassment and prostitution, etc.), financial fraud prevention (voice phishing, smishing, etc.), and our child future plan (education on school violence prevention)."

NH Bank spends a yearly average of over 100 billion won in CSR activities for customers, farmers and communities. As such, as a big CSR actor, we are doing our best to promote the rural-area welfare and to develop the national economy.

According to Korea Federation of Banks' 2015 Report on Banks' CSR Activities, released in June 106, NH Bank spent 101.4 billion won in CSR activities, claiming the top place in the bank sector.
NH Bank has ranked the 1st place in CSR spending in the banking sector for 7 successive years since 2011.