The digital platform makes possible deals involving stakes in real estate and securities including purchase and sales of stakes in real estates and securities in digital certificates issued by trust companies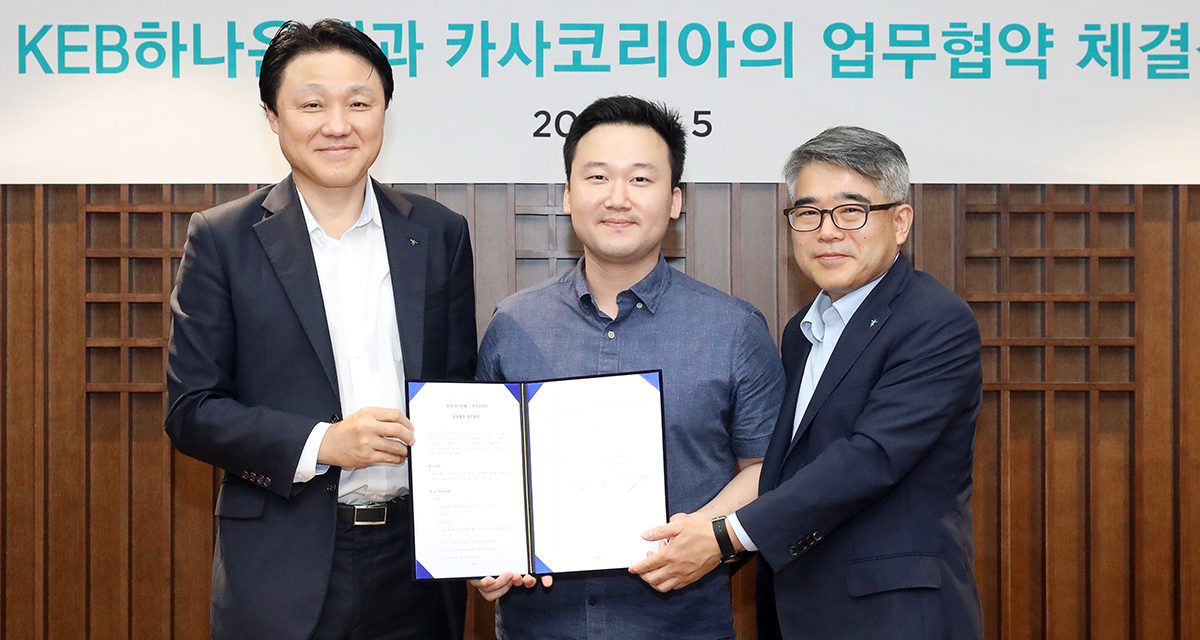 KEB Hana Bank's Deputy President and Chief Future Innovation Officer Han Jung-seong, left, poses with Kasa Korea CEO Yea Changwhan, center, and another Hana Bank official at the bank's headquarters in central Seoul, Aug. 5, after signing an agreement to cooperate on a digital platform for transaction of real estate trust certificates. (Photo: KEB Hana Bank)
KEB Hana Bank signed an MOU with Kasa Korea, a blockchain based fintech financial company, to introduce a digital platform for dealing stakes in real estate and securities on Aug. 5, the company said on Aug. 6. The deal would allow the purchase and sale of stakes in real estate, such as securities in digital certificates issued by trust companies.

They signed an agreement to cooperate on a digital platform for the transaction of real estate trust certificates. Under the agreement, Kasa Korea will provide a platform to enable investors to make transactions of digital certificates for real estate trust.

An increasing number of South Korean investors are interested in real estate in foreign countries, especially the United States and Japan, where regulations are relatively lax and property values are stable.

KEB Hana Bank held a seminar on the global real estate investment strategy at its head office in Seoul on May 23. Nearly 100 customers attended. Hana Bank's private banker (PB) business division held the seminar for affluent customers to explain the procedure for taking out loans and remitting money to make an investment in real estate in major cities around the world, including New York, Los Angeles in the United States and Tokyo in Japan.

Most notably, the participants showed a keen interest in directly investing in the properties introduced during the seminar. Yang Yong-hwa, head consultant on property investment at KEB Hana Bank, said, "Real estate in the advanced market, such as the United States and Japan, has been recognized as a risk-free asset and many customers showed much interest in it because of relatively lax regulations on lending."

The Financial Supervisory Commission accepted recently Kasa Korea's application.
The commission would give a special exemption to the company to use the blockchain-based platform to sell the certificates.

The commission said once the blockchain-based trial operation is successful, Kasa Korea would get permission.

Once it gets approval, investors would get digital certificates backing the underlying property pool from Kasa Korea. Investors could also sell digital property certificates through Kasa Korea's blockchain platform.

In return, Kasa Korea retains the 'real' property certificates. Kasa Korea uses the digital features of its property trust certificates. However, it could not use the blockchain's two main elements.
First of all, it 'centralized' the operation of the platform. Second, it could not issue tokens or cryptocurrencies based on real estate trust asset.

Kasa Korea formed a consortium with such financial institutions as KB Bank, Hana Bank, Koramco (Korea Real Estate Management Company), KAIT, and Korea Real Estate Management and Trust.

The consortium would use the blockchain platform to sell and manage paper works linked to real estate management and trust business. The blockchain platform would upgrade security in issuing, trading and managing real estate trust certificates.
The platform would help investors buy and sell the certificates without exchanging the underlying paper-based documents. South Korea bans companies from using a blockchain platform to issue coins for raising capital.

The Financial Services Commission (FSC) of Korea said on July 2 that 8 innovative, new innovative, disruptive financial services will be served soon, including the blockchain-based P2P stock brokerage lending and borrowing services.

A case in point is Directional Inc's blockchain-centric P2P stock brokerage lending and borrowing service platform that was built to enable individual investors to lend or borrow stocks freely.

According to the FSC, the P2P stock lending and borrowing service will allow individual investors to lend or borrow securities among at a commission fee, which will be determined depending on reasonable market prices following the supply and demand cycle.
The FSC designated Directional's P2P stock brokerage lending and borrowing service as one of the 8 innovative and disruptive financial services on April 17.

The second case in point is Koscom's blockchain-based trading platform that plans to list non-public, or privately held companies' shareholders and then facilitate over-the-counter stock trading of non-listed securities. The service will be soon in the pipeline, too.