The Q2 results at 658 bln won are up 3.8 pct on year to bring H1 results to 4 tln won, up 2.2 pct on year thanks to net interest margin edging up 0.01 percentage points to 1.81 pct at end of June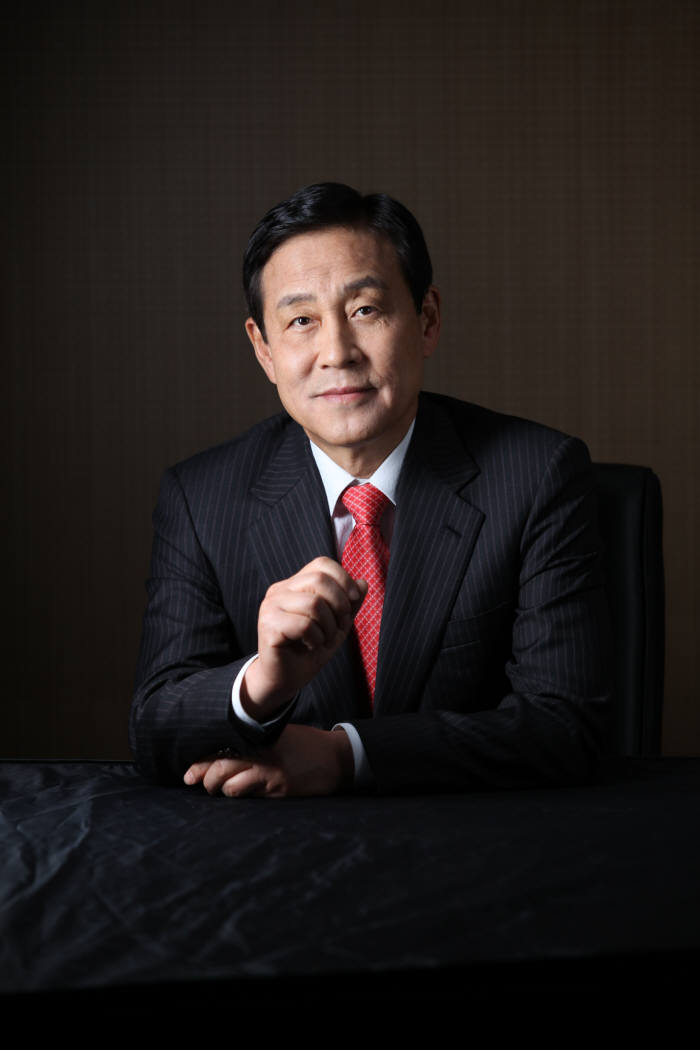 Chairman Kim Jung-tae of Hana Financial Group. (Photo: HFG)
Hana Financial Group Inc., a major South Korean banking company, said its second-quarter net profit rose 3.8 percent on-year, thanks to a modest gain in interest income.

Net profit stood at 658 billion won ($550 million) for the April-June period, compared with a profit of 630 billion won a year earlier, Hana Financial said in a regulatory filing. In the first six months of this year, Hana Financial's interest income and earnings from commission fees rose 2.2 percent on-year to 4 trillion won.

Hana Financial said its net interest margin, a key barometer of profitability, edged up 0.01 percentage point to 1.81 percent at the end of June.

Flagship KEB Hana Bank posted a net profit of 554 billion won for the second quarter, down 1.12 percent from a year earlier.
KEB Hana Bank's interest income and revenue from commission fees gained 3.9 percent on-quarter to reach 1.6 trillion won in the second quarter, Hana Financial said.

South Korea's major banking group Hana Financial Group reported a 17 percent drop in its first-quarter earnings from a year earlier mainly due to one-off expenses related to early retirement payment and the weakening of the local currency.

Hana Financial Group said in a regulatory filing on Monday that its net profit on a consolidated basis reached 563.8 billion won ($493.8 million) in the January-March period, down 17 percent from a year ago.

Shares of Hana Financial Group ended 1.32 percent lower at 37,350 won.

Despite the weak earnings, local brokerage houses gave positive feedback on the financial group, noting that its net profit met market estimates.

Kiwoom Securities Co. maintained its target price for Hana Financial Group at 46,000 won with an "outperform" rating. The firm said the banking group's first quarter earnings met market expectations, considering the 130 billion won worth of one-off expenses to cover severance payments to 240 employees and 38.2 billion won worth of costs due to the weakening of the Korean won.

KEB Hana Bank has agreed to acquire a stake of 15% in the Joint Stock Commercial Bank for Investment and Development of Vietnam (BIDV) for 1 trillion won (680 million pounds).

As part of the agreement, the Vietnamese state-owned bank BIDV will issue 603 million stocks as private placement to KEB Hana Bank, which is a subsidiary of South Korean bank holding company Hana Financial Group.

According to Hana Financial, the stake in BIDV will pave way for its entry into Vietnam, while securing sources for its growth in the mid- to long-term.

BIDV and KEB Hana Bank are expected to execute the required procedures in compliance with laws of Vietnam and South Korea to close the deal shortly.

Founded in 1957, BIDV is considered to be among the largest lenders in Vietnam. As of 30 June 2019, the Vietnamese bank's total assets were more than VND1.37 quadrillion (47.25 billion pounds).

The Vietnamese lender is engaged in a range of fields like banking, insurance, securities, and financial investment among others. It has a network of more than 1,000 branches and transaction offices in addition to having commercial footprint and representative offices outside of Vietnam.

On the other hand, KEB Hana Bank apart from having a broad network in South Korea is said to have 144 transaction points in 24 countries. As of 30 June 2019, the South Korean retail bank had total assets of $308.3bn (247.6 billion pounds).

KEB Hana Bank was formed through the merger of Hana Financial Group's Hana Bank and Korea Exchange Bank (KEB) in 2015. KEB was acquired by Hana Financial from Loan Star, a US-based buyout fund, for $3.43 billion (2.76 billion pounds) in 2012.