The move considered part of the group's bid to find new growth engines first propose by a committee to spur innovation in the group's operation by boosting financing ventures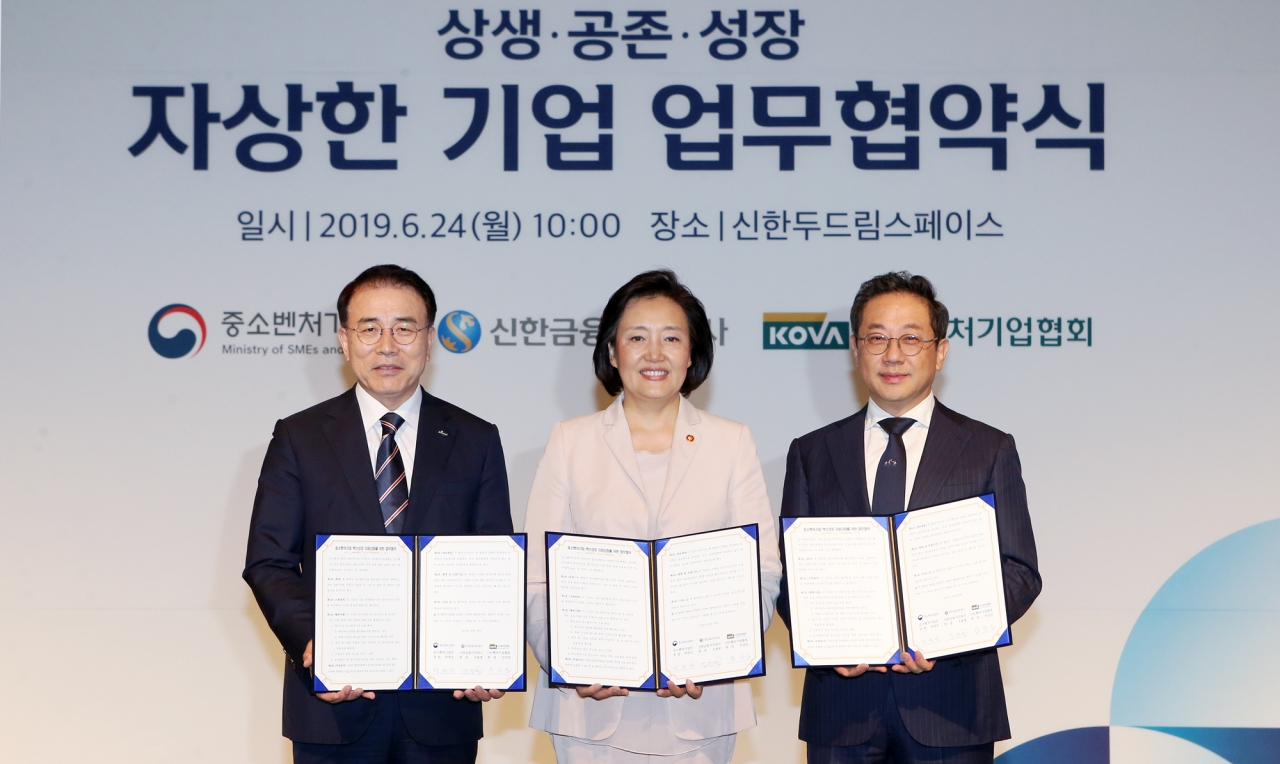 Chairman Cho Yong-byeong of Shinhan Financial Group, left, Minister Park Young-sun of the Ministry of SMEs and Startups, center, Chairman Ahn Kun-joon of Korea Venture Business Association are seen here holding a copy of the Voluntary Mutual Survival Business Agreement they signed at the Shinhan Du-du-rim Space located in the Songdong District in Seoul on July 24. (Photo: SFG)
Shinhan Financial Group plans to set up a new unit to take charge of venture investments.

The venture capital unit will operate a 200-billion-won ($169 million) fund, which involves holding other investment funds rather than investing directly in stocks, bonds or other securities. It is seeking startups that could create synergies with the financial group.

The establishment of the VC unit is part of the group's on-going efforts to seek future growth engines and back the country's venture industry. It set up incubator unit Shinhan Future's Lab in 2015.

In March, it launched a committee consisting of 2,000 executives from 14 affiliates to spur innovation, headed by Shinhan Financial Chairman Cho Yong-byoung.

The move reflects the growing involvement of financial groups in financing ventures, which is expected to grow further this year when the authorities ease strict investment restrictions. Last year, in a meeting with Prime Minister Lee Nak-yeon, heads of financial groups asked the government to lift investment restrictions imposed on conventional financial companies.

Shinhan Financial will announce the plan once the Financial Services Commission allow lenders to directly invest in fintech firms as early as this month.

In addition to Shinhan, Woori Financial and NH NongHyup are also expected to launch similar units within this year. KB Financial currently has 1 trillion won of assets under management via VC unit KB Investment. Hana Financial Group set up Hana Ventures, a corporate VC unit, in December last year.

According to latest data from the Ministry of SMEs and Startups and Korea Venture Capital Association, the country's venture investments hit a record high of 1.89 trillion won in the first half of 2019, jumping 16.3 percent on-year. Shinhan Financial Group, the country's largest financial holding company, committed 200 billion won ($1.72 billion) to support small- and medium-sized companies by 2022.

The funds will be mainly invested in a 1 trillion won venture fund formed by Korea Venture Investment, which is a fund-of-funds. In a "fund-of-funds," an umbrella fund invests in other investment entities.

The move is a part of an agreement with the Ministry of SMEs and Startups and the Korea Venture Business Association, a business lobby group for smaller tech-focused firms. Shinhan also became the first financial company in the country to participate in the government-backed scale-up fund, which will be 12 trillion won in size.

While the group declined to disclose its specific contribution in the scale-up fund, the fund is aimed at creating 20 unicorn companies - start-ups worth more than $1 billion - by 2022. Korea currently has six unicorn companies.

In line with the effort, the financial group will introduce a loan program with interest rates lowered depending on the stage of a smart factory's development. The higher the technological standard, the lower the interest rate. In addition to the financial support, the group will also offer consulting services that cover legal, tax and compliance issues.

Shinhan vowed to develop financial products tailored for high potential tech companies when it launched a committee to expand financing for promising small- and medium-sized companies in March.