About 30 people from KOGAS, KETI, and 14 chip and sensor companies participate in event to match demand technologies such as intelligent multi-sensor system-on-chips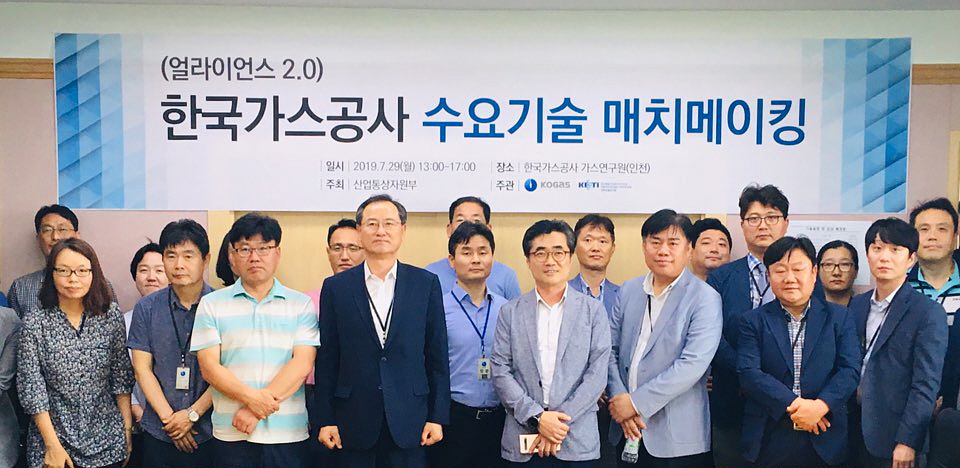 Participants pose at a demand technology matchmaking event designed to develop the system semiconductor industry, hosted by Korea Gas Corp. (Photo: KOGAS)
Korea Gas Corp. (KOGAS) hosted a demand technology matchmaking event designed to develop the system semiconductor industry by inviting the Korea Electronics Technology Institute (KETI), the operator of Alliance 2.0, and fables companies to KOGAS's LNG Center in Incheon on July 29.

Alliance 2.0 is designed to implement joint tasks such as demand exploration, technology planning and R&D through collaboration among the Ministry of Trade, Industry and Energy (MOTIE), semiconductor demand and supply companies and research institutes. The regime is part of the "system semiconductor vision and strategies," unveiled by the government.

About 30 people from KOGAS, KETI, and 14 chip and sensor companies participated in the event to match demand technologies such as intelligent multi-sensor system-on-chips (SoCs) and explore research tasks.

KOGAS arranged for participants to be able to tour the LNG Center in Incheon so they can get an understanding of gas equipment. The tour also served as an opportunity to explore system chips and technologies that can be applied to the field and match them.

A KOGAS official said the event was designed to help KOGAS, one of the representative demand companies in the energy field, and system chip companies to comply with the government's policy of promoting shared growth through collaboration.
Furthermore, he said, KOGAS will devote itself to exploring new markets and developing related industries.

KOGAS Holds 2019 KOGAS Innovation Committee Meeting

KOGAS executives and civic experts participated in the 2019 KOGAS Innovation Committee at the KOGAS headquarters in Daegu on July 23.

The KOGAS Innovation Committee was inaugurated last August to set the direction and targets of KOGAS's innovation to lend an ear to the voices of people and meet their demand levels. The committee comprises more than half of outside members, including youth, civic organization, cooperative gas company representatives and innovation experts.

During the day, the committee had in-depth discussions on the implementation outcomes of the 2018 KOGAS innovation plan and how to overhaul the 2019 comprehensive KOGAS innovation plan.

Civic committee members suggested proposals such as a bigger role of natural gas in Korea's energy paradigm shift, as well as a public awareness shift and supporting testbeds to foster innovative companies and SMEs.

KOGAS President Chae Hee-bong said, "Now that an innovation plan is established and implemented to comply with people's expectations and demands from the viewpoint of people, (KOGAS) will do its best to reflect civic committee members' views as much as possible." President Chae promised to commit to things such as exploring diverse new energy businesses such as hydrogen and establishing innovation company and SME business models.

KOGAS plans to finalize the 2019 comprehensive KOGAS plan and implement diverse projects such as lowering gas supply unit prices by 3.6 trillion won between 2019 and 2023, creating 20,000 jobs, and nurturing 200 innovative SMEs.