KNOC Expects to Fully Recover Investment in Haliba Oil Field in UAE in 5 to 7 Yrs
KNOC and GS Energy secure 6 million barrels of crude oil annually thru AL Dhafra Petroleum, a joint venture set up for exploration of oil in UAE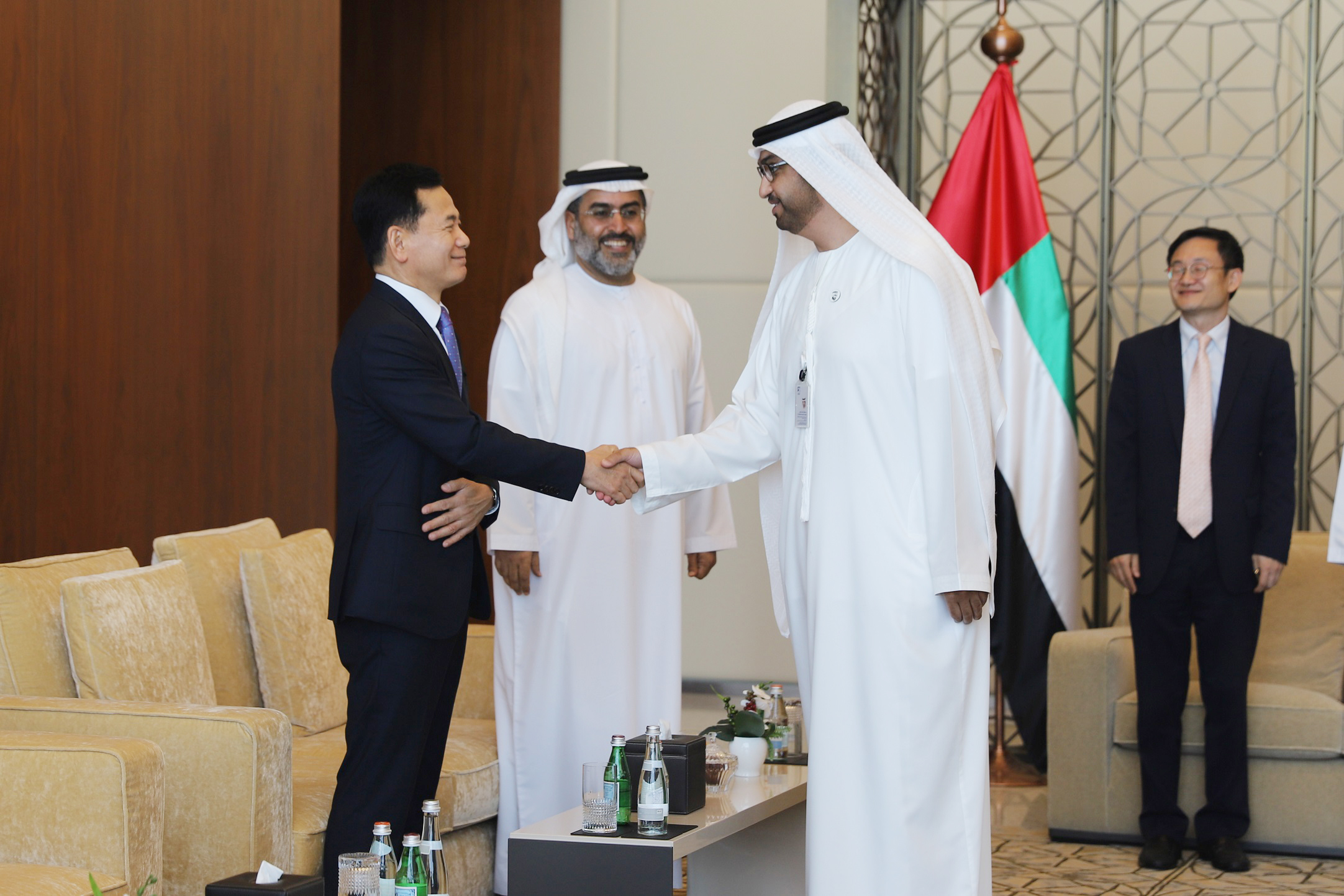 President Yang Su-yeong of Korea National Oil Corp. shakes hands with CEO Sultan Al Jaber of ADNOC and also the Minister of State, after signing an agreement to secure the right to explore oil at Haliba Oil field in UAE in July 2, 2019.
A Korean consortium consisting of state-run Korea National Oil Corporation (KNOC) and GS Energy, together with Abu Dhabi National Oil Company (Adnoc) from the United Arab Emirates (UAE), have begun commercial production from the onshore oil field they developed in Haliba across the southeast border of Abu Dhabi.

The oil field run by the joint venture entity Al Dhafra Petroleum is 40 percent owned by the Korean consortium (30 percent by KNOC and 10 percent by GS Energy) and the remaining 60 percent by Adnoc.

In March 2012, the Korean consortium signed an agreement with Adnoc to explore the block. Al Dhafra plans to drive up output capacity to 4 million barrels per day by the end of this year and explore additional oil fields in the block.

The Korean companies have secured annual production of nearly 6 million barrels, based on 40,000 barrels per day, in the local oil field, and they can freely dispose of the produced oil, including shipping it to Korea. They plan to gradually increase the production volume to 60,000 barrels per day by 2023.

KNOC expects to fully recover its investment in the oil field in five to seven years, with the crude oil pumped up from the oil field stored outside the Hormuz Strait, boosting its strategic value as the crude oil storage is not affected by the ongoing U.S.-Iran hostility in and around the region. The Korean consortium involving KNOC and GS Energy invested 383 billion won in the Haliba oil field in UAE with KNOC holding 40 percent stake while GS Energy shares 10 percent and the rest held by Adnoc.

The UAE oil field is the second successful overseas oil exploration ever conducted by Korean firms following Vietnam's 11-2 Mining District, which began to pump oil 13 years ago for the Korean investors.

At the time of its discovery, the original oil in place was estimated to reach 180 million barrels, with 20 percent to 30 percent of the deposits available for extraction. But continued exploration and evaluation work led to 1.1 billion barrels there.

The production of crude oil is quite significant for energy security, KNOC said, as the oil is transported to a deposit terminal outside the Strait of Hormuz, meaning it can be shipped to Korea even if one of the world's most important shipping channels is cut off.

It also represents a good case of synergy from strategic cooperation and technology exchanges between the KNOC and GS Energy. The Korean government has supported the project with an investment of 103.3 billion won ($88.1 million) since 2015.

Under the 2015 deal, the South Korean consortium of KNOC and GS Energy also signed an agreement with ADNOC granting them a 3% stake in Abu Dhabi's 1.8 million b/d ADCO onshore oil concession.

The deal secured 800 million barrels of Murban crude for the next 40 years - approximately 50,000 b/d - for South Korea and is the country's biggest ever supply deal. Under this deal, KNOC stored 6 million barrels of ADNOC crude oil at KNOC's Yeosu terminal in 2013-2017.

KNOC said in March 2018 it had extracted 18,000 barrels of crude from appraisal wells in the Haliba field in tests and confirmed that the oil quality was similar to light sour Abu Dhabi Murban crude.

ADNOC is ramping up production from several fields, including Haliba, as a part of plans to reach an oil output capacity of 4 million b/d by 2020 and 5 million b/d by 2030.

The company, which currently pumps around 3 million b/d, has awarded a series of concession agreements to help achieve its target.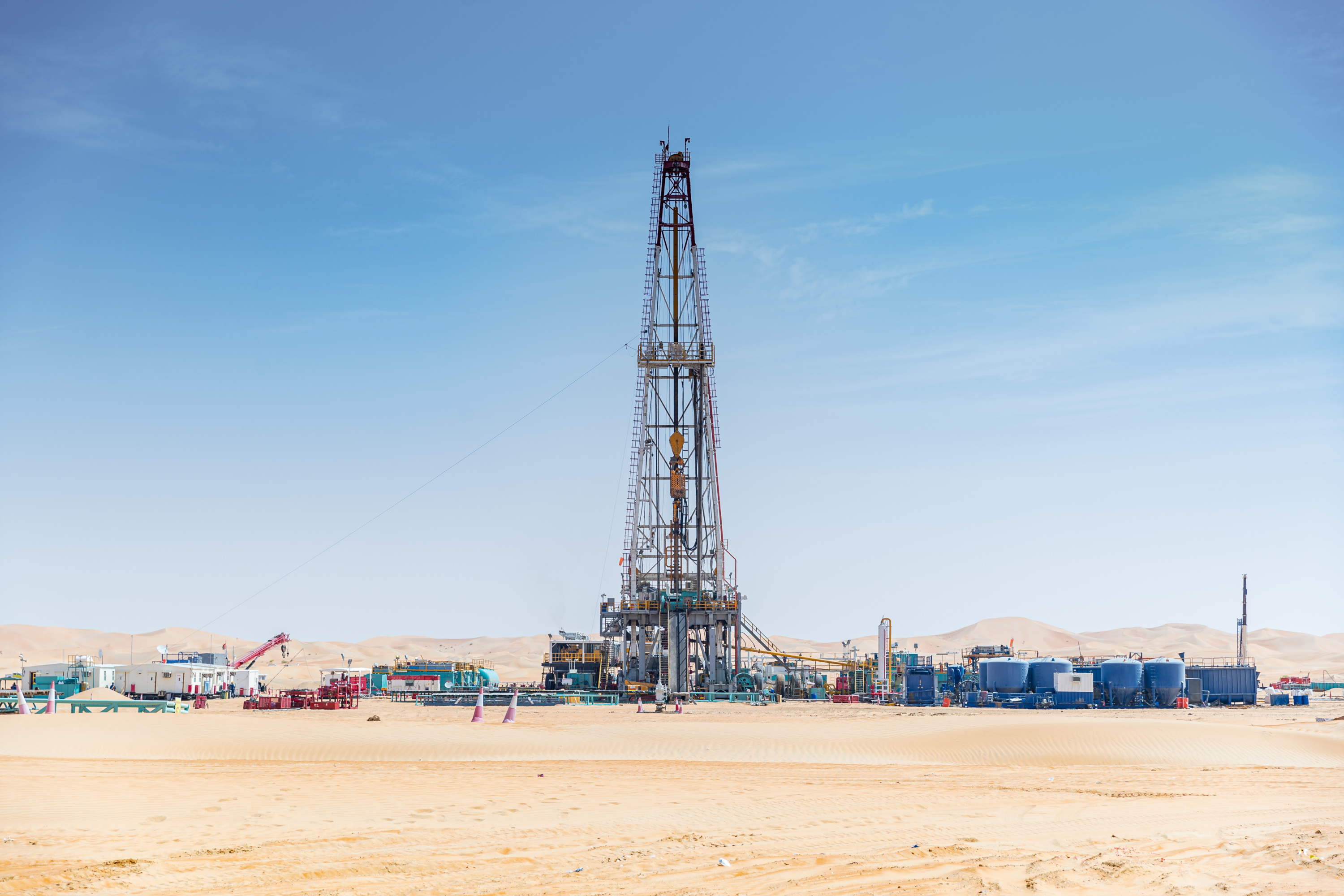 A scene from the Haliba Oil Field in UAE, which began pumping oil from July 2. (Photos: KNOC)