Plans to launch project to build photovoltaic power facilities with combined capacity of 300MW and 2.1GW power grid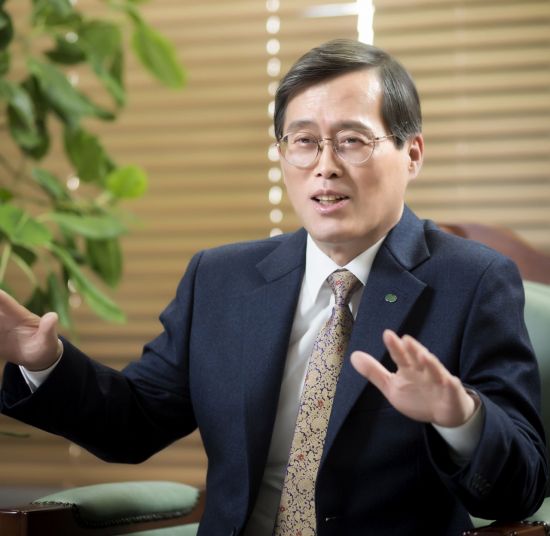 President Chung Jae-hoon of Korea Hydro & Nuclear Power (KHNP) (Photo: KHNP)
Korea Hydro & Nuclear Power (KHNP) obtained the go-ahead on a project to build the world's largest water photovoltaic power complex in the Saemangeum area, a reclaimed district in Jeollabuk-do.

The Electricity Regulatory Commission under the umbrella of the Ministry of Trade, Industry and Energy (MOTIE) gave the green light to KHNP's water photovoltaic power project. With KHNP's obtaining the permission, the power company has secured the groundwork to build the world's largest water photovoltaic power plant.

Last Oct. 30, KHNP held a ceremony to declare a "Saemangueum new and renewable energy vision." In accordance with the plan, the power company plans to complete additional permits and licenses on the occupation and use of the public water surface of the Saemangeum area by the first half of next year. If and when all related permits and licenses are obtained, KHNP will embark on a project to build photovoltaic power facilities with a combined capacity of 300MW and a power grid with connected power generation facilities equivalent to 2.1GW. The period of implementing the project is between 2020 and 2022.

The 2.1GW water photovoltaic power generation complex covers the public water surface area, equivalent to 9.6 times the size of Yeouido, Seoul. The project will be implemented as a regional shared growth model in which neighborhood residents will participate and share revenues arising from the operation of power facilities.

KHNP President Chung Jae-hoon said, the Southeastern coastal sphere with a focus on the Saemangeum area will be made KHNP's new and renewable energy advanced base.KHNP will strive to create new jobs and reinvigorate the regional economy by allowing neighborhood residents and regional SMEs to participate in the project, he added.
A bird's eye view of KHNP's project to build the world's largest water photovoltaic power complex in the Saemangeum area, a reclaimed district in Jeollabuk-do.

KHNP Hosts Workshop for Eastern European Nuclear Power Officials in Cooperation of IAEA

KHNP hosted a workshop inviting officials responsible for nuclear power units in Eastern European countries in cooperation with the International Atomic Energy Agency (IAEA) in Ulsan from Aug. 5 to 8.

The forum took place at the KHNP Manpower Research Institute in Ulsan at the request of the IAEA, which appreciates KHNP's overall technology prowess, including the construction and operation of nuclear power units.

Among about 40 participants were not only KHNP and IAEA officials, but also nuclear power operator, regulatory institutions, and nuclear power officials from Romania, Hungary, Ukraine, Armenia, Bulgaria, the Slovakia, Slovenia, and Croatia. The Eastern European countries operate multiple nuclear power units, and the demand for improving the existing nuclear power units and building new ones is on the rise.

The participants discussed the "nuclear power knowledge management" that is essential for building nuclear power units economically and operating them in a safe fashion.