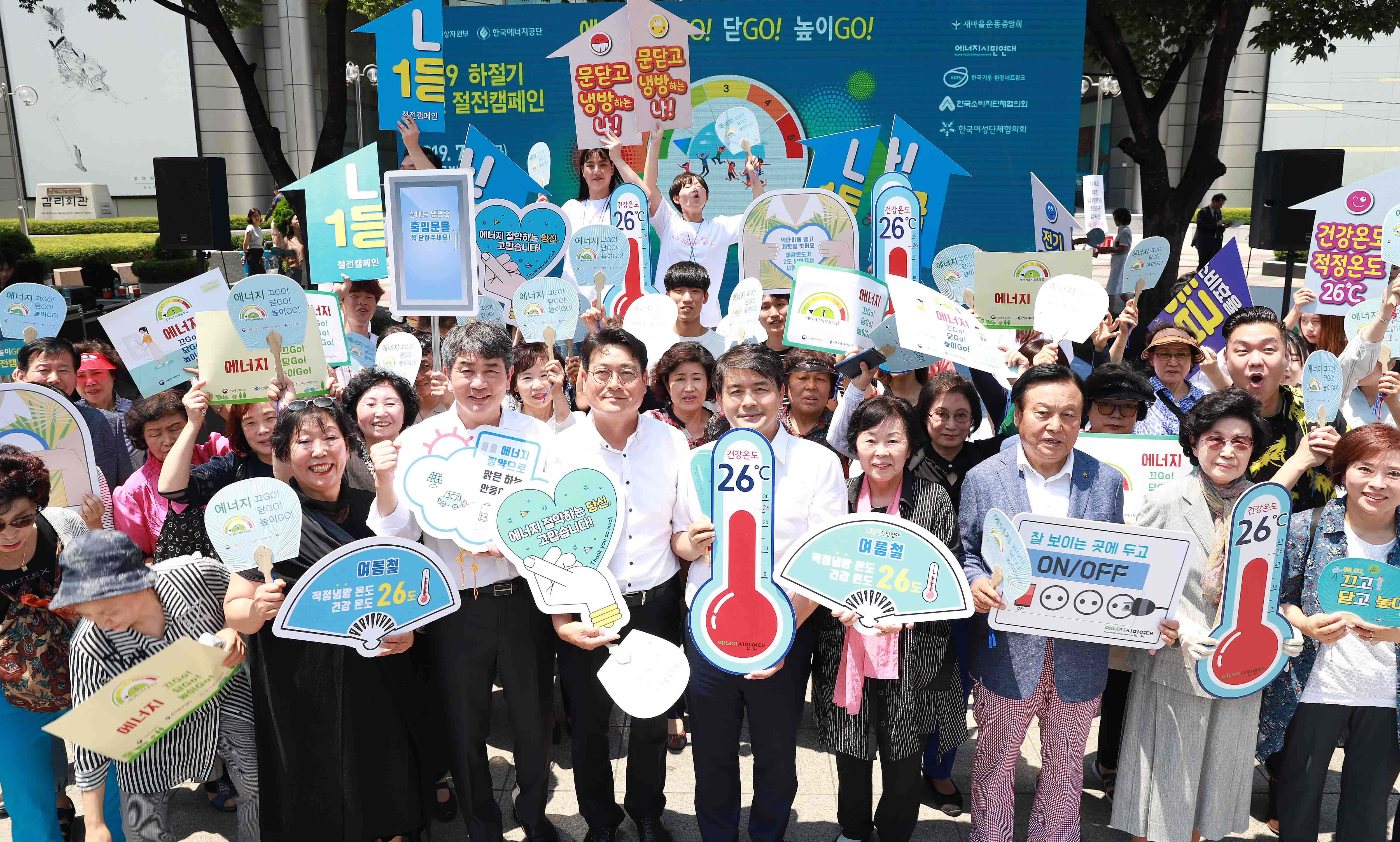 Deputy Minister Joo Young-joon of the Office of Energy and Resources at the Ministry of Trade, Industry and Energy (MOTIE) and President Kim Chang-sup of Korea Energy Agency joint civic organization leaders and others in participating in an energy conservation campaign in the Gwanghwamun area in Seoul on July 5. (Photo: MOTIE)
As a heat spell is prolonged longer than expected, the power reserve rate plunged below the threshold of 7 percent, prompting the government to enter "emergency management mode."

The nation's demand peak hit 90.31 million kW on Aug. 13, leaving a reserve rate of only 6.7 percent. The peak demand figure broke the highest level of forecasted power peak, ranging from 89.5 million kW to 91.3 million kW.

The reserve power dropped to 6.08 million kW between 4 p.m. and 5 p.m., accounting for 6.7 percent of the nation's total power generation facility capacity of 96.39 million kW. It was the first time so far this year that the power reserve rate plunged below 10 percent.

The power peak demand stood at 86.94 million kW on Aug. 12, showing a reserve rate of 11.7 percent, but the figure rose by about 3.4 million kW one day later to drop to a reserve rate of 6.7 percent. The lowest reserve rate of this year was lower than on July 24, 2018, when temperatures soared to 111 year highs. At that time, the reserve rate stood at 7.7 percent.

In a related development, weather forecasts on Aug. 16 said the temperature would drop to cool levels over the weekend as a cold front moves in from the north. Sultry weather was predicted to prevail over early days, but the temperature could drop after Aug. 21 across the nation, they said.