CSIS Reports Warns Japanese PM Abe Japan's Global Economic Leadership is Being Damaged
Citing the escalating trade dispute with Korea over history and trade, the report urges Japan it should find a way to rise above the fray If Tokyo wants to continue enjoying the strategic benefits of its regional and global leadership, by accepting the bu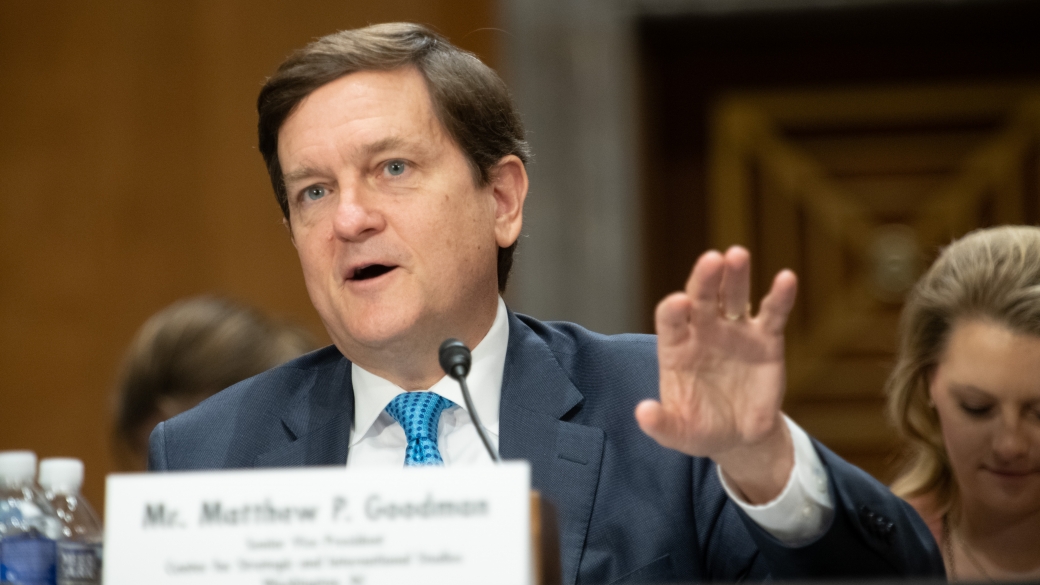 Matthew P. Goodman, Senior Vice President and Simon Chair in Political Economy and Senior Adviser in Asian Economics at the Center for Strategy and International Studies in Washington D.C. He wrote Japan's strategic gains are now at risk because of its escalating dispute with Korea over history and trade in a report on recent Asian economic developments.(Photo: CSIS)
One of the most positive surprises in international relations over the past few years has been Japan's stepping up to regional and global leadership, especially in economic affairs, writes Matthew P. Goodman, Senior Vice President; Simon Chair in Political Economy and Senior Adviser for Asian Economics.

Filling a void left by the United States,Tokyo has won plaudits for its effective diplomacy on trade, infrastructure investment, and digital rulemaking. Unfortunately, Japan's strategic gains are now at risk because of its escalating dispute with South Korea over history and trade.

Nor were Tokyo's two recent actions—first announcing tightened controls on exports to South Korea of three key materials used in producing semiconductors and flat-screen displays, then on August 2 declaring that Korea would be removed from Japan's "white list" of countries eligible for blanket export approval—without foundation.

Japan's Ministry of Economy, Trade, and Industry (METI), which administers the country's export-control regime, has long believed that Seoul's lax enforcement has allowed leakage of sensitive technology to North Korea and other untrustworthy countries. In its July 1 statement, METI justified the initial action by saying that "the Japan-ROK relationship of trust" had been "significantly undermined."

Finally, Tokyo is warranted in feeling that the Korean reaction to its actions has been exaggerated. For one thing, the METI actions do not amount to an export ban, as some Korean commentators have asserted, but a return to the status quo ante of case-by-case approval of export licenses for controlled items.

Moreover, Seoul's toleration of consumer boycotts of Japanese products validates Tokyo's claim that the Korean reaction has been overly emotional. President Moon Jae-in's quixotic call for a "peace economy through inter-Korean economic cooperation" to compete with Japan will do little to restore trust in Tokyo.

Without picking sides, the United States should find a way to quietly nudge the two disputants toward dialogue and dispute resolution. Some would argue that the Trump administration enabled the problem to fester by neglecting traditional alliance management and being late to intervene. But offering to convene all three countries' export control experts, for example, could still play a useful role in moving toward a pragmatic solution.

But at the end of the day, it is up to Tokyo and Seoul to find a way to manage their differences. As the larger, more experienced, and more confident actor, Japan has a special responsibility in this regard. If Tokyo wants to continue enjoying the strategic benefits of its regional and global leadership over the past few years, it should accept the burdens of leadership as well and find a way to rise above the fray.

Japan's growing economic conflict with South Korea represents more than another challenge to wobbly world growth—it also portends a shift in how the nation conducts its foreign policy.

Throughout the postwar period, Japan has been considered a geopolitical soft touch, known for two dominant strategies: trying to damp down controversy by always urging compromise and putting economic and business interests first. Japanese Prime Minister Shinzo Abe now appears ready to change that—although his early efforts at executing the strategy suggest his government needs more practice.

Behind all this is a clear desire by Japan to put pressure on Seoul over a continuing dispute over forced wartime labor when Japan ruled Korea as a colony up to 1945. Japan is upset that South Korea has allowed former workers to sue for damages.

Tokyo contends that such civil action was precluded by the 1965 agreement restoring relations between the two countries and says the $500 million it paid in compensation at that time was meant to cover such cases. South Korea also declined to hold negotiations that Japan says are provided for in the 1965 agreement that are meant to sort out such disputes.