Korea calls for PM Abe govt. to cancel Japan's export curbs and sort it out diplomatically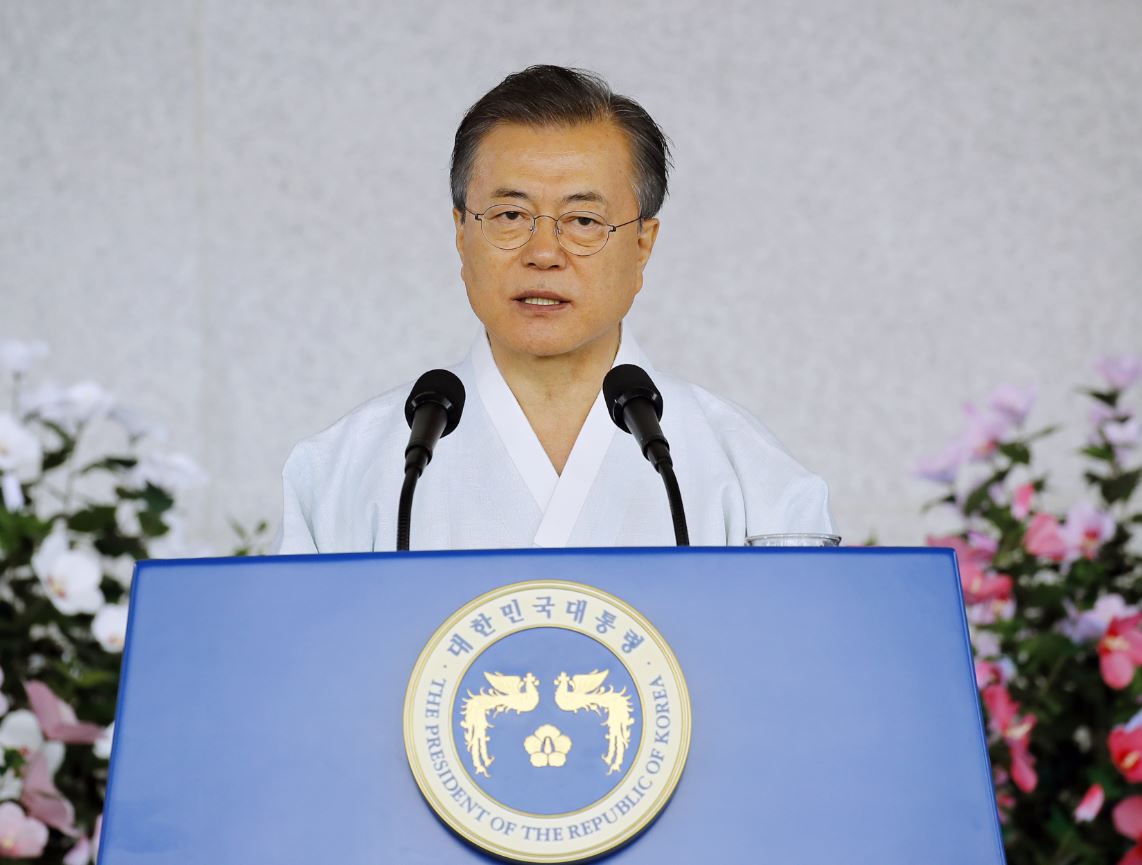 President Moon Jae-in delivers a speech to mark the 74th National Liberation Day at Independence Hall of Korea in Cheonan, Chungcheongnam-do,on Aug. 15. (Photo on the courtesy of Cheong Wa Dae website)

Korean-Japanese relations have deteriorated to the lowest-ever post-war level as the Japanese government decided to remove Korea from a white list of countries subject to eased customs shipping-clearance procedures when importing goods from Japan on Aug. 2, representing additional export curbs to Korea.
On the same day, President Moon Jae-in expressed deep regret over Japan's step to delist Korea from the white list, saying that the action was a reckless decision by Japan, refusing diplomatic efforts to sort it out, thus worsening the situation.
Following a joint inter-ministry meeting on Aug. 2 Prime Minister Lee Nak-yeon issued a government statement, strongly calling for Japan to retract its retaliatory trade measures against Korea.
In a speech to mark the 74th National Liberation Day at Independence Hall of Korea in Cheonan, Chungcheongnam-do, on Aug. 15, President Moon called for dialogue and cooperation with Japan, saying, "East Asia lagged behind in the process of modernization, but once again rose to achieve economic development through the division of labor and collaboration."
"Within the international division of labor, if any country weaponizes a sector where it has a comparative advantage, the peaceful free trade order will inevitably suffer damages. A country that achieved growth first must not kick the ladder away while others are following in its footsteps," President Moon said.
The president added: "Better late than never: if Japan chooses the path of dialogue and cooperation, we will gladly join hands. We will strive with Japan to create an East Asia that engages in fair trade and cooperation."
"Following last year's PyeongChang Winter Olympics, the Tokyo Summer Olympics will be held next year, while the Beijing Winter Olympics are slated for 2022. This will mark an unprecedented series of Olympics held in East Asia. It will be a golden opportunity for East Asia to solidify the framework of friendship and cooperation and to progress along the path toward common prosperity."
President Moon said, "However, we have yet to become an unshakable nation. That is because we still lack sufficient strength and remain divided."
"Today, I renew my commitment to meeting the aspirations of the people to build an unshakable nation by reminding myself of our people, who have demonstrated remarkable resilience in the face of a series of crises,"President Moon said.
National Assembly Speaker Moon Hee-sang sent to the National Diet of Japan and Japanese Prime Minister Abe's Cabinet on Aug. 5 a resolution calling for the revoking of the Japan government's retaliatory export restrictions against Korea. The move was approved by the National Assembly's plenary session unanimously on Aug. 2.
In the statement, the National Assembly urged Japan to turn to diplomatic solutions to reestablish future-oriented relationships of the two governments, expressing worry that the prolonging of the Korean-Japanese rift and the spreading of economic damages would undermine the friendly ties of the two countries.
In return for Japan's additional export curbs to Korea, Seoul decided to remove Japan from the white list of countries subject to eased customs clearance.
Japan's successive export curbs against Korea convinced the Korean government, the ruling party and Cheong Wa Dae that steps are needed to reduce Korea's dependence on Japanese raw materials, substances, parts and equipment imports. The government, the presidential office and the ruling Democratic Party of Korea convened a tripartite meeting on Aug. 4 and decided to mobilize diverse policy steps, including tax credits, budgetary and financial support, to ramp up the competitiveness of Korean raw materials, parts and equipment industries, including nurturing 100 companies specializing in raw materials, parts and equipment.
Japanese export curbs to Korea have fueled anti-Japanese sentiment in Korea, causing boycotts of Japanese products and urging Korean travelers to refrain from touring Japan. The Japanese Foreign Ministry also issued an advisory for Japanese travelers in Korea on Aug. 4, citing the tense anti-Japanese sentiment.
Korean-Japanese relations began to further sour as the government of Japanese Prime Minister Shinzo Abe imposed export curbs involving three raw materials, including etching gas, forcing Korean chipmakers and panel producers to find a way to secure their raw material supplies elsewhere.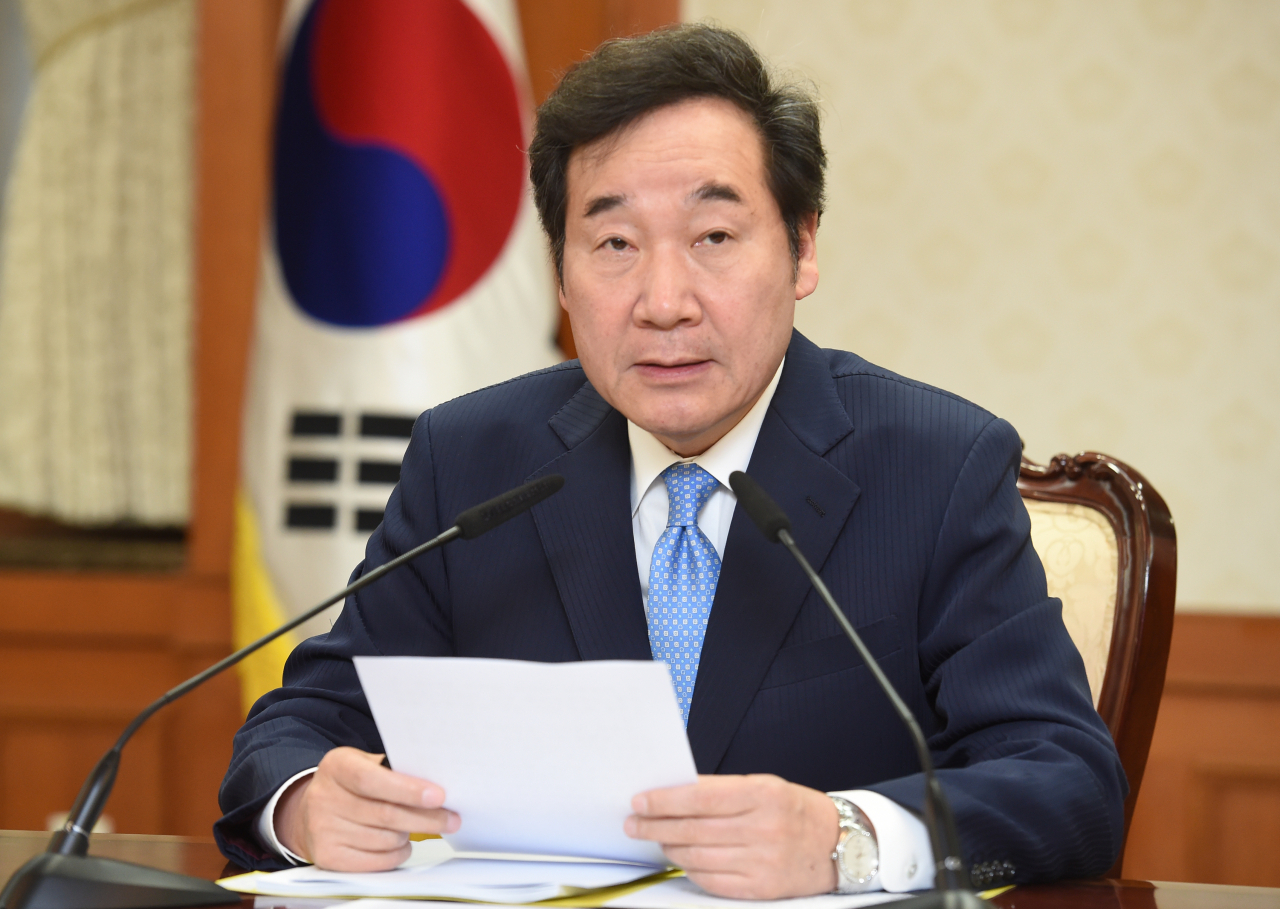 Prime Minister Lee Nak-yeon.
Korean Foreign Minister Kang Kyung-hwa and Japanese counterpart Taro Kono failed to iron out their differences in last-minute talks on the sidelines of the ASEAN Regional Forum held in Bangkok on Aug. 1.
Despite the U.S. call for a resolution, the Japanese government imposed more export curbs to Korea.
Korean-Japanese ties started to worsen after Korea's Supreme Court issued a ruling ordering Nippon Steel to compensate a Korean man who was a forced laborer for the predecessor of the Japanese company during Japan's colonial rule over Korea. The Japanese side refused to comply with the order, citing a treaty signed by Korean and Japanese governments in 1965 had wrapped up all compensation issues, including forced labor. Later, the court ordered the seizure of some of the Japanese company's Korean assets.
Similar lawsuits are in the queue.
The worsening relations spilled over into the economic sector, in which Korean chipmakers such as Samsung Electronics and SK Hynix have been held hostage by the historical stalemate.
President Moon and Japanese Prime Minister Shizo Abe met briefly at a reception for the G20 Osaka Summit on June 28-29, but failed to hold summit talks to try to find a diplomatic solution. Prime Minister Abe ironically declared "a free and open economy" during the G-20 meeting in Osaka, and just two days later the leader imposed trade curbs on Korea.
Japan has denied that the exports curbs are retaliation for the Korean Supreme Court's ruling. The country tore a page out of U.S. President Donald Trump's playbook by saying the moves are related to "national security."
Korean and international experts share the view that the escalating trade dispute between Korea and Japan may disrupt the supply chain of the global tech industry and undermine free trade principles of the General Agreement on Tariffs and Trade (GATT) and the Word Trade Organization (WTO). They have warned against weaponizing non-trade issues to pressure other countries.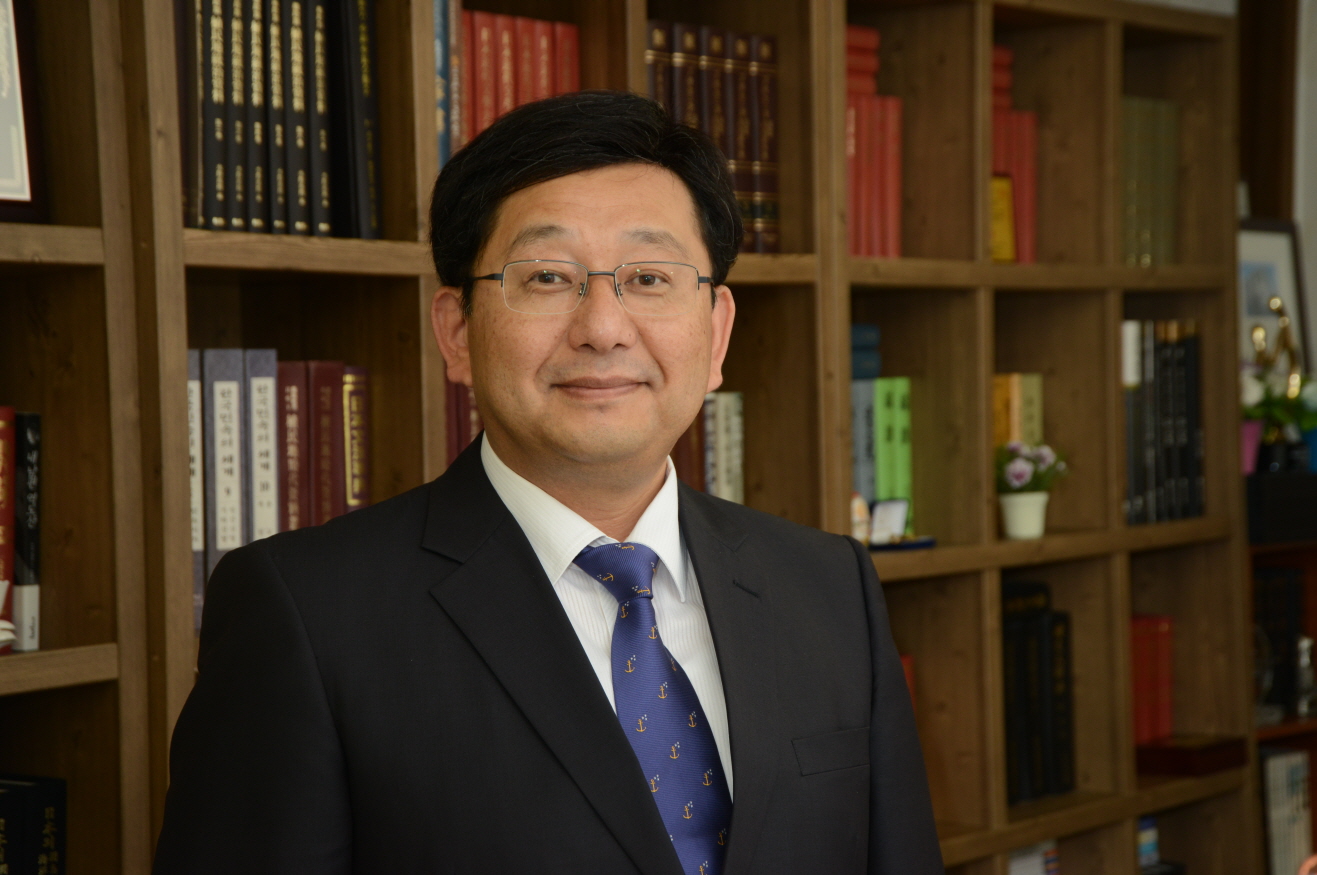 Prof. Yuji Hosaka of King Sejong University Liberal Arts Department
Prof. Yuji Hosaka of King Sejong University Liberal Arts Department, a Japanese-born and naturalized Korean, was quoted in an interview with BreakNews as saying that, "it is not easy to predict how economic retaliation would end up."
In a retaliation trade war between the United States and China, the United States chose a ceasefire without continuing to push China, since it caused damages to American farmers, threatening rural support for U.S. President Donald Trump's bid for reelection.
Prof. Hosaka said there are parallels with the standoff between Korea and Japan. Korea, he said, would receive greater damages temporarily, but a prolonged standoff would not only cause economic disruptions to Korea and Japan, but also to the global economy.
Korea needs to cope with the rift in a wise fashion and take a mid- to long-term perspective, since the Abe government is unlikely to revoke export curbs any time soon, Hosaka was quoted as saying.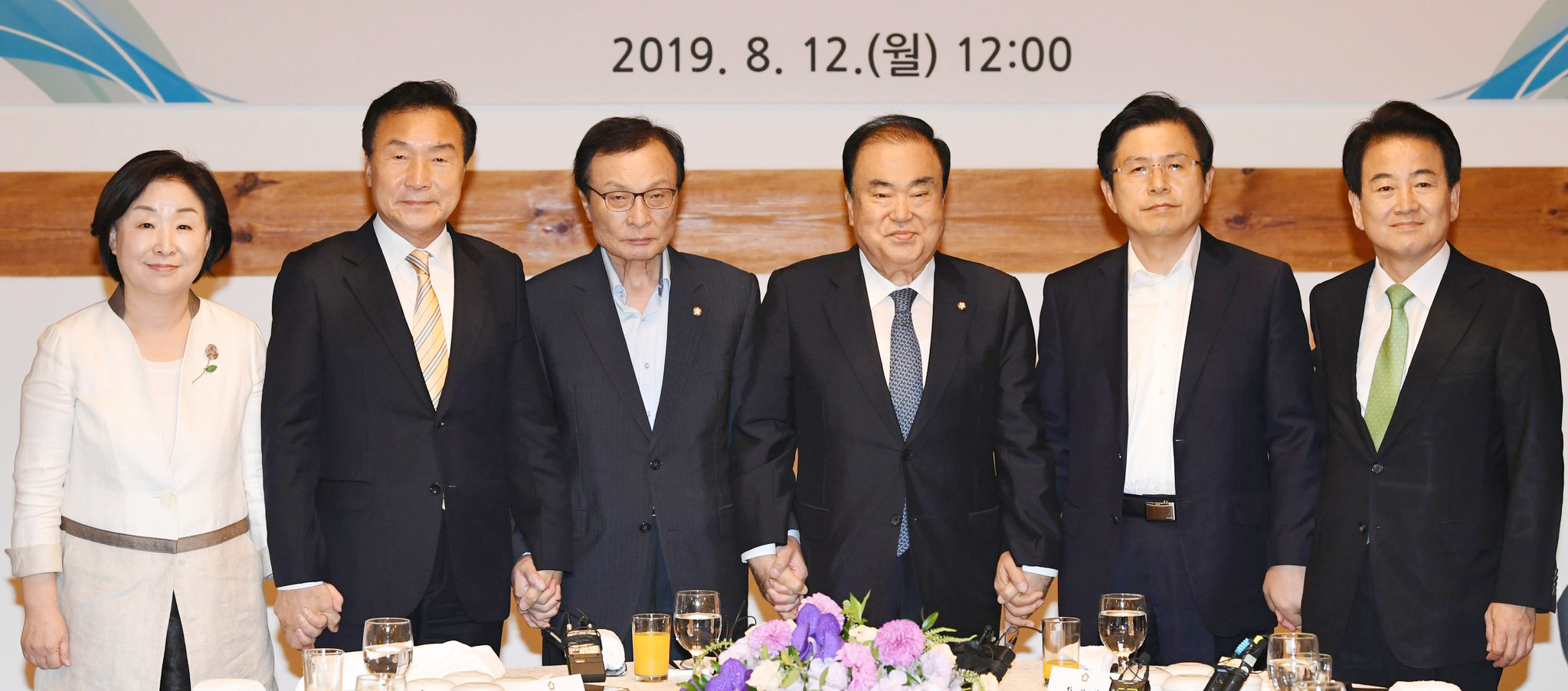 National Assembly Speaker Moon Hee-sang,: Chairman Lee Hae-chan of the ruling Democratic Party of Korea,; Chairman Hwang Kyo-ahn of the opposition Liberty Korea Party,; Chairman Sohn Hak-kyu of the Barunmirae Party,; Chairman Shim Sang-jung of the Justice Party,; Chairman Chung Dong-young of the Party for Democracy and Peace pose together during a luncheon on Aug. 12.

Govt. to Transform Korean Raw Materials, Parts & Equipment Industries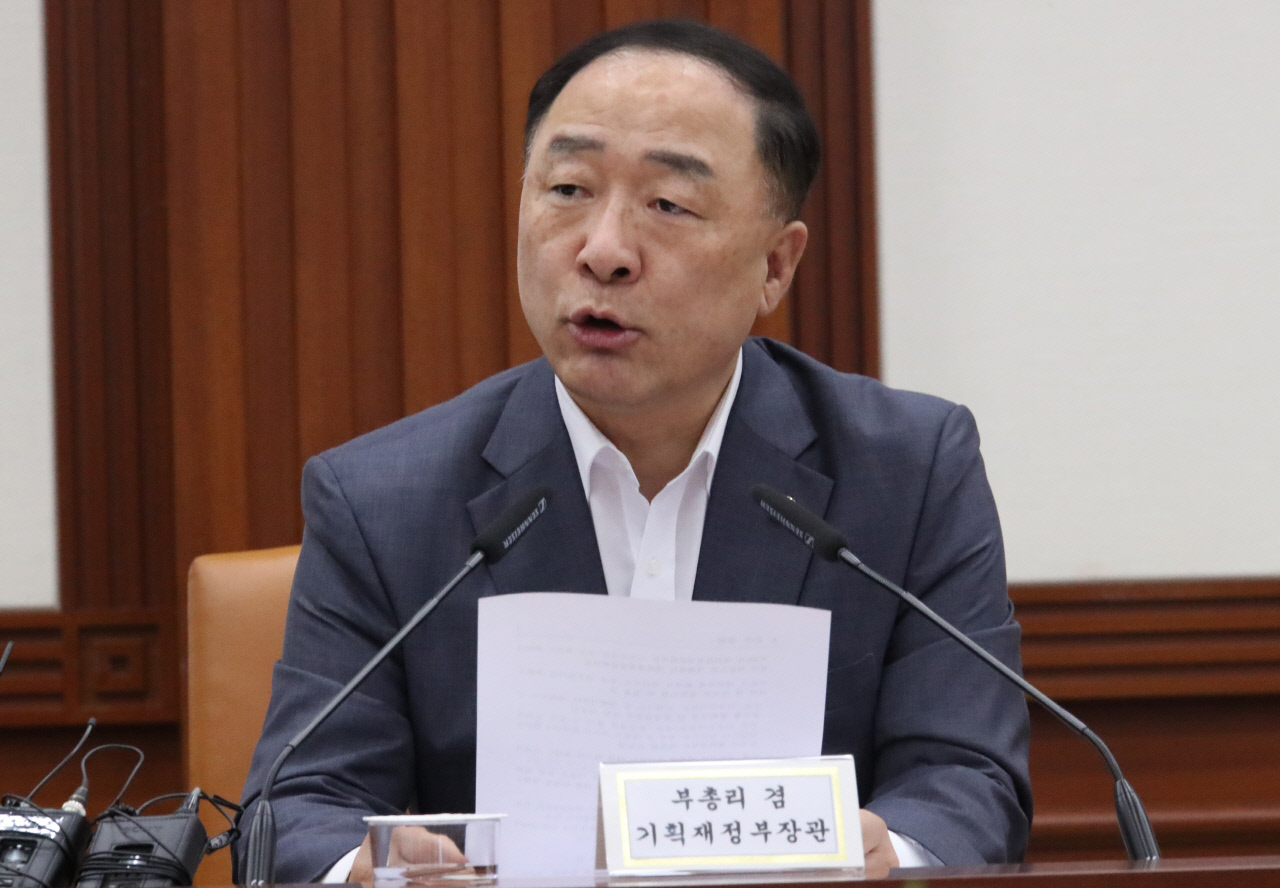 Deputy Prime Minister-MOEF Minister Hong Nam-ki
Deputy Prime Minister-MOEF Minister Hong Nam-ki said the number of strategic materials subject to the delisting of Japan's white list stands at 1,194, of which 159 are expected to be affected.
The 159 items will be put into a "management item" category so the government can take countermeasures in consideration of their dependence on imports from Japan, other spillover effects and the possibility of replacing them with Korean-made goods.
Deputy Prime Minister Hong said Korea would strongly convey the message through various channels that Japan ought to rescind its steps and resume bilateral negotiations. Even though diplomatic efforts would be made for solutions down the line, he said the Korean government plans to strengthen measures to ensure people's safety in areas such as tourism, food and waste.
Noting that Japan's export restrictions violate WTO regulations, he said Korea would take its complaint against Japan to the WTO.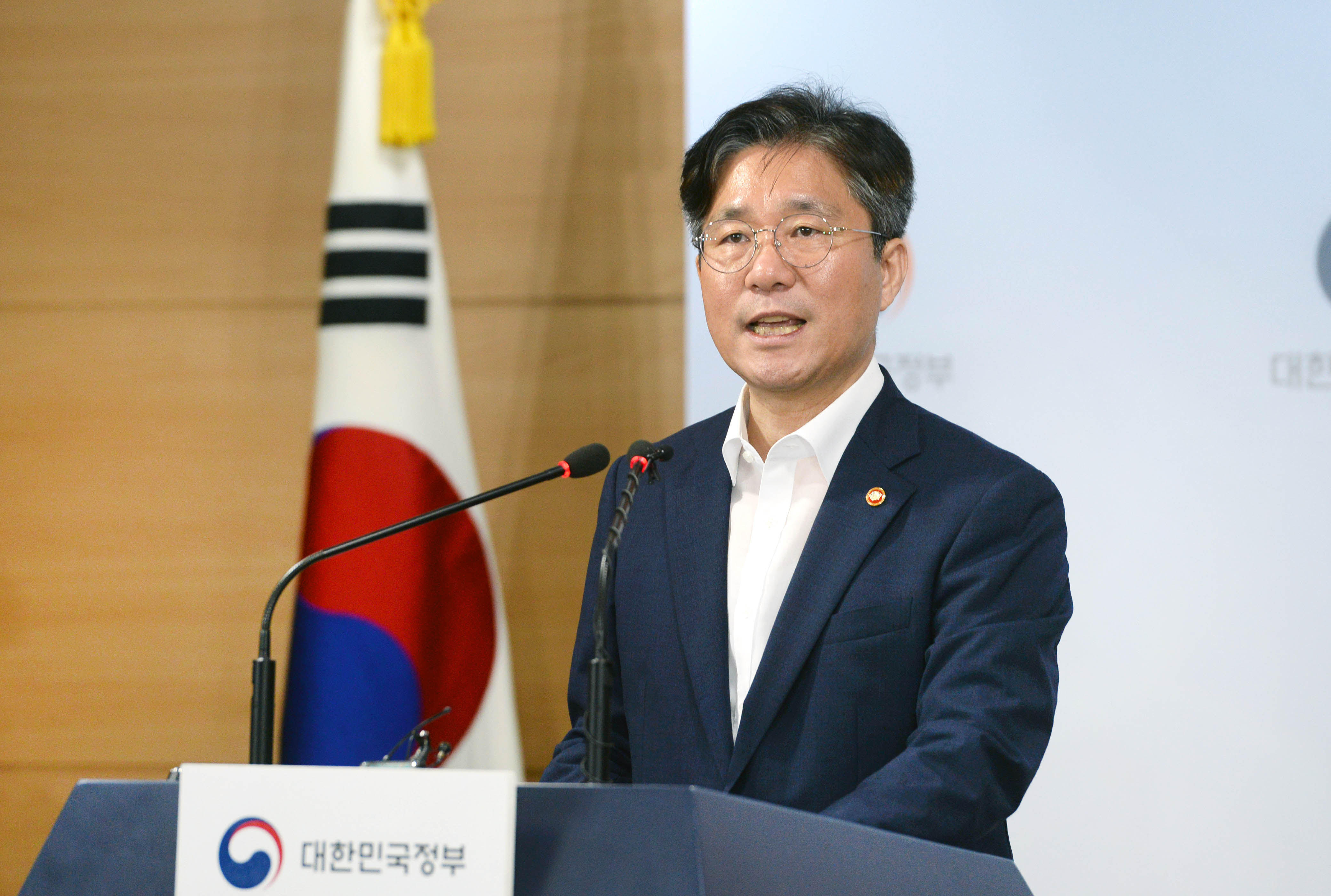 Minister of Trade, Industry and Energy Sung Yun-mo

In a related development, Minister of Trade, Industry and Energy Sung Yun-mo unveiled a plan to transform the Korean raw materials, parts and equipment industries from a "cormorant" paradigm to "pelican" one. He made the remarks while announcing inter-ministry steps to counter Japan's export curbs at Government Seoul Complex on Aug. 5.
"The Korean raw materials, parts and equipment industries are called cormorants," Minister Sung said. "If we all join forces, we can tide them over fully and the cormorants of the past can be changed to the pelican of the future," he added.
He compared Korea's dependence on imported raw materials, parts and equipment to "cormorant fishing," in which a great portion of the gains accrued slipped to Japan. In cormorant fishing, cormorants are used to catch fish, but to prevent them from swallowing it, whereas the pelican has the habit of storing the fish it catches in its beak and bring it to feed its chicks.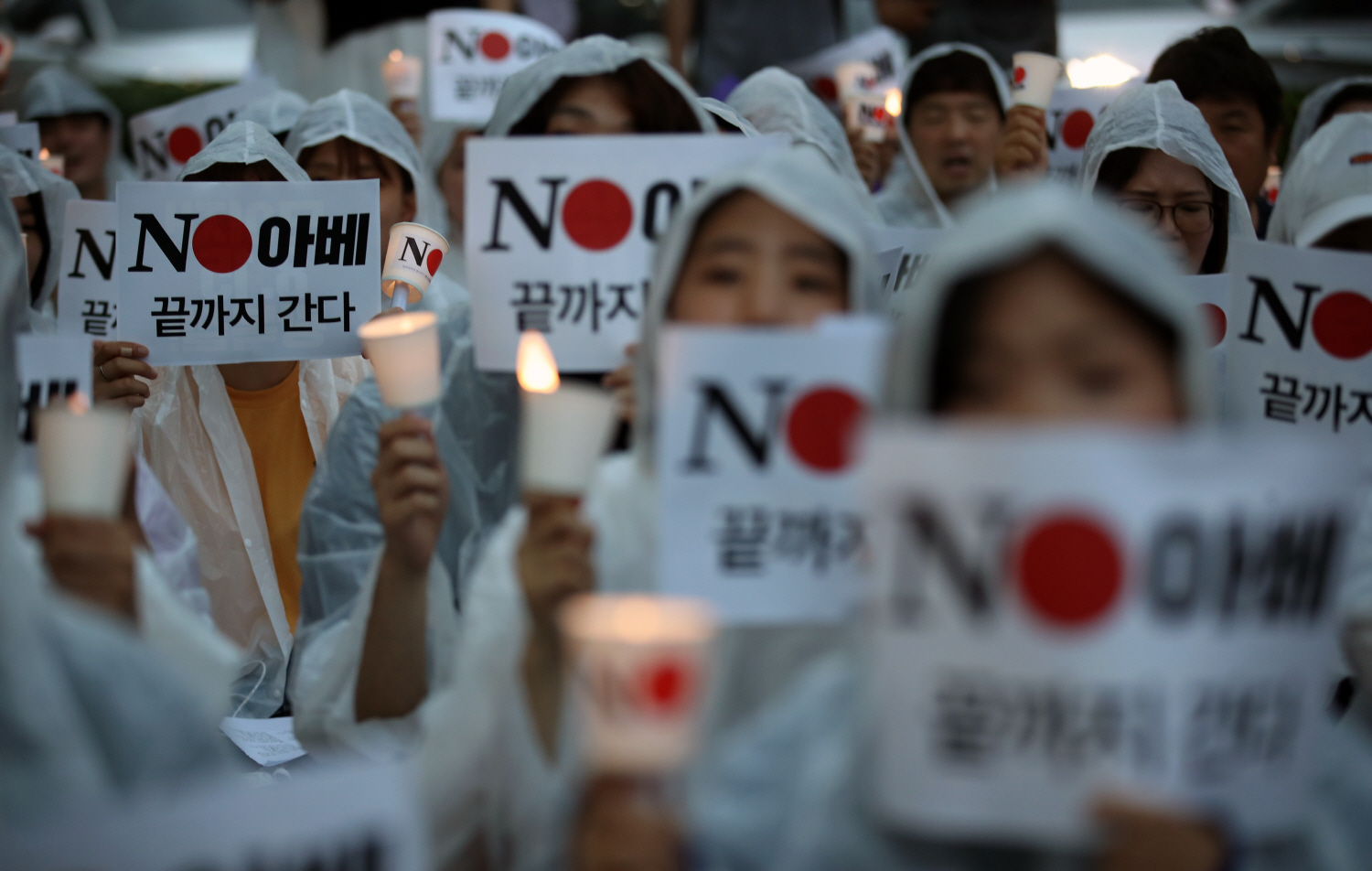 Demonstrators chant in front of the Japan Embassy in downtown Seoul to protest against Japan's export curbs on Korea on July 25.
An enactment of a special law on raw materials and parts in 2001 allowed Korea to achieve explosive growth in production and exports, but related industries have failed to yield substantive fruit in securing core technologies and localizing raw materials and parts.
Comparing future raw materials, parts and equipment industries to the "pelican" of the future, Minister Sung expressed his determination to create added value to earn spillover effects for other industries.
"The reality is now that we face greater troubles, caused by uncertainties, but the Korean government still believes in the inner strength of the Korean economy and industry to overcome crises, and it has a strong determination to put into practice these steps," he said.
Minister Sung said the government will focus on providing support to ensure a stable supply of 100 core strategic items. The government will concentrate on stabilizing supplies of 30 items essential for mainstay and new industries through diverse methods, such as support focusing on R&D, adopting other massive support tactics, and M&As.


Minister Sung attached focus to creating collaboration models among companies. Close cooperation between demand companies and supply firms has failed to live up to expectations, thus leading to a failure in creating a supply chain in Korea.
Companies participating in cooperation models will be given a package of strong inter-ministry support such as site location assistance, tax benefits and preferential treatment.
The government will inaugurate a "competitiveness committee" to implement collaboration models, and it plans to revise a special law on raw materials and parts so that it would include equipment and change the special law to a regular one.
Meanwhile, it remains to be seen when the Korean-Japanese rift will be escalated or eased.