Chmn. Cho to lead consultative body to oversee real estate financing and property-related investment banking to enhance the group's operation thru the new sector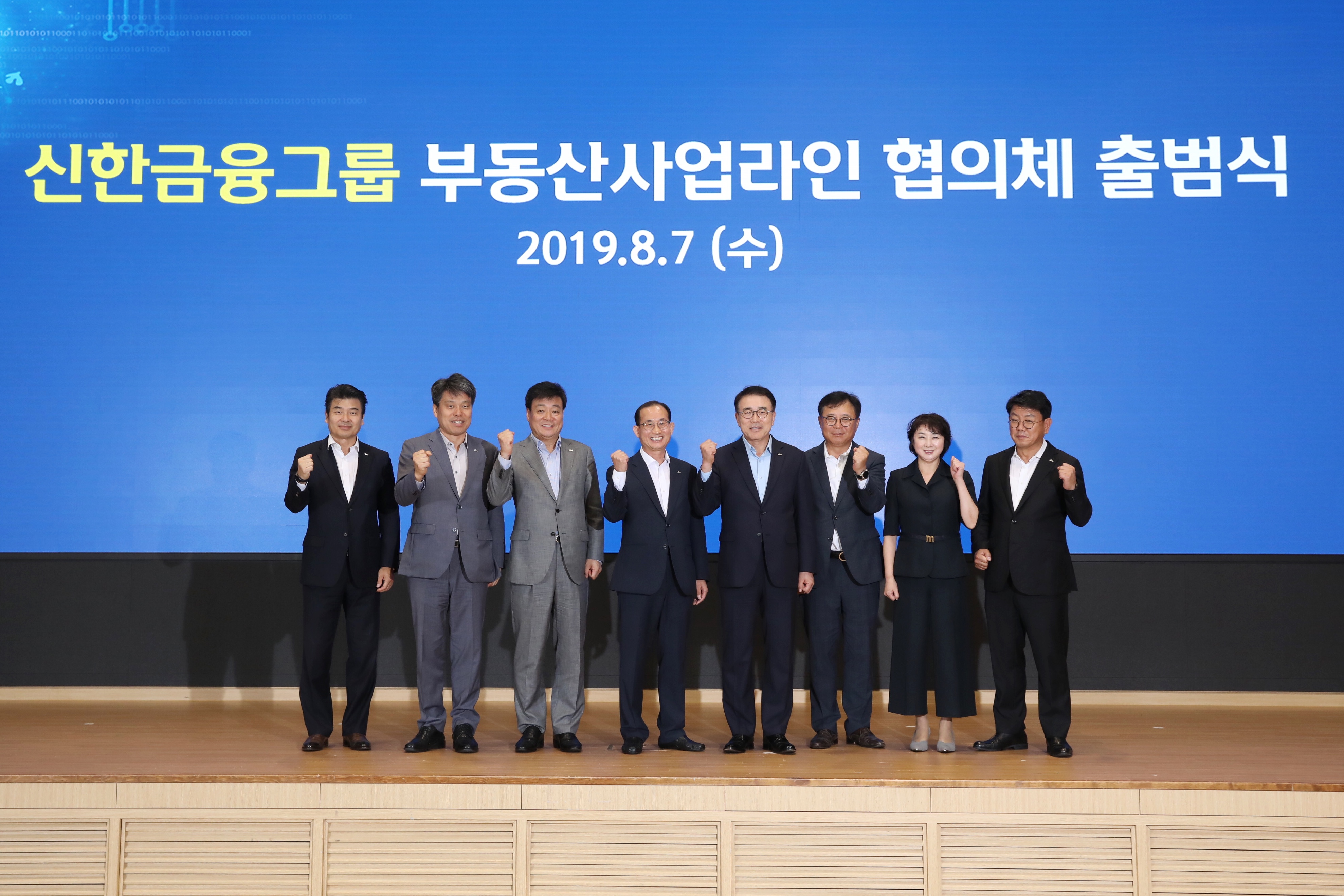 Chairman Cho Yong-byeong of Shinhan Financial Group, 4th L, joins the new members of the group's Real Estate Strategic Committee which was reorganized and recently launched in a ceremony held on Aug.
7 to include a real estate business consultative committee and a real estate financial council with the group deciding to pick up real estate financial as a new growth engine.(Photo: SFG)
Shinhan Financial Group, South Korea's largest financial group, has picked real estate financing as another growth engine, under the leadership of Chairman Cho Yong-byoung.

Shinhan Financial said on Aug. 7 that it has created a group-led consultative body for real estate projects which will act as a control tower for development financing directly under the chairman.

Shinhan Financial "will provide solutions to help our customers utilize real estate assets that account for a big share of Koreans' assets." Cho said. "The group, led by the consultative body, will boost real estate finance market."

Shinhan Financial Group's plan is aimed at combining real estate financing businesses that have been managed separately by its affiliates and enhancing property-related asset management capacity to promote new businesses and services.

The real estate business consultative body will consist of three sub-bodies - group real estate strategic committee, group real estate financing council, and group wealth management real estate business council.

Cho will be directly involved in boosting real estate business strategy and performance through the real estate strategic committee. The committee plans to upgrade overall management by holding bi-annual meetings in February and August.

The real estate finance council and wealth management real estate business council will each be responsible for property-related investment banking and personal asset management business.

The real estate finance council will invite chief executives of Asia Trust, Shinhan Alternative Investment Management, and Shinhan REITs Management and group heads of global investment banking units to a monthly meeting and have them share and promote real estate-related deals.

The wealth management real estate business council will aim to meet necessary real estate financial demand to personal customers and introduce comprehensive services such as consulting, mediation, and asset management services.
The council will be led by directors at Shinhan Bank and Shinhan Investment as well as executive director at Asia Trust and head of real estate advisory center under the group's wealth management division and head of wealth management business.

The establishment of the new consultative body is in line with Shinhan Financial Group's efforts to enhance its "matrix" organization structure that seeks to maximize synergy among affiliates and build up business capacity.
The body is Shinhan Financial Group's sixth matrix organization, in addition to global investment banking, wealth management, global business, global markets & securities, and retirement pension.

Shinhan Financial Group said that it has carried out intensive consulting of bringing the group's real estate business to a new level over the past three months since it acquired Asia Trust as its affiliate in May.
The group will put out efforts to provide products and services to its customers throughout all lifecycle in the property market.

Shinhan Alternative Investment Management Inc., fully financed by Shinhan Financial Group, was established in 2004 as the first private equity fund management firm in Korea and currently manages 1.2 trillion won in capital commitments.

In 2017, the company expanded its business to emerge as an asset management company specializing in alternative investments, and Shinhan Private Equity Inc. became Shinhan Alternative Investment Management Inc.
Shinhan Alternative Investment Management Inc. was launched in December 2004 as a wholly-owned subsidiary of Shinhan Financial Group to strengthen its expertise in asset management while ensuring maximum full autonomy in investment decisions process.

Shinhan Alternative Investment Management Inc., based on the Group's solid corporate client base and in conjunction with the expertise of high-caliber professionals who have a wealth of market experiences, utilizes long-term strategies as well as advanced capabilities to provide clients with a wide variety of differentiated investment opportunities.