Kodit to cover the entire loans provided to the Reform Startups with its guarantees while Shinhan Bank and Industrial Bank of Korea are to issue loans at preferential interest rates to help them become Reform Icons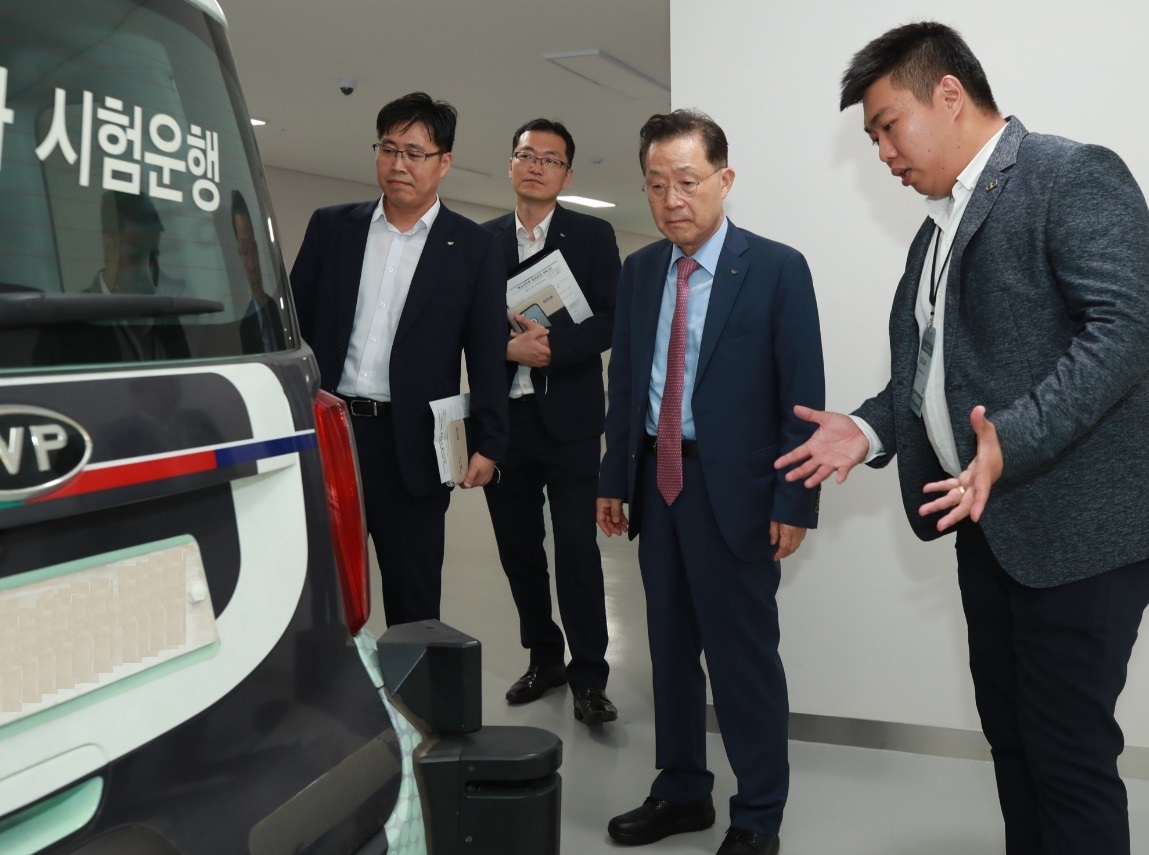 Chairman Yoon Dae-hee of Korea Credit Guarantee Fund(Kodit), 2nd R, listens to CEO Chung Ji-sung of SOS Rap, one of the SMEs selected to become the Reform Icons under the Reform Icon Support Program launched by Kodit in July, as he explains what the company has been doing to become one of the Reform Icons. (Photo: Kodit)
Korea Credit Guarantee Fund (Kodit) signed an agreement to provide financial support to Reform Icons in cooperation with Shinhan Bank and the Industrial Bank of Korea on Aug. 2, the financial company said on Aug. 3.

The agreement is designed to provide financial support to so-called Reform Icons to reduce their financial expenses and support their operations to help them grow as Unicorn Enterprises.

Under the agreement, Kodit will cover 100 percent of the loans taken out by Reform Icons with its guarantees, while the banks will issue loans with the preferential interest rates lower by 0.7 percent than the usual interest rates on average.

Kodit in May kicked off the Reform Icon Support Program to offer tailor-made support to selected Reform Startups that have the potential to grow to be Reform Icons.

In early July, Kodit selected six small business firms as the first period Reform Icons including Craft Tecnologies, SOS Rap, and Tomo Cube, among others.
The company plans to pick 10 more SMEs every year until 2023 so the total number would reach around 50 in the program.

Officials of Kodit said they will continue to keep cooperative relations with the banks in line with its aim to secure Reform Growth of our economy thru upgraded growth pace of the Reform Startups.

KODIT is a public financial institution providing comprehensive supports for SMEs. With its capital fund of $3.2 billion, Kodit provides 11 types of general credit guarantees and P-CBO guarantee.
As of the end of 2005, the outstanding credit guarantee reached over $31.6 billion.
In addition, Kodit operates credit information management, guarantee-combined investment, credit insurance, management consulting and infrastructure credit guarantee services.

Throughout its history, Kodit has actively supported the SMEs of Korea, thereby promoting economic vitality, easing the inequalities within the economy and instilling the importance of credit.

In particular, Kodit played a crucial role in reviving the economy by implementing government policies at every financial crisis and stabilizing the market.
Its contribution was clearly shown in the studies that proved production inducement, economic value-added inducement and job creation effect of credit guarantee service.

Upon its 30-year anniversary, Kodit is preparing for another springboard for the future. Through continuous innovation efforts, Kodit aims to remain as the trustworthy partner of SMEs and contribute to further economic growth of Korea.

Since the establishment of Kodit, the credit guarantee system of Korea made a rapid progress.
When Kodit was founded in 1976, 15 years after the launch of the credit guarantee reserve system in 1961, the capital fund was 32 billion won and the outstanding credit guarantee was 101 billion won.

However, in just 4 years since the founding of Kodit, the capital fund reached 135 billion won and the outstanding credit guarantee stood at 1.2 trillion won.

That is the capital fund and outstanding credit guarantee increased 3.2 times and 12.4 102 times, respectively, since its foundation.
Such achievement proved that the credit guarantee system operated by an independent entity enabled a more active provision of credit guarantees.

This also owed to the fact that the perception of financial institutions and business enterprises on credit guarantee system was greatly enhanced. In addition, with its given autonomy in operating the system, Kodit was able to implement several changes in credit guarantee programs.

Guarantee for loans from non-banking financial institution and guarantee for leases were newly adopted.
And the revolving guarantee program which enhanced the convenience of credit guarantee users were launched.