Samsung Vice Chairman Lee at Forefront in Collaboration Drive with Global Players
Has series of global telecom meetings with service provider executives, including Deutsche Telekom CEO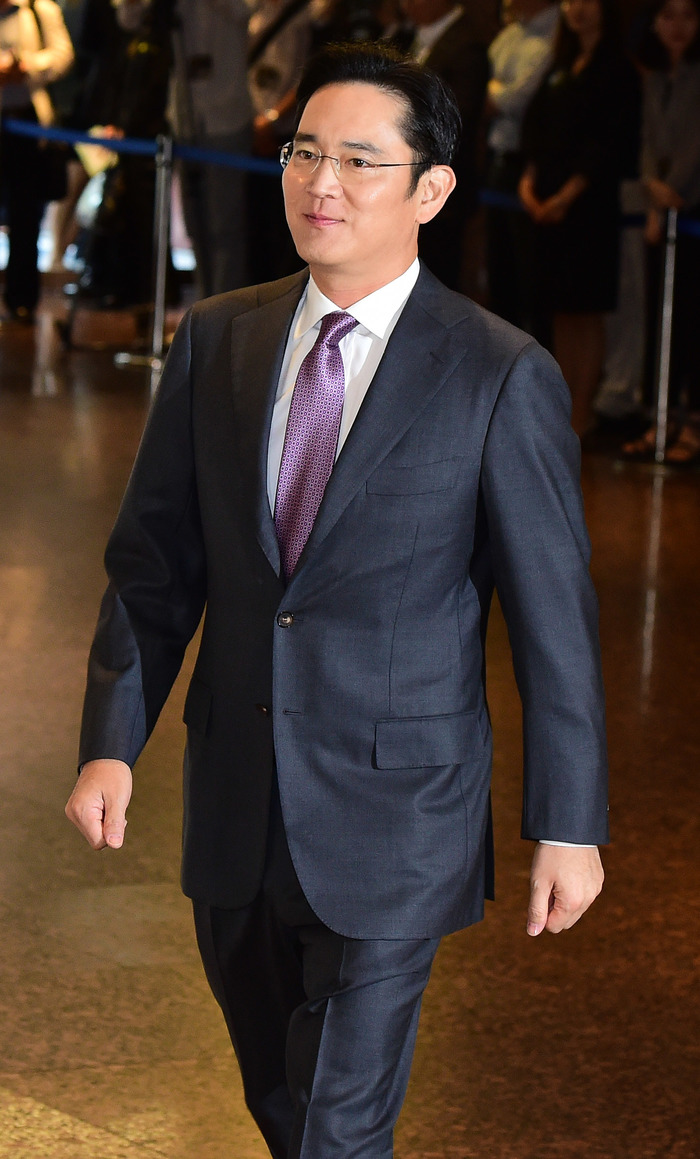 Samsung Electronics Vice Chairman Lee Jay-yong. (Photo: Samsung Electronics)
Samsung Electronics Vice Chairman Lee Jay-yong is at the forefront of addressing external and internal uncertainties caused by an escalating trade war between the United States and China, and he's working out business strategies involving areas such as the semiconductor sector.

Of late, he has had a series meetings with global telecom service provider executives, including Deutsche Telekom and NTT DoCoMo CEOs to discuss ways of promoting cooperation in the supply of smartphones and telecom equipment, as well as exploring collaboration in the technologies of the 4th Industrial Revolution in areas like AI and IoT.

Vice Chairman Lee, returning to office last February to end a management vacuum, is devoting himself to resurrecting his global business networking. He has engaged in brisk business activities by expanding meetings with major clients and looking at global business trends.

Business sources said on June 25 that Samsung Vice Chairman Lee met Deutsche Telekom CEO Timotheus Höttges over dinner and discussed ways of promoting cooperation in the supply of smartphones and telecom equipment, as well as the ICT sector such as AI.
Also on hand at the meeting were Samsung Electronics President Koh Dong-jin in IT & Mobile Communications; head of R&D at the mobile communications business; President Chung Kyung-hoon in network business; and Deutsche Telekom's chief technology officer Caudia Nemat.

The Deutsche Telekom executives looked at Samsung Electronics' in-house venture program "C Lab," chip production lines, and Samsung Innovation Museum.

Samsung Electronics President Koh introduced the IT & mobile communications business's 10-year vision. He delivered strategies to brace for changes in the mobile communications business environment, while introducing post-5G communications technologies and next-generation device development.

Samsung Electronics has cooperated with Samsung Electronics President in the supply of 4G smartphones. Both sides have agreed to collaborate on 5G initiatives, next-generation communication, AI, IoT, and other diverse sectors down the road. Vice Chairman Lee and Deutsche Telekom CEO Höttges shared a consensus on the development of next-generation mobile communications, AI/IoT technologies and businesses.
Deutsche Telekom, which has completed the purchase of frequencies for 5G mobile telecom services, is preparing for the launch of 5G mobile telecom services. The two sides were believed to have discussed Samsung Electronics' supply of 5G equipment and smartphones to the German telecom service provider. They discussed bilateral collaboration in an the 5G era.

Deutsche Telekom, offering telecom services in 50 countries such as Germany, UK, European states and the Czech Republic, has about 180 million mobile telecom subscribers and 30 million cable communications clients.
The German company posted 97.1 trillion won in sales last year, and it has 220,000 employees. Deutsche Telekom is one of Samsung Electronics' top-five client companies, along with Apple, Verizon, Best Buy of the United States, and Huawei of China.

Vice Chairman Lee's meeting with Deutsche Telekom executives was apparently arranged through a network the former has built. The German company operates a leadership program designed to look at business insights by visiting major countries biennially. Deutsche Telekom has dispatched 50 executives, board members and officials to Korea so far this year.

Lee, leaving other executives in charge of the conventional businesses, is stepping on the gas to explore and nurture new future businesses by making the most of the overseas network he has so far accumulated.

Vice Chairman Lee made a couple of overseas business tours to North America, China, India, Vietnam and Japan since February 2018 when he returned to office, ending a management vacuum.

All of his overseas business trips have been related to things such AI, 5G and smartphones, business areas Samsung Electronics wants to nurture as future growth engines. Lee aims to build a global eco-system by securing business partners in the future business sectors and enhance his company's competitive edge. He has also taken time out to meet with global company CEOs, including Chief Executive Officer Satya Nadella, who have come here on business trips.

Samsung Electronics' latest move may be a good opportunity to cash in on a trade war between the United States and China, which is predicted to be prolonged. Last year, Samsung Electronics struck deals to supply 4G and 5G equipment to Verizon Wireless, AT&T and Sprint of the United States. The Korean electronics maker supplies mobile telecom equipment to three of the four American telecom service providers.

Samsung Electronics is predicted to benefit greatly from the U.S. government's restrictions on American firms' transactions with Huawei for security reasons. Samsung Electronics is the sole company in the world to supply all chips, telecom equipment and smartphones.