The two major Korean oil companies celebrate the occasion on July 2 with partner ADNOC of the consortium; they have rights to 5.4 mln barrels of oil produced daily from oil wells for next two decades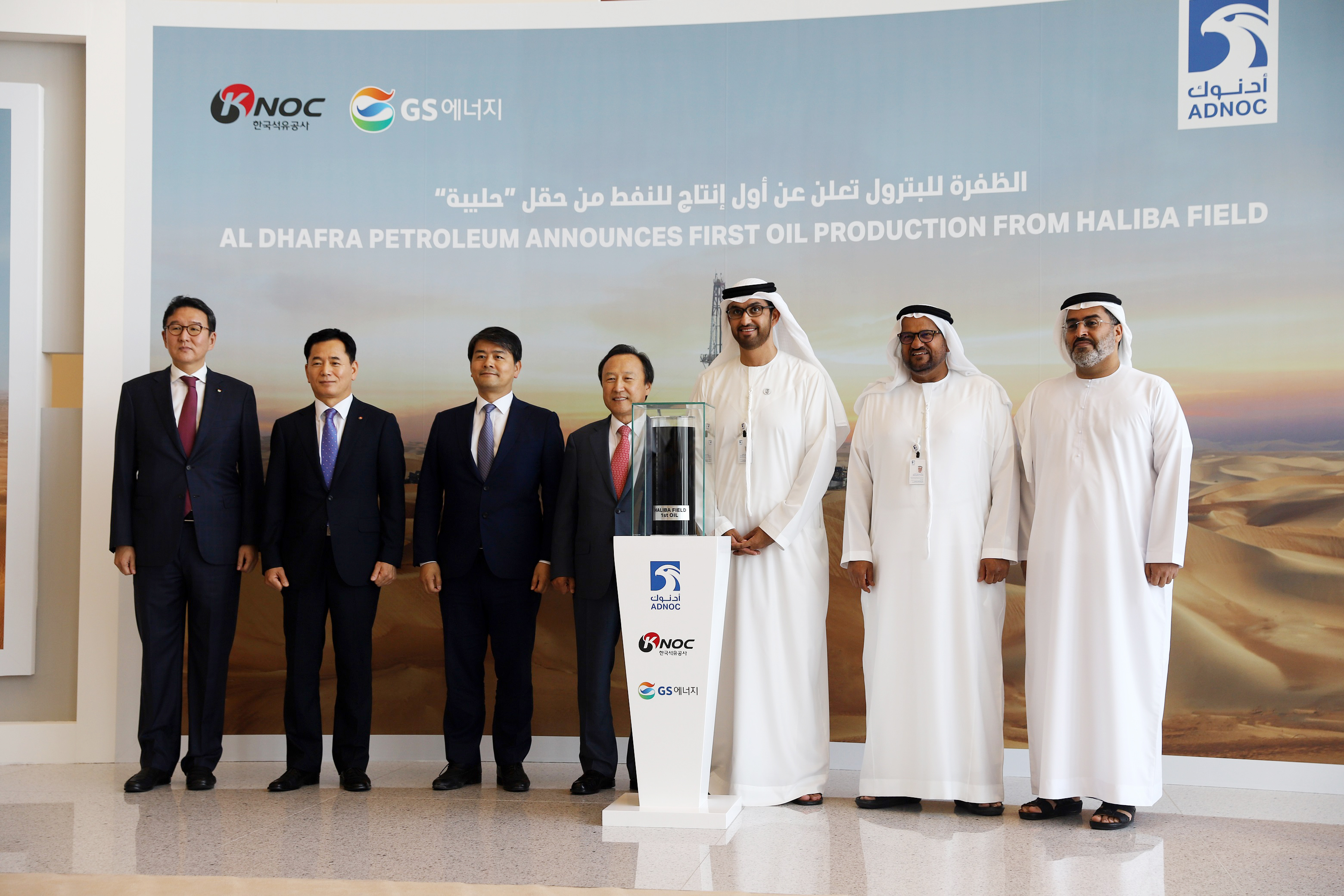 KNOC President Yang Su-yeong, GS Energy President Huh Hong-soo and President Sultan Ahmed Al Jaber of ADNOC are among those lined for a photo session to celebrate the oil production at oil fields at Haliba, Abu Dhabi, in a consortium made up of Korean firms and an UAE firm for the first time. (Photos: KNOC)
The state-run Korea National Oil Corporation (KNOC) and GS Energy have become the first South Korean companies to start oil production in the United Arab Emirates, together with the state-run Abu Dhabi National Oil Company.

On July 2, KNOC and GS Energy held a ceremony with ADNOC in Abu Dhabi to celebrate the commencement of commercial oil production in oil fields in Haliba, located in east Abu Dhabi. The event was attended by KNOC CEO Yang Su-yeong, GS Energy CEO Huh Yong-soo and ADNOC CEO Sultan Ahmed Al Jaber.

In March 2012, the Korean consortium comprising KNOC and GS Energy signed an agreement with UAE to secure oil reserves in Haliba. The consortium began the exploration work in 2012, built production facilities in 2016 and started oil production last month.

ADNOC has a 60 percent stake in Haliba oil, whereas KNOC has a 30 percent stake and GS Energy has a 10 percent stake. Oil production will be carried out through a joint venture, Al Dhafra Petroleum.

Under the agreement, the Korean side can extract 5.84 million barrels of oil per year, worth around $390 million. Over the next two decades until March 2042, Korea will be able to extract about 100 million barrels of oil, which is equivalent to the oil needed to operate 1 million vehicles for seven years.

UAE is the world's eighth-largest oil-producing country, producing 3.8 million barrels per day as of 2018. The production of oil from Haliba is deemed to be the first tangible result since Korea and UAE elevated their bilateral relations and established a special strategic partnership in March 2018.

"The production of Haliba oil confirms the importance of cooperation between the two countries in the energy areas. ADNOC will continue to strengthen such strategic partnership in line with the nation's 2030 strategy for smart growth," said Ahmed Al Jaber, UAE Minister of State and ADNOC CEO.

Haliba field, located along the southeast border of the Emirate of Abu Dhabi, is a building block of ADNOC's oil production capacity growth to four million barrels per day by the end of 2020. ADNOC said the initial production from the field would progressively increase to 40,000 bpd by the end of 2019 as Al Dhafra Petroleum further unlocks the substantial potential of the field.

Al Dhafra Petroleum embarked on an extensive appraisal program in Haliba field that enabled it to discover 1.1 billion barrels of original oil in place (OOIP), a significant increase from the 180 million initially estimated. At the same time, it discovered potential resources in three new fields - Al Humrah, Bu Tasah, and Bu Nikhelah - following intensive exploration programs.

This is the first time Al Dhafra Petroleum is producing crude since it was established in 2014 and, to commemorate the milestone, a special ceremony was held at ADNOC Headquarters, where Dr Sultan bin Ahmad Sultan Al Jaber, Minister of State and ADNOC Group CEO, hosted a government delegation from South Korea led by Ilpyo Hong, Chairman of the Trade, Industry, Energy, SMEs, and Start-Ups Committee of the National Assembly of South Korea; and included Youngjoon Joo, South Korea's Deputy Minister of Trade, Industry and Energy; Suyeong Yang, President and CEO of KNOC; Yongsoo Huh, President and CEO of GS Energy; members of South Korea's National Assembly; and government officials from South Korea.

"The start of production from Haliba field highlights the important role of energy cooperation in strengthening the close and deep-rooted strategic relationship between the UAE and South Korea. ADNOC has a successful history of partnership with South Korea's energy sector, and we continue to place great importance on this strategic partnership as we accelerate delivery of our 2030 smart growth strategy." Dr. Al Jaber said.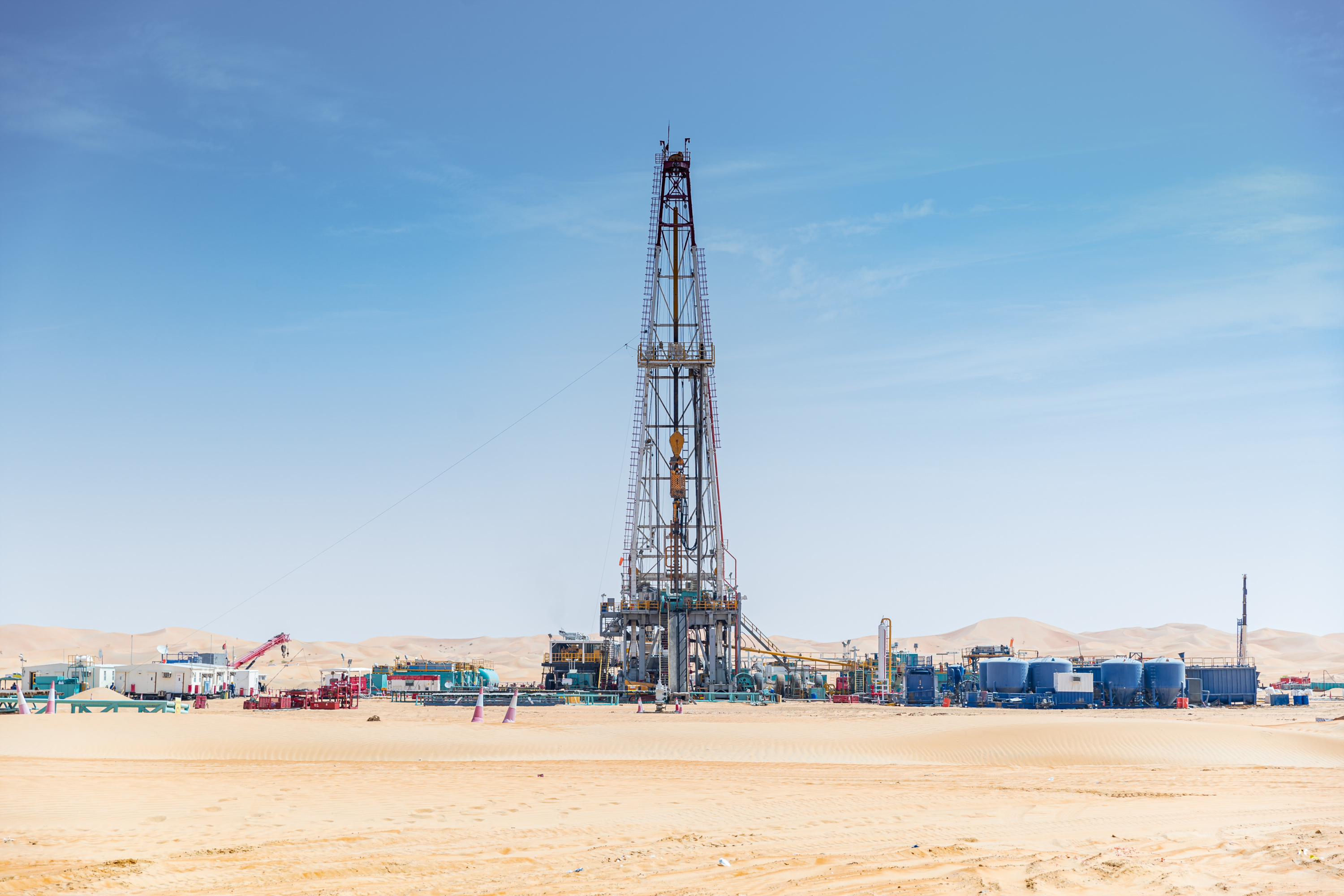 A view of the Haliba oil field near Abu Dhabi which just recently began to produce crude oil for the first time by a consortium made up of Korean and local oil firms, ADNOC.