KOMIPO Wins Management Innovation Prize at 2019 Korea Innovation Frontier Awards Rite
Power company is aggressively utilizing technologies of the 4th Industrial Revolution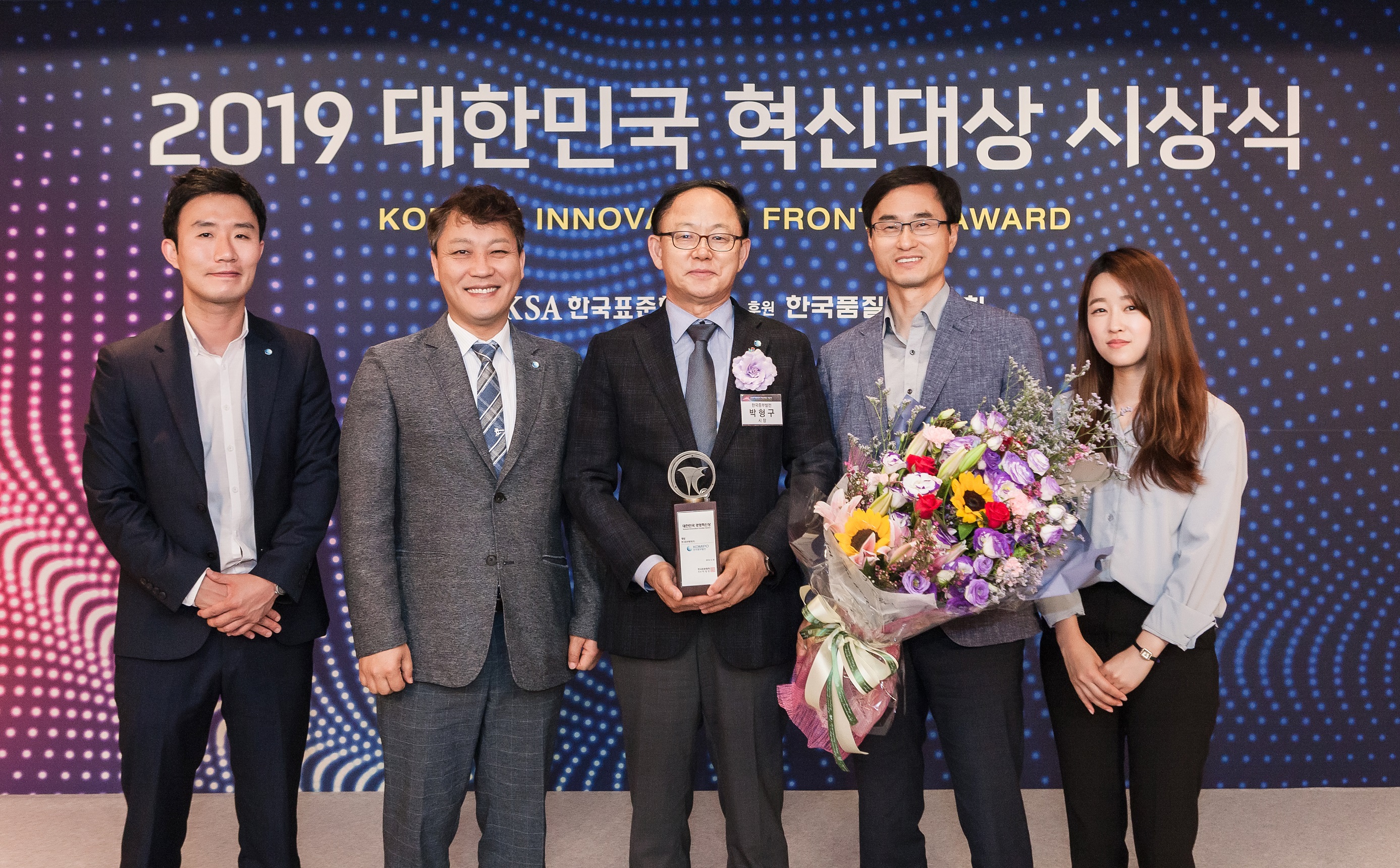 KOMIPO President Park Hyung-gu and his staff pose for a group photo session after KOMIPO won the management innovation prize at the 2019 Korea Innovation Grand Prix awards ceremony hosted by the Korean Standards Association. (Photo: KOMIPO)
Korea Midland Power Co. (KOMIPO) was honored with the management innovation prize at the 2019 Korea Innovation Frontier awards ceremony hosted by the Korean Standards Association recently.

KOMIPO boasts power generation facilities with a combined capacity of 9,930MW, and the power company is undertaking projects to build power plants with a combined capacity of 1,800MW. KOMIPO has also expanded its business territory abroad by operating power facilities with a combined capacity of 2,340MW in countries such as Indonesia, Thailand and the United States.

The power company recently won an excellent grade in a shared growth evaluation by the Ministry of SMEs and Startups for the fourth consecutive year. Last year, the Boryung Thermal Power Unit 3 logged accident-free 6,500 days, the longest-ever one in the world.
KOMIPO showcased its excellent facility operation capabilities by winning top facility maintenance performance s for the second straight year in row.

KOMIPO is accelerating a scheme to develop eco-friendly technologies. In May 2018, the power company embarked on the development of photovoltaic power model designed to enhance power generation efficiency. Prototype production and evaluation outcomes showed that the model improved power generation efficiency by 5.8 percent, compared to conventional models.

The power company developed an intelligent robot for solar panels, which is connected with IoT technologies. The development of the robot is designed to block dangers related to high-place work on top of the improving of power generation efficiency.

The power company is aggressively utilizing technologies of the 4th Industrial Revolution such as drone. KOMIPO is realizing a smart factory by building a smart coal storage monitoring system. The system, using drone, is designed to monitor natural ignition of coal storage. It saves costs worth 1.83 billion won annually, and the power company has obtained a patent related to drone.

Last December, KOMIPO announced a mid- and long-term plan to develop the hydrogen industry in a ceremony. KOMIPO revealed its determination to ramp up the hydrogen sector outside and inside as the power company signed a contract with the Chungcheongbuk-do provincial government on the joint development of a projected hydrogen theme town and a new/renewable energy project at the Boeun Industrial Complex.

KOMIPO is offering its overseas business sites as global test-beds for Korean SMEs' products seeking to obtain global credibility.

KOMIPO President Park Hyung-gu said, "(KOMIPO) is spearheading the realization of social values by providing good job to people and future growth engines to SMEs."

KOMIPO's K-Jangbogo Project to Support SMEs' Joint Market Entry

Korea Midland Power Co. (KOMIPO) is an exemplary public entity that translates shared growth with SMEs into action. KOMIPO has been recognized for implementing shared growth projects. The power company was granted the top grade, "excellent class," in an evaluation of public entities over shared growth conducted by the Ministry of SMEs and Startups for the fourth consecutive year in 2018.

The reputation is owed to KOMIPO's diverse efforts to provide support to SMEs, such as the successful implementation of the K(Komipo)-Janbogo Project, KOMIPO's joint overseas market entry project with SMEs, and the nurturing of startups, founded by youth and middle-aged adults.

On top of these, KOMIPO is making efforts to help SMEs have more access to export opportunities as the power company procures certified homegrown products made by SMEs for use at its international worksites and it gives SMEs opportunities to put their names on the vendor list of global players.
Thanks to KOMIPO's help, 21 SMEs were put on the list of General Electric of the United States, 17 SMEs made it on the list of Mitsubishi Hitachi Power System in 2017, 15 more SMEs were registered on the list of MHPS in 2018.