Govt. Unveils Vision to Resurrect Korean Manufacturing Industry
President Moon attends ceremony to declare goal at smart manufacturing innovation center in Ansan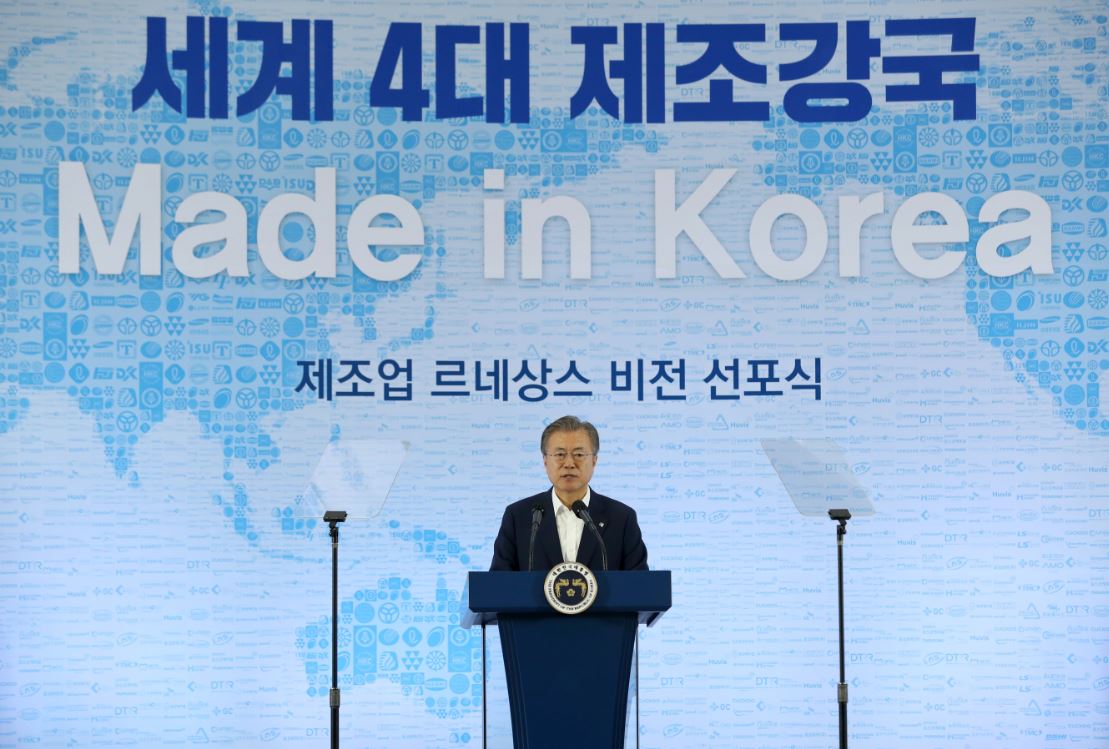 President Moon Jae-in speaks at a ceremony to declare the vision at a smart manufacturing innovation center in Ansan, Gyeonggi-do, on June 19.
(Photo on the courtesy of Cheong Wa Dae website)
The government unveiled its vision of resurrecting the Korean manufacturing industry and vaulting it into the world's top-four by 2030.

President Moon Jae-in participated in a ceremony to declare the vision at a smart manufacturing innovation center in Ansan, Gyeonggi-do, on June 19.

While delivering a speech at the ceremony, President Moon stressed the resurrection of the Korean manufacturing industry, saying there is no industry which disappears, but only those in need of innovation.

The vision was unveiled as a long-term plan after President Moon instructed the Ministry of Trade, Industry and Energy (MOTIE) to establish new industry policies at a briefing late last year.
At the time, President Moon asked questions such as the whether the government had done enough to lend an ear to complaints and hardships the industry has experienced.

The presidential office cited the Korean manufacturing industry's crisis, which has been caused by outside and inside factors, as one of the fundamental causes of the current economic slowdown.

President Moon said the Korean manufacturing industry is in a critical moment - renaissance or stagnation.
In reality, Korea has failed to make a new industry without changes in mainstay businesses for the past decade, since the creation of the "memory chip legend," and China has emerged as a "mover," not a follower.
Conventional manufacturing powerhouses have renewed themselves to brace for change.

President Moon, citing Germany's "Industry 4.0" strategies, emphasized that other manufacturing powers have begun to recognize the importance of the manufacturing industry as a prop for their respective economies.
He said the Korean manufacturing industry plays a central role in an era of the 4th Industrial Revolution and it is a foundation for innovative growth.

Earlier, President Moon announced a plan to nurture system semiconductors, future cars and bio into new industries.
The latest vision calls for nurturing the industries into "2nd memory legends" and restoring competitiveness through massive innovation by having the conventional mainstay industries such as shipbuilding and automobile employing technologies such as AI, big data and 5G.

President Moon said a joint government- private sector strategic committee the Chief Executive will preside over will be inaugurated to spur continued momentum of the manufacturing innovation initiative.

The latest vision was unveiled amid a sense of crisis in which the collapse of the manufacturing industry has accelerated.

Exports, buttressing the Korean economy, logged minus growth for the sixth consecutive month, and more and more Korean companies are rushing their relocation abroad enough to be called "manufacturing exodus."

In order to speed up innovation of the Korean industry structure, the government has suggested three keywords – "smart, "eco-friendliness," and "convergence."

The spread of smart factories is being pursued, but smart factory conversions stood at 7,903 cases, or only 11.8 percent of the nation's total manufacturing companies.
The government targets to supply smart factory facilities to 30,000 companies by 2022 and change 20 industrial complexes into smart ones by 2030.
Korea aims to preoccupy eco-friendly cars and air industries while clean factories will be introduced to cope with environment regulations.
Contributions of a corporate structure innovation fund will be raised from current 1 trillion won to 5 trillion won to support fast corporate business restructuring and industrial structure innovation.

The government has decided to plunk down 1 trillion each year to develop core materials, parts and equipment technologies.
Cash reserves top 10 Korean companies own now stand at 248 trillion won. They are reluctant to make investments, so cash reserves tend to be on the rise.
The government plans to come up with tax credit support to create an investment environment.
Minister of Trade, Industry and Energy Sung Yun-mo will offer extraordinary tax benefits to companies who invest in Korea without going abroad.
Companies – large and small – will be given tax benefits such as a reduction in corporate tax on investments.

A Korean-type "Vision Fund" is to be raised. The Vision Fund is a large private fund, operated by Chairman Masayoshi Son, amounting to 100 trillion won.
A MOTIE official said the government plans to give tax incentives when the private sector creates a fund.