Under Slogan, "Samsung C&T Hopes to Contribute to Communities at Home and Abroad," all employees of Samsung C&T participate in donation campaigns for charity organizations at home and abroad including those for scholarships for children of multi-cultural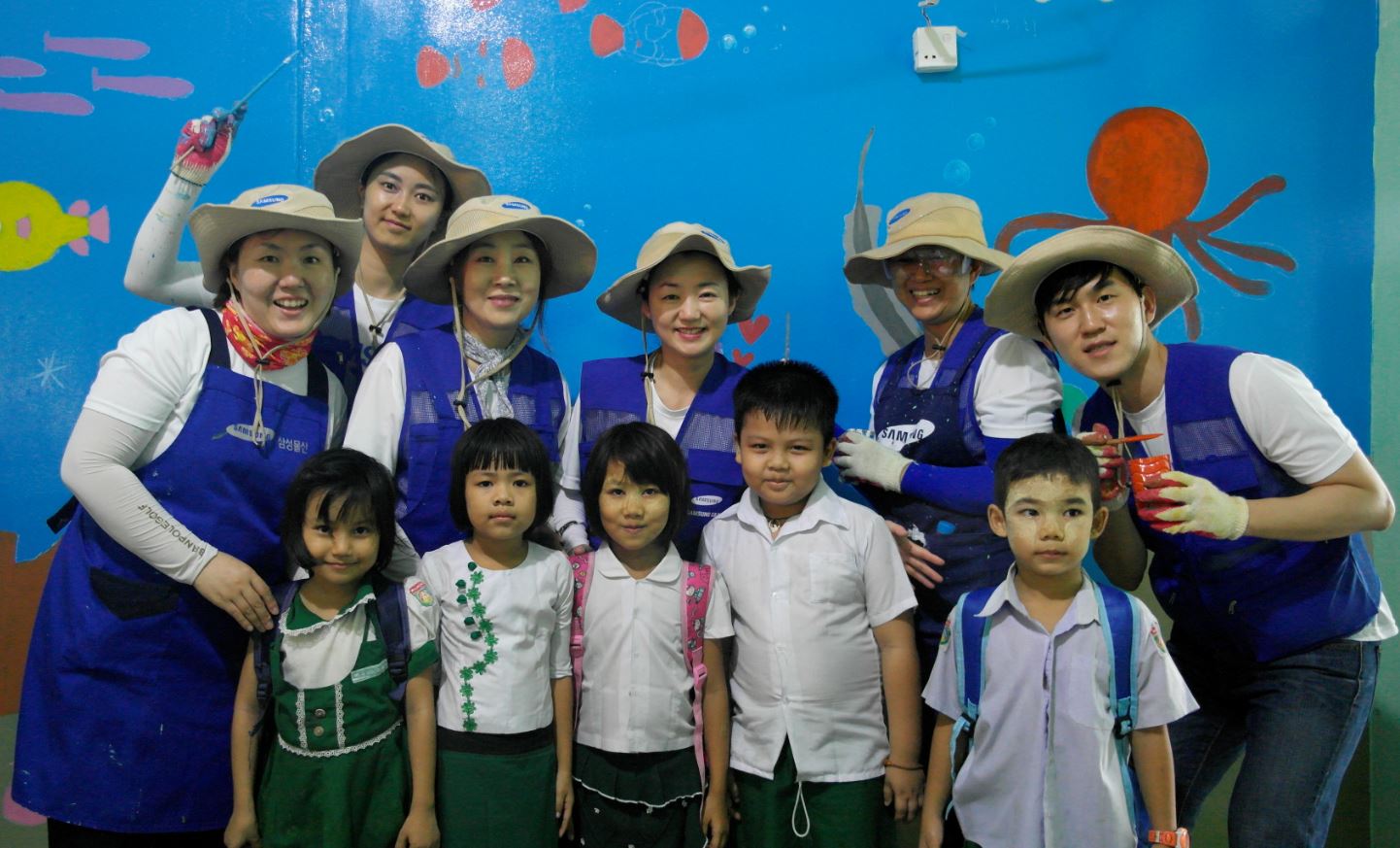 A group of Samsung C&T employees doing social service work with children in Myanmar.
(Photo: Samsung C&T)
Under the philosophy of "dedication to national economic development and respect for people," Samsung C&T hopes to contribute to communities, both at home and abroad.
It will do so with various programs and building a society by working towards achieving shared growth.

All employees of the Trading & Investment Group participated in donation campaigns for charity organizations in Korea and abroad recently.

Some beneficiaries included:
- Scholarship for children from multicultural and low-income households
- Sponsorship for underprivileged children overseas
- Support for replacement of outdated facilities at welfare centers for the disabled
- Support for the opening of a youth center

Trading & Investment Group of Samsung C&T operates a broad range of programs for children from multicultural families to help them become confident members of Korean society, filled with hopes and dreams.
Such programs have been designated as key social contribution activities of the Trading & Investment Group.

The company has entered into an agreement with Pearl S. Buck International Korea, the only organization in the country that supports multicultural children,
and jointly runs scholarship programs for multicultural children and programs to raise public awareness on multicultural families as well as programs in which employees can participate.

In April 2006, the company hosted an invitational event with Hines Ward, a U.S. football star, as a guest speaker to inspire children from multicultural families.

The company also grants monthly scholarships to multicultural children from the low-income bracket, and sponsors and supplies volunteers for a wide variety of programs for multicultural children.
We hope our efforts can contribute to raising public awareness on multicultural families.

Samsung C&T Trading & Investment Group is engaged in a range of activities to fulfill its social responsibilities.

Global Child Sponsorship Program
Since 2009, Samsung C&T Trading & Investment Group has joined hands with Plan International Korea, a children's development organization, to carry out sponsorship program for children from less developed countries.

As part of corporate social responsibility activities, the company has participated in poverty eradication programs for developing nations and launched sponsorship program for children overseas.
Employees are involved in various sponsorship activities for children from 136 countries in Asia, Latin America and Africa, where they are not only supporting children financially but also building true friendship by exchanging letters and making visits.

"Happy Together, Share Together"

Every summer since 2011, the Samsung C&T Trading & Investment Group sends a volunteer group consisting of corporate office employees and their families, local employees and partner company employees, to underdeveloped communities around the world to assist children and the local communities.

The first project was at a public school in New Delhi, India, where volunteers helped improve the school environment by painting classrooms, cleaning up trash, fixing restroom facilities, and installing a water tower.

They also hosted cultural events such as a magic show, K-a pop concert, and sports events for the children. The company will continue to extend a helping hand to children around the world, it said.

As a global company with 108 offices located across the globe, the company is engaged in various volunteer activities around the world.
Employees at overseas offices of Trading & Investment Group participate in a number of volunteer activities customized to meet local needs, such as disaster responses and environment conservation.

"Our activities has helped the company gain trust and support from local communities," the company said in a statement.