In 49th anniversary speech, President stresses action tasks such as greater differentiation in power and more gifted manpower development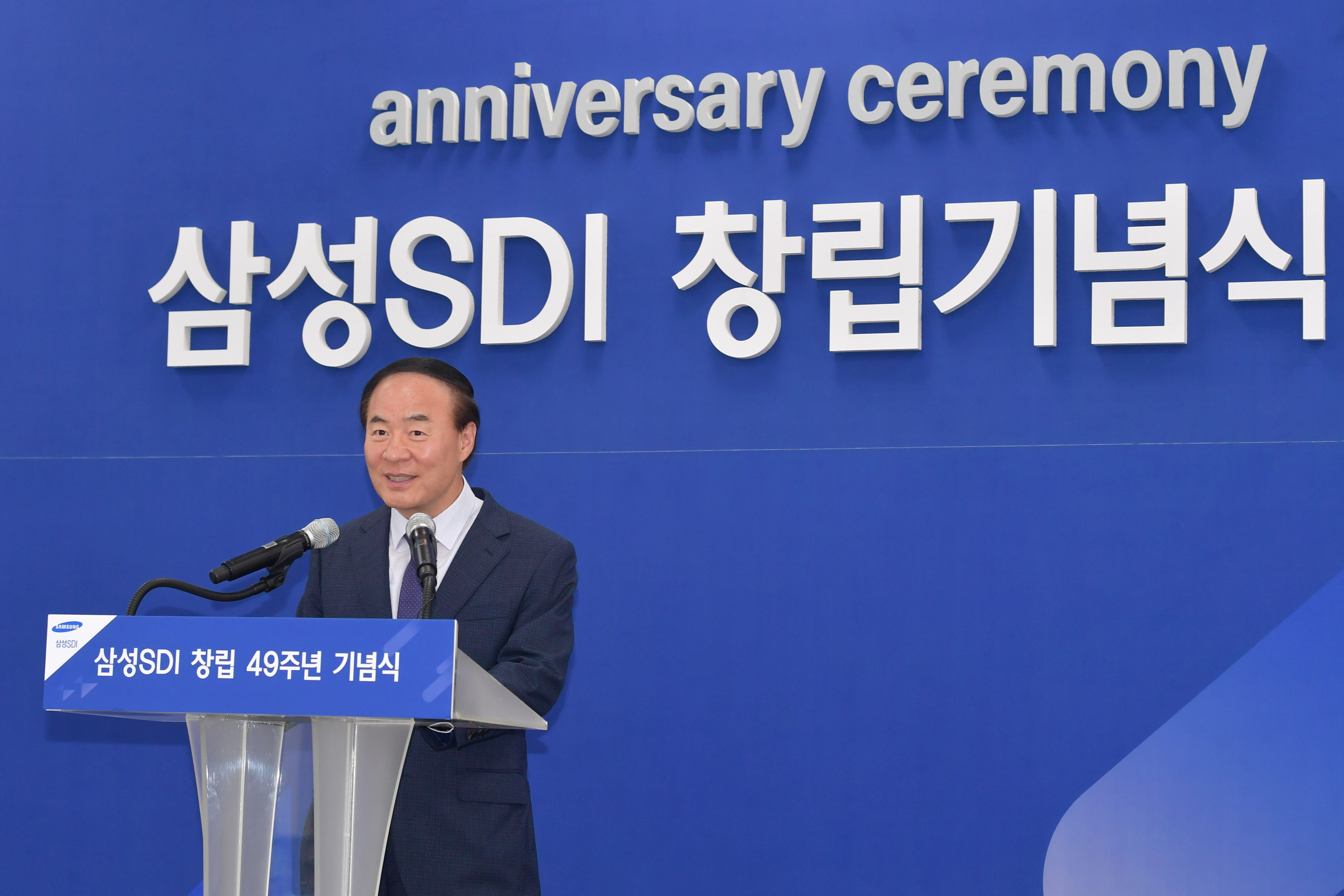 Samsung SDI President Jun Young-hyun delivers a speech at a ceremony to mark the 48th anniversary on June 29. (Photos: Samsung SDI)
Samsung SDI President Jun Young-hyun said, "An era of the 4th Industrial Revolution will present opportunities for greater growth, and the significance of batteries is predicted to grow in the era, characterized by hyper-connectivity."
Connectivity of all things means all things will need power sources, and that makes the battery industry and corresponding growth opportunities ever more important.
President Jun made the remarks while delivering a speech marking the 49th anniversary on June 29.

In order to grasp opportunities for greater growth, President Jun suggested action tasks be taken up such as greater differentiation of technology power, more gifted manpower development, and the establishment of a more innovative corporate culture.

He stressed that companies which have secured differentiation technologies can survive when the market shows signs of rapid growth and ever-fierce competition.

Now that global capabilities are required as companies are getting bigger and they operate centers across the globe, President Jun urged each business to be armed with expertise so that it can lead the market.
He also called for strong execution based on an innovative corporate culture, boosting autonomy and creativity and creating an environment in which failures are forgiven.

In celebration of the 4th anniversary, Samsung SDI is staging a volunteer campaign for one month starting mid-June.
Six worksites across the nation will conduct volunteer activities such as "Dream Walking," a fundraising walking event be held under the catchphrase "Company Furthering Social Values"; "Hands-on Relay," a talent-giving event; and "Dream Tok Concert," a gift-sharing event.

On June 26, Samsung SDI President Jun, executives and staff members toured "Seongsimwon," a nursery facility in Yongin, Gyeonggi-do, and participated in a ceremony to open an IT education center.
The IT education center, opened with contributions from Samsung SDI, is named "Dream Academy," meaning an educational room to nurture dreams.
The 23 square meter center is outfitted with nine desktop computers, a notebook PC, and a project. It is designed to help about 50 inmates of the nursery facility study subjects, obtain licenses and conduct hobby activities.

It is noteworthy that all company officials, including CEOs, other executives and staff members, pulled together with one mind in this contribution, which was started with President Jun's donation.

Last December, President Jun was honored with the 27th Haedong Award in recognition of leading research in the memory chip sector of Samsung Electronics. He donated the financial prize he received at that time for nurturing juniors.
Part of the money was contributed to the IT center project.

Samsung SDI and Seongsimwon have had a sisterhood relationship since 2013. Initially, a few Samsung SDI executives and staff conducted individual volunteer activities, but volunteer activities have been expanded to support in cleaning and farming of gardens.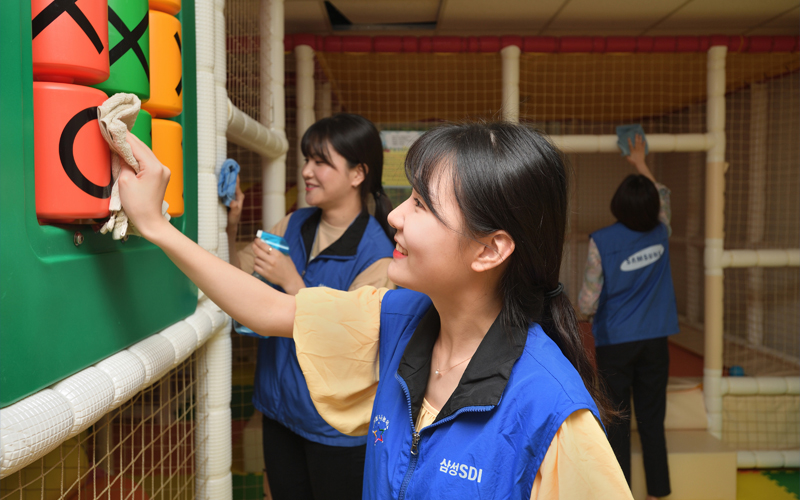 Samsung SDI executives and staff members conduct a volunteer event in Vietnam.