Shinhan Life Insurance and GS Retail clinch the honors to enter the Hall of Fame of the award and 13 firms including Lotte Construction garnering the integrated awards while four firms including Shinhan Bank winning the Best Practice awards, among others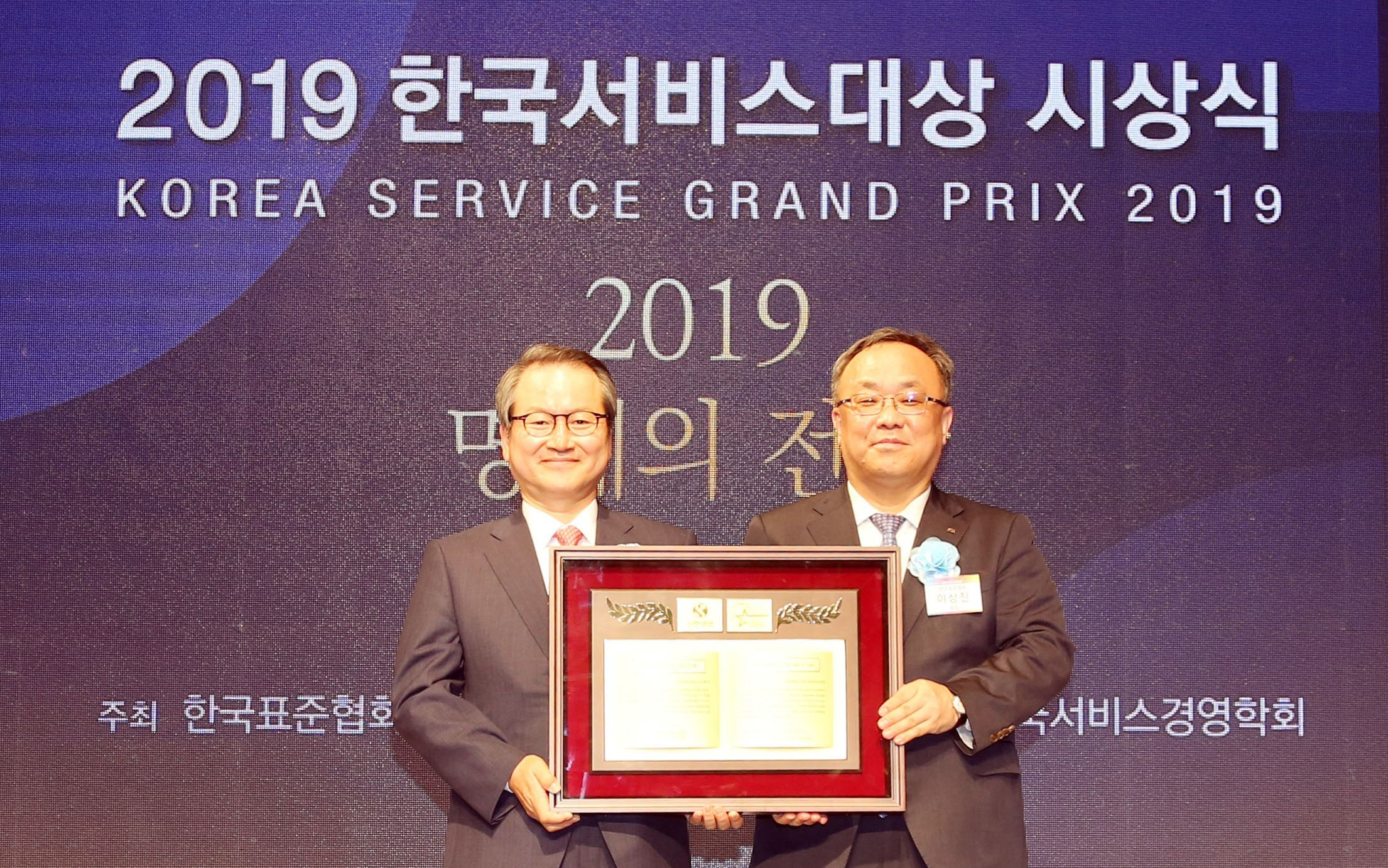 President Sung Dae-kyu of Shinhan Life Insurance Co., left, holds the Korea Service Grand Prix with Chairman Lee Sang-jin of Korea Standards Association(KSA) at a ceremony held on July 5. (Photo: KSA)
Shinhan Life Insurance Co. won the 2019 Korea Service Grand Prix in the "life Insurance" category for its operation in line with its brand slogan, "A Warm Insurance with Future Together," to practice its customer-centered segregated competitive power to provide advanced services.

The life insurer has been able to secure stable growth and sound health of its assets thru its diverse marketing channels and balanced insurance portfolio.
That has lead to the company clinching the top award, "AAA" in the Insurance Financial Strength Rating (IFSR).

The insurer has also been operating call centers to provide consultations on professional, flexible insurance.
It also offers a customer "self-checking" mobile happy call and the tailor-made service matching the senior customers with consultants.

The life insurance company has also been continuously trying to provide digitalized financial services, reflecting the most recent trends across the entire company's operation.
Last year, the company introduced the "chatbot" service for the first time in the life insurance industry. this year, the company went a step further by introducing a service to explain the life insurance contract on screen also for the first time in industry to upgrade its customer service.

Shinhan Life Insurance under President Sung Dae-kyu has been officially established, experts point out.
As President Sung, who used to work as the director of Korea Insurance Development Institute (KID) and has shown huge interests in Insurtech, has been appointed as the new leader of Shinhan Life Insurance,
it will be interesting to see how Shinhan Life Insurance fulfills Shinhan Financial Group's '2020 SMART Project, the experts say.

President Sung has been an 'insurance expert' who has been working on insurance-related tasks for more than 22 years.
He used to work for Ministry of Economy and Finance and Financial Services Commission (FSC) and he used to be at the forefront for introducing Bancassurance and establishing South Korea's third insurance industry while he used to work as a financial authority.

He had shown huge interests in Insurtech while he used to work as the director of KIDI.
He emphasized that insurance industry needed to take action on The Fourth Industrial Revolution as there has been many changes due to The Fourth Industrial Revolution.

"Not only can The Fourth Industrial Revolution bring changes and innovation to a business, but it can also affect a business's performance." said President Sung at a KIDI press conference earlier this year, while presenting the moto, 'Let us be happy through innovation'.
"Introducing Insurtech to insurance industry is not a temporary trend, but it will be a start to fundamental change that will shake up foundation of insurance industry." he said.

It is expected that Shinhan Life Insurance will start working on tasks related to Insurtech much more as President Sung has been appointed as the new leader of Shinhan Life Insurance.

Shinhan Life Insurance has been introducing various IT initiatives, according to Shinhan Financial Group's medium and long-term strategy called 'Digital Shinhan'.
It was the first to use biometrics verification out of life insurance industry and it introduced mobile simple registration service, estimated insurance inquiry service, and automobile guarantee analysis service in 2018.
It has recently shown rapid operational moves such as agreeing with an Insurtech company called Bomapp to launch a new product and finishing PoC (Proof of Concept) as well.

It is likely that President Sung will emphasize spread of IT-based Insurtech during his inaugural ceremony as part of Shinhan Life Insurance's strategies for 2019.
At a KIDI's press conference in the past, he emphasized that Insurtech is the way for insurance industry.

"We need to find solutions from foreign Insurtech products and create new values," said President Sung at the press conference.
"Innovation is not created from a laboratory, but we need to change the mold of competitions by securing markets such as pet insurance and cyber insurance."