They snap up 10.578 trillion won worth of bonds in May while shedding Korean stocks worth 2.566 trillion won, fearing slowdown in Korean financial market, Kofia says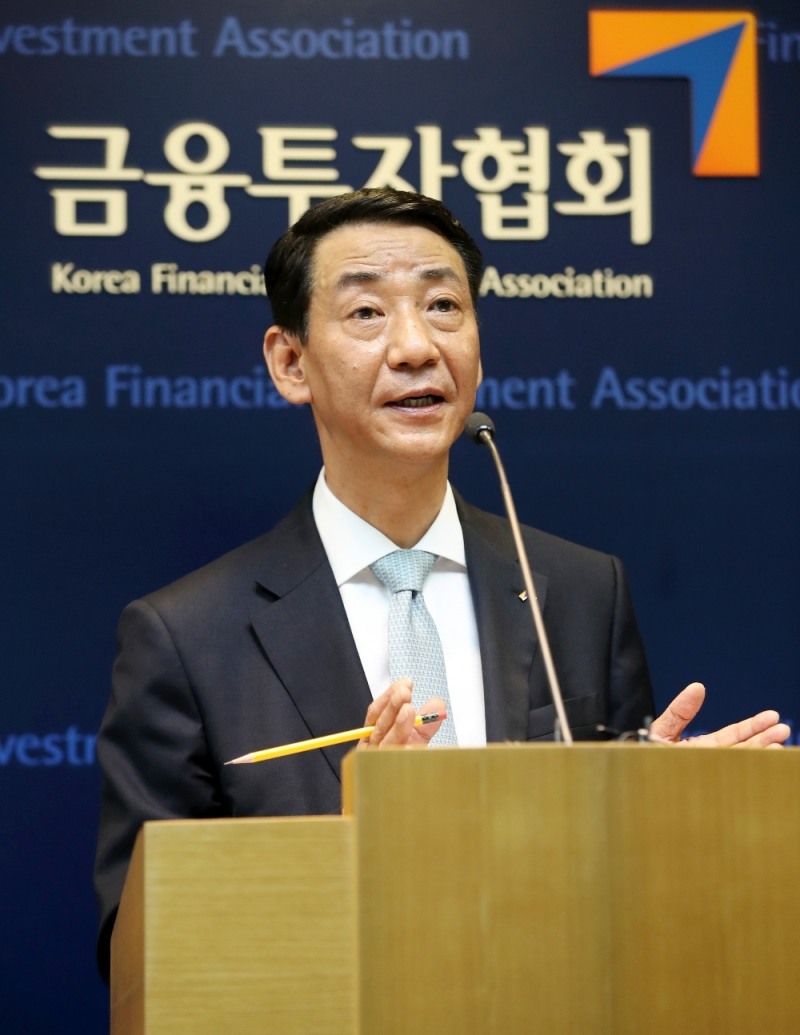 Chairman Kwon Yong-won of Korea Financial Investment Association.(Kofia) (Photo: Kofia)
Foreign investors snapped up Korean bonds in May and sold off Korean stocks. The purchase of the Korean bonds in the month amounted to more than 10 trillion won, the largest-ever monthly purchase of the Korean bonds.

Korea Financial Investment Association (Kofia) said on June 2 that foreign investors bought 10.578,4 trillion won worth of the Korean bonds, surpassing 10.485 trillion won that the foreign investors snapped up in November, 2007. They bought 10.371,4 trillion won worth of Korean bonds in June, and followed by 10.572 trillion won worth of Korean bonds in October, in the same year, Kofia said.

On the other hand, they sold off Korean stocks worth 2.566,9 trillion won in May, fearing that interest rates would continue to fall in the days ahead.

The foreign investors net sale of bonds amounted to 491 billion won worth in January, but that turned to a net purchase in February, posting 1.707, 5 trillion won in net purchase of bonds, which rose to 6.860,4 trillion won in March and 2.719 trillion won in April. The Kospi index fell 7.3 percent from January to May.

An official of a securities firm in Seoul said the uncertainty in global financial markets ignited the massive unloading of Korean shares in May. Investors are not that confident in the economic growth, but seemed to be positive on the safety of the Korean bonds. The interest rates for major bonds in Korea has been falling of late due to the decline of major Korean indicators, including those on employment, consumption, exports and investments.

Major institutional investors have been downgrading Korean economic growth for the years ahead, and officials of the Monetary Committee of the Bank of Korea, the central bank, also joined them in voicing the concern for the Korean economy.

Foreign investors determined to safeguard their assets jumped to the Korean bond market regardless of the maturity; from 3 years to as long as 30 years. The interest rates on the government-bonds fell to 1.75 percent.

That situation played out for the first time in 6.5 years, since the U.S. Federal Reserve announced the ease of quantity for the 3rd time in 2012.

A bond dealer of a securities firm said interest rates on bonds would drop further in the second half, fuelling the foreign investors massive purchase of the government bonds now.

Investors are eyeing more stable investment sources as both global and domestic stock markets are showing signs of simultaneous fluctuations.

An increasing number of investors are now choosing real estate and infrastructure funds as well as bond funds because these are less correlated to stock market trends.

According to online market researcher FnGuide, the nation's equity funds investing in domestic and overseas stocks were down 2.65 trillion won ($2.26 billion) and 1.39 trillion won, respectively, over the past three months. In the meantime, domestic bond funds managed to attract nearly 5 trillion won while real estate funds also raised more than 240 billion won.
This indicates investors are rushing to more stable investment sources due to growing uncertainties in stock markets.

Thanks to surging demand for such less risky assets, the share price of Macquarie Korea Infrastructure Fund (MKIF) closed at 11,800 won Wednesday, up 150 won, or 1.29 percent, from the previous session.
Reflecting growing interest in such investment sources, asset management companies are introducing a series of real estate funds.